The Atlassian Summit is always a key event for the ecosystem to come together, share best practices and celebrate innovation – this year's event in Barcelona was no different. We got a sneak peak to the Atlassian suite's face lift, learned a bit more about Trello – and the people behind the product – and finally were promised a further customised experience for Atlassian's deployment options.
A new look to the Atlassian user interface
The theme of the new user interface is finding "simplicity on the far side of complexity." It is rare that one lands immediately on success without engaging first in a messy endeavour. Finding the right solution takes hard work and perseverance, especially in teams where complexity can be amplified by people with different backgrounds and perspectives.  In many cases the final solution is so simple, yet in order to get to that point we need to walk through the complexities of every angle of the problem.
The new user interface is certainly evidence that with hard work over the long-haul, a refined solution can be found. This new look strives to remove clutter to facilitate better connections between the people and content. This is broken down into three layers.
First layer: Content as the focal point without unnecessary information and sidebars.
Second layer: The spaces that host the content
Third layer: A global overview to search and create across all Atlassian products.
In Confluence, the new user interface gets rid of the clutter yet  keeps the same editing power and table views. Collaboration is also easier as it is simple to add the relevant people to the page.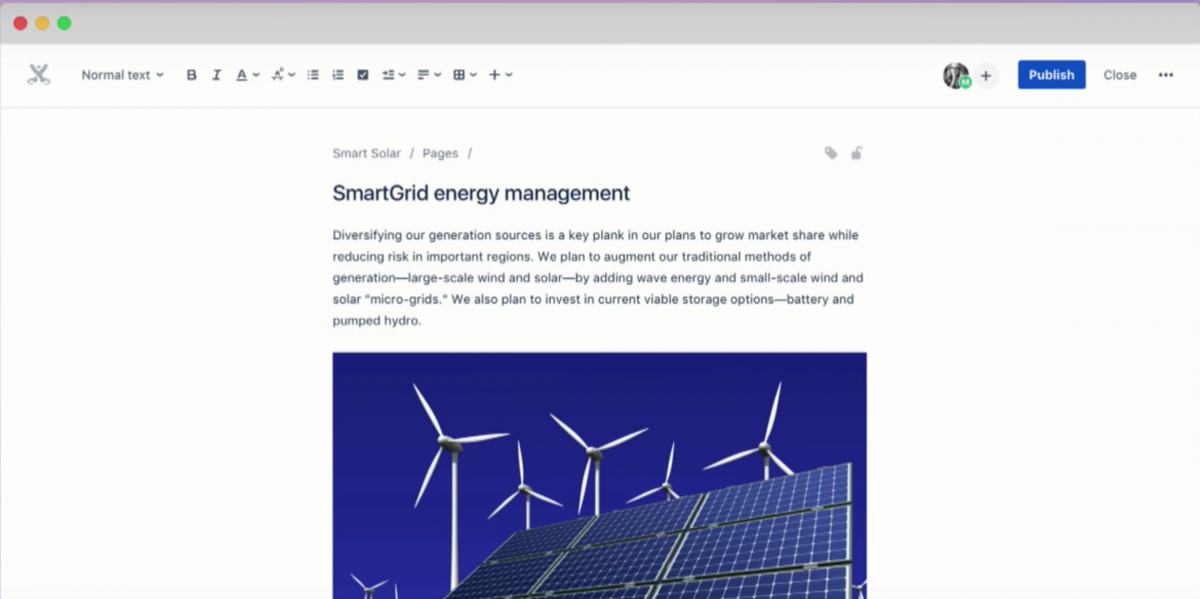 In JIRA, everything that was unnecessary was removed, making for a slick design. Additionally, it is now easier for JIRA admins to add new columns to the workflow right from the board, giving them better control over their projects. They can also create issues wherever they need within the workflow to give a fast-track to certain projects.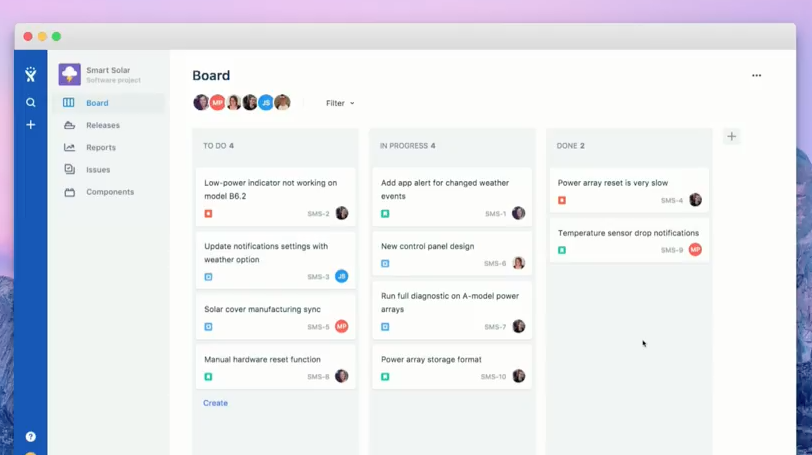 The issue view was also redesigned to be simple yet more effective. Now, users have markdown support for writing in the comments and summary field. Adding attachments is also less awkward as the thumbnail is a lot more streamlined.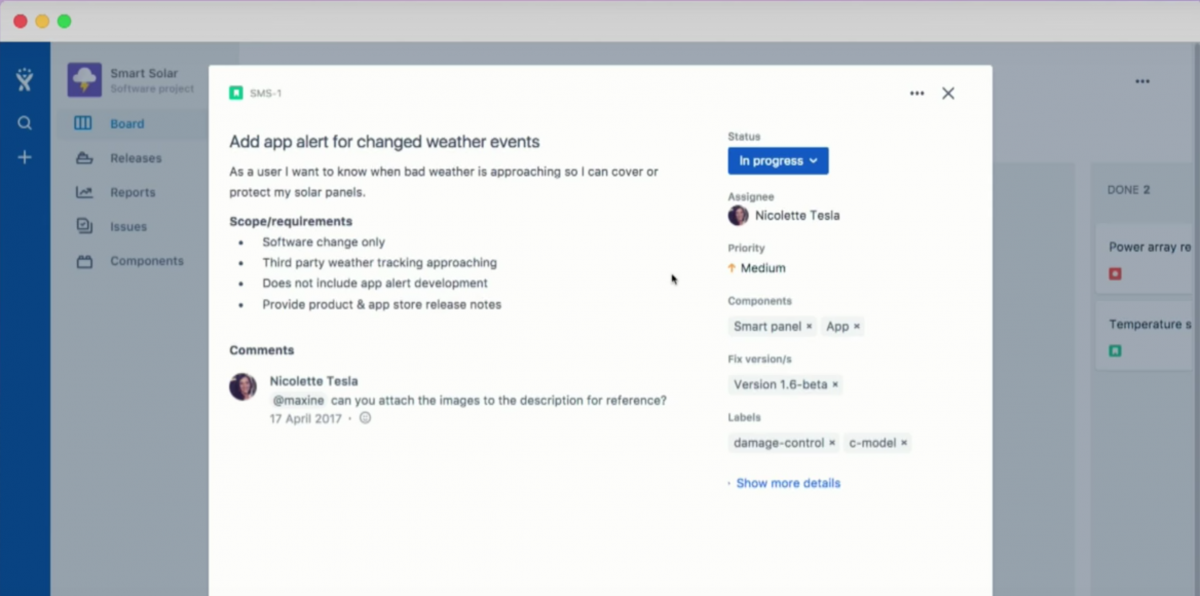 In taking a cue from Facebook, Atlassian is adding reactions to JIRA beyond just the "likes."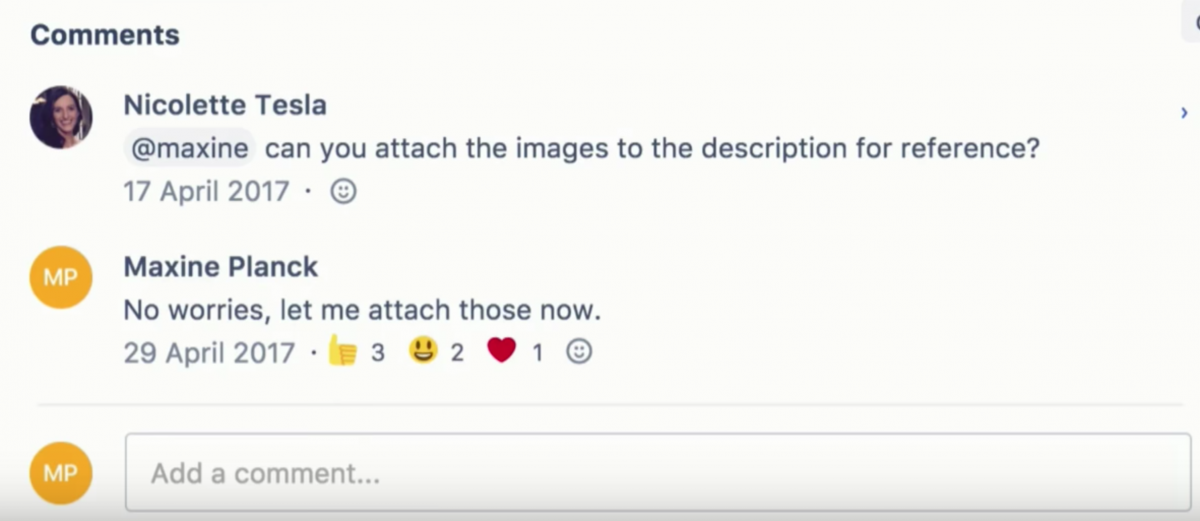 Atlassian Home – the one place to find all your projects – will incorporate these designs from the bottom up: Your work, Recent projects, and recent spaces are defined in an easy to read page: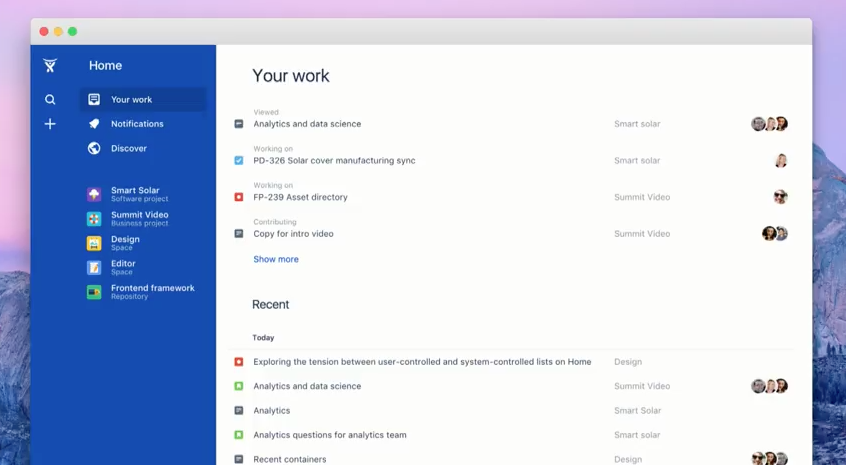 For the moment, these features are being rolled-out on the cloud, however expect to see them appear within the coming months on other deployment options!
3 deployment options which caters to the customers
Bryan Rollins (Head of Server Business at Atlassian) announced how Atlassian will prioritise different features depending on your deployment option: Cloud, Server, or Data Center. As each deployment option requires a different approach, some features might appear first on a specific option based on what needs are more pressing. Here are the updates on each different choice:
Server
Portfolio programs. Instead of just having instances for each department, Portfolio programs allows users to see an enterprise view of the projects and work that is underway, providing a global overview of activity.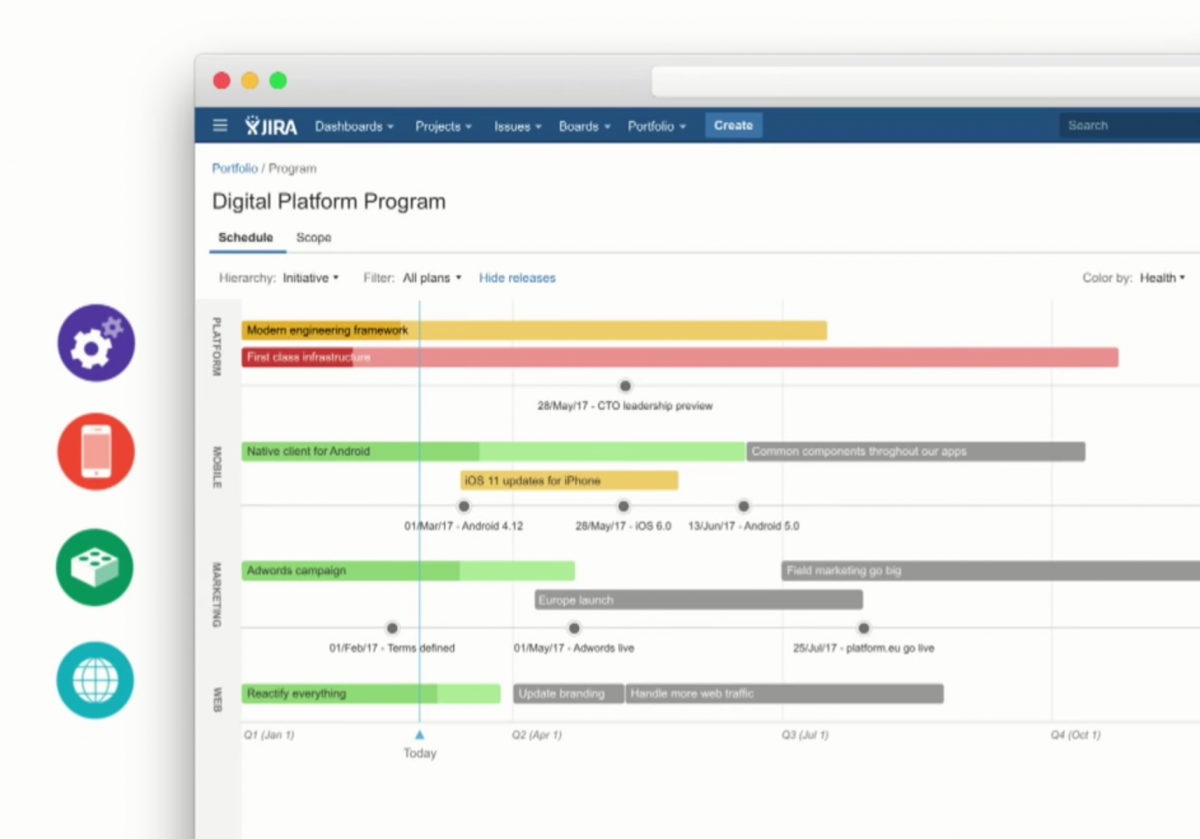 Installations and upgrades have been improved in JIRA in 3 ways:

Prevention of inconsistencies
More in place trouble shooting, which gives the admin more control during the upgrade
Clear links to the troubleshooting guides in the

knowledge base

JIRA software Kanban backlogs. This feature was first launched on Cloud, however as demand rose for backlogs, this feature is also now on Server.
Data Center
For some teams, Atlassian tools are mission critical – if JIRA goes down, it would take the entire company with it! Thus Data Center was born, as this deployment option allows teams to run software in their own environment and is highly scalable. To improve this choice for these customers, Atlassian has introduced:
Zero Downtime upgrades for JIRA Software Data Center
Bitbucket Smart Mirrors now support off caching, remote and distributed build environments, allowing end users to maintain access in the event of a short outage
Single sign on via SAML for every Data Center application
HipChat has been added to the Data Center family
Crowd, Atlassian's centralised identity and user management solution, has also been added to Data Center (currently in private beta)
Cloud
As Cloud offers an option that is quick and easy to deploy, this is the solution of choice for many companies. However, there is a need for add-ons that act as snap-in integration, so the demand for tools that will allow them to grow rapidly. Within the last year, the Marketplace has roughly doubled its add-ons and the latest online count is nearly 700 add-ons for Cloud. Altassian is working to give the keys over to ecosystem developers – a point which was expanded upon during this year's AtlasCamp.
Atlassian introduces Trello live at the Summit
Technically, this was Trello's first official Atlassian Summit, yet Michael Pryor (Head of Product, Trello at Atlassian) admitted that it wasn't his first rodeo with Atlassian. "Six months ago Scott and Mike invited me out to the Summit that was taking place in California. At the time we were still talking about the acquisition, so I showed up and I was afraid someone was going to recognise me…so I wore sunglasses and a baseball cap," he joked. Yet that keynote lured him into the ecosystem. "I remember sitting there and being in awe of the size of the crowd and the energy in the room was just amazing," said Michael. It was clear that Trello and Atlassian share the same values and mission, so with that, Trello joined the Atlassian family.
For many people, an introduction to Trello is a bit redundant – it is one of the most widely-used and intuitive project management tools which exists, with a user base of 22 million people. However, Michael explained how Trello was born from the simple concept of a sticky note, a way to remind yourself of tasks and ideas. Trello's "cards" are the ultimate super-charged sticky note, allowing users to group cards into lists, boards, write extended details related to the relevant tasks, and permit a higher level of collaboration with your team.
The examples are endless, from renovating your home as a personal project to Twitter using a public Trello API Platform Roadmap board to keep its users informed of upcoming changes to their features.
Of course, Trello already integrates with the entire Atlassian suite – JIRA, Confluence, HipChat, Bitbucket – and other popular tools such as Slack, Drive, DropBox, and more. Trello has an entire API which lets you build on top of Trello to customise your Power-Ups to your own system.
Inside Valiantys
At Valiantys, we believe that the key to smarter teamwork is being able to both work hard and play hard – together. As a Gold Sponsor of the Atlassian Summit, our team was stationed in the Expo Hall, where we spent the day chatting with ecosystem partners and clients. We took the conversation into the streets of Barcelona for our tapas party, where the team enjoyed a more casual interaction with our valued customers. At the end of the high-energy conference, Valiantys was also at the Summit Bash to celebrate the ecosystem gathering together as a team.
Save the date

!

Overall we enjoyed Atlassian's first European Summit and we are looking forward to seeing Atlassian back on this side of the pond for their second European Summit next year in September. However, the next Summit will be held from 12-14 September, 2017 in San Jose, California – and of course you can expect that Valiantys will be there! Atlassian is currently still providing early bird passes, so make sure you check out their website and sign up in advance!

Register for the next Atlassian Summit