It's already been six years since Valiantys started sponsoring the Atlassian Summit, the largest gathering of Atlassian customers and enthusiasts. We've seen conferences, major announcements, product presentations and meetings, all held in the relaxed and festive San Francisco atmosphere. Over than 1,800 delegates from 40 countries took part, a new record which just shows how fast the Atlassian phenomenon is growing.
If you weren't there, we have prepared a wrap-up of this year's Atlassian Summit
Let's set the stage
Before getting into the detail, a little note on the context. This year, the Atlassian Summit was hosted at the Concourse Center in San Francisco. 12,000 sq.m of exhibition hall, conference rooms, and relaxation space dedicated to Atlassian. As usual, Atlassian had booked an squadron of food trucks to deliver a large and varied choice of meals and allow participants to enjoy the Californian sun outside.
The first day was dedicated to training sessions, installation of sponsors booths and registration of delegates. It's only from 6 pm that the Summit really started with the opening of the show floor.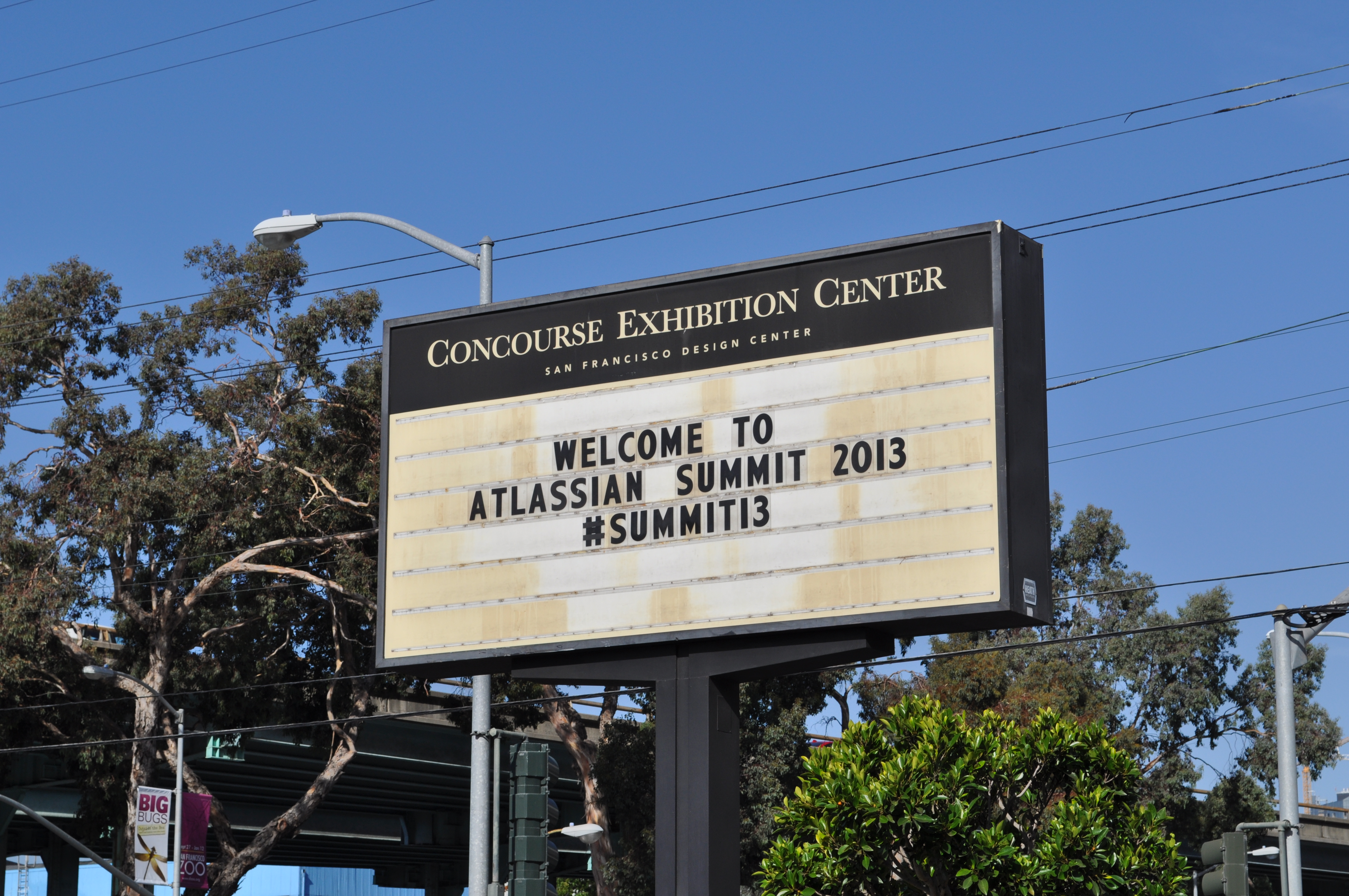 Atlassian, faster than ever
In the highly anticipated keynote session with Atlassian's chairman and Co-CEOs, we had a review of the past year and a presentation its plan for the coming year. Jay Simons and Scott Farquhar focused on Atlassian's strategy on its existing markets, while Mike Canon-Brookes made the new product announcements. And what announcements !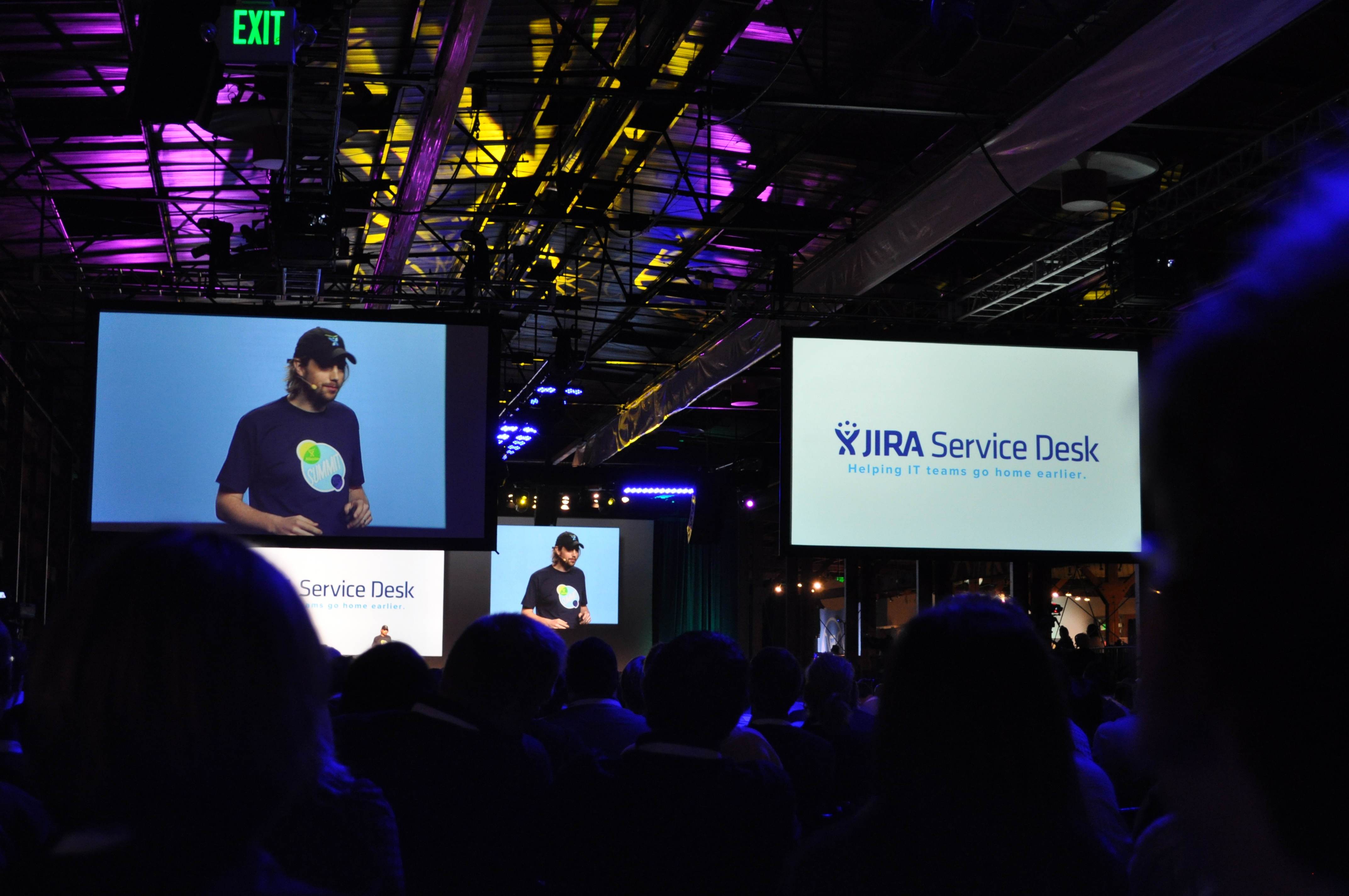 Atlassian Service Desk
This new solution was the major announcement of the Summit and received much applause at the keynote. Atlasssian is now directly the focusing on the service desk market (internal and external facing). The solution is based on:
JIRA Service Desk plugin. The key feature is the new simplified customer portal, when end-users can log requests in a configurable service catalogue. For agents, they added queues to make triage easier and added SLA management (based on the recently purchased SLA technology from Valiantys). Lastly, a new customizable report engine is included to track performance. It even allows you to run historic reports which is new in JIRA.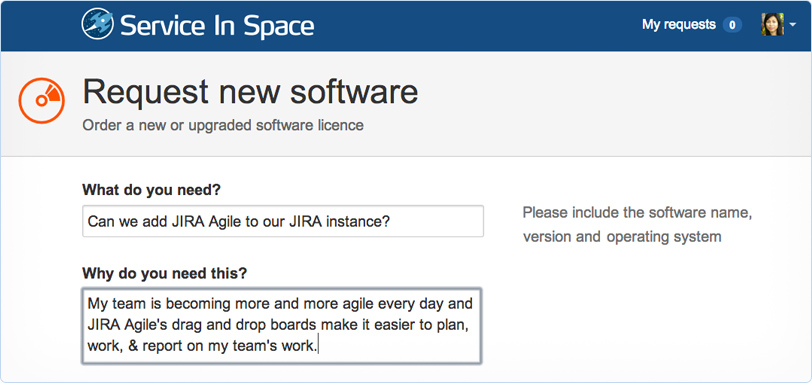 Confluence Knowledge Base Blueprint. This blueprint will help you quickly build your knowledge base following a consistent format. Once you have built your Confluence knowledge base, JIRA Service Desk can be hooked onto it so that when someone wants to create a ticket, knowledge base articles will automatically be suggested as the user types. C
Interested by Atlassian Service Desk? We have built an end-to-end solution to help you set up your Service Desk.
Hipchat accelerates
If you already use Skype or Google Hangouts, you should still have a look at HipChat. We especially appreciate the persistent chat rooms but also file sharing (persistent as well), the possibility of @mention with automatic emails notifications and the powerfull API to allow external apps to send notifications to HipChat. The other Atlassian tools already have a native integration using this API.
HipChat celebrated their 1 billionth message sent during Summit and they're now handling over 60 messages / second.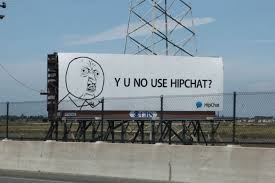 The HipChat team has expanded greatly since its acquisition last year by Atlassian and went from 4 people to 18 people today. The team is mostly working on the  new HipChat Server edition, which companies will be able to run behind the firewall. The beta of the new product is already available for interested customers. It's expected to be out in the first quarter of next year.
Confluence Questions : The Q&A platform
Confluence Questions allows you to turn Confluence into a knowledge forum within or outside your company. It is essentially the same concept as Atlassian Answers, but applied to Confluence.
The answers are provided by fellow Confluence users or you can also appeal to users directly via @mentions or sharelinks.  Labels are very useful to categorise topics and identify experts. You can then vote for the best answers, and those provide the best answers will be identified by Confluence as experts in a field.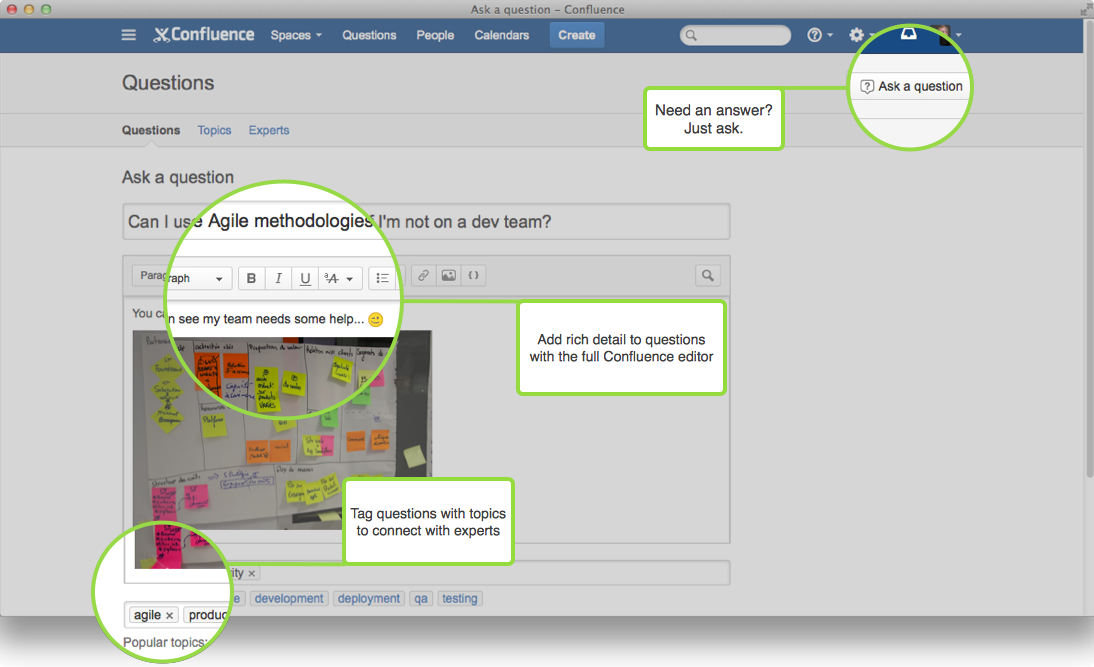 Confluence Questions is available in Beta version.
Conferences
Aside from the usual leading conferences such as the JIRA or Confluence State of Union, sessions on the use of Git and Stash were particularly followed.
Add-on News
First of all, you may already have noticed the Atlassian Marketplace just had a makeover and among other things, it now has a proper search engine. What else is new in the Marketplace?
Kitologic
Jean Christophe Huet, the father of GreenHopper, has returned to the ecosystem with a new product – Folio – which adds very powerful project portfolio management capabilities to JIRA including budget management. He also launched a second product – Pathfinder – developped on the Atlassian Connect framework (available on On Demand only) which gives you a high-level, graphical view of all the links between your issues.
TM Software
The historical leader of the Marketplace has grown to a team of 25 staff dedicated to their Tempo solution for Jira. They have announced 3 new time management products: Tempo Planner, Tempo Book and Tempo Attendance which are due out soon.
Zephyr
Still very active in the test management market, Zephyr just announced the 2.0 release of their popular JIRA add-on as well as a new test management blueprint for Confluence. The new plugin comes with a new query language: ZQL (Zephyr Queryy Language).
K15T
Two new products came out from K15T: Viewport which allows you to turn Confluence content into a fast, ergonomic web site in a few clicks and Scroll Translations to manage translations of Confluence pages. K15T also won the "Fastest Growing Add-on Award" with Scroll Versions.
ALMWorks
The makers of Structure and JIRA Client announced the release of Cross early next year, a solution to synchronize multiple JIRA instances.
Jama
JIRA in itself is usually enough to manage simple requirements, but Jama Contour offers an advanced requirements management solution which integrates with JIRA. It offers an alternative to IBM Doors  with functionalities centered around requirements traceability throughout the software development cycle.
Tenxer
Tenxer has just been redesigned and it now offers a dashboard to monitor and analyze development activities with information recovered from Atlassian tools like JIRA and Bitbucket or others such as GitHub or Jenkins. A large set of metrics are available in real time to measure the performance of each of the developers and the entire team against the goals set. Support for Stash, Bamboo and JIRA Agile is also available.
Arsenale
We knew them for their Confluence add-on, Lockpoint, and they have just released Dataplane, a powerful new add-on for JIRA which offers a large range of customizable graphical reports, probably a future must-have plugin.
Spartez
In addition the well-known Agile Poker and Agile Cards, Spartez also announced a very interested product for December 2013: Ephor, an asset management plugin for JIRA. Especially interesting in the Service Desk context.
Twilio
Newcomers to the Atlassian ecosystem, Twilio can let you manage phone calls directly from JIRA and JIRA Service Desk.
Brikit
Formerly known as StepStone, the company changed its name but not their Zen product. Their newest feature, Theme Designer, allows you to see changes you make to Confluence Theme in real time (if you are using Zen).
And finally, some new arrivals like INK, which allows you to connect JIRA to cloud storage solutions like Dropbox, Box, Evernote, Google Drive, GMail attachments, Skydrive, etc.
Another great Summit for Valiantys
Some congratulations
We are very proud to have received the Charlie's Club award for the greatest number of Atlassian licenses sold worldwide. Atlassian invited us enjoy a holiday at their Sydney head office in January. It is supposed to be the best time of year for a week of relaxation and meetings with Atlassian's management.
We also received much praise for the sale of our SLA technology to Atlassian.
Demos and interest for nFeed
The latest version of our nFeed add-on – now in the the Top 10 Marketplace add-ons – was well-received with a huge number of demos completed in 2 days. The discussions about the uses cases of our customers and the new features were very useful for us.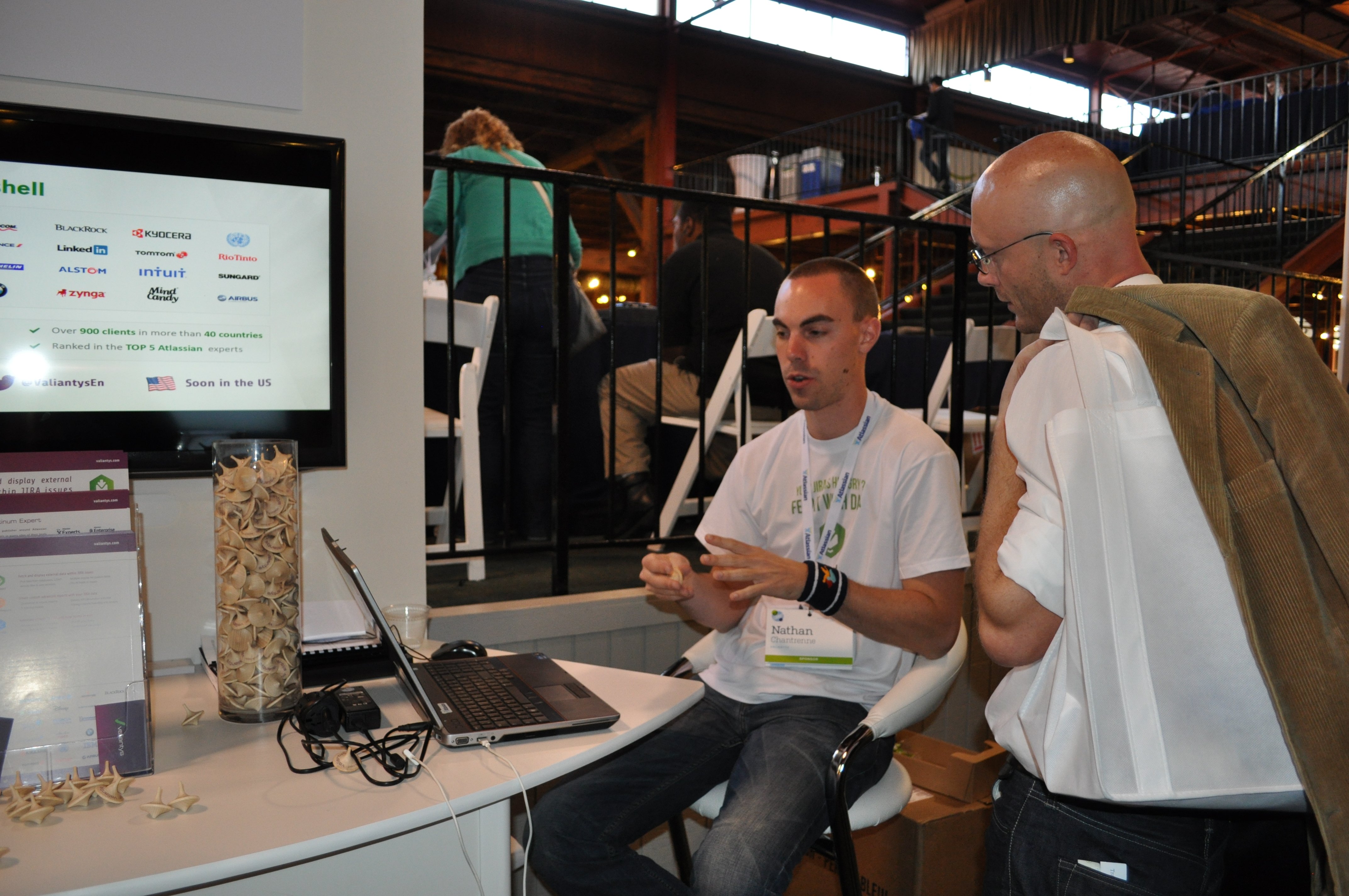 Wemet many of our U.S. customers at the booth, Disney, Cisco, etc. French companies like Air France had also made ​​the trip.
Outside the Summit
The trip to San Francisco took place in the best conditions. We were spoiled by the weather with a week of non-stop sunshine. We were really pleased with the flat we rented on AirB&B and we saved a lot of money using Uber instead of standard taxis (which are horrendous in SF) . We even took the opportunity to go on a little roadtrip in the Silicon Valley on the sunday!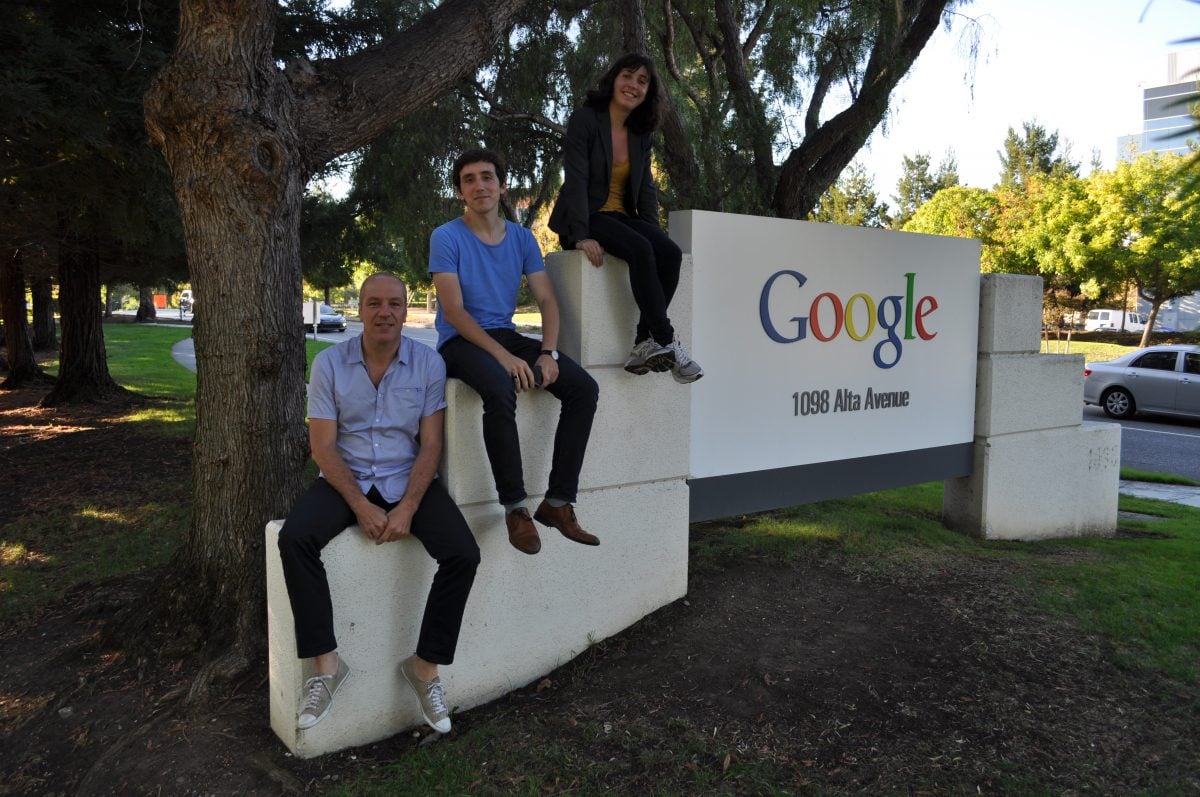 Our only regret is that we didn't get a chance to see the end of the Americas Cup, which ended 3 days before we arrived.
Already looking forward to Summit 2014
If you're thinking of coing to Summit next year, check out this video to get a feel or have a look at our gallery
[nggallery id=1]