You've all read the Atlassian announcements and there is plenty of information to digest!
Our goal with this article is to help you navigate the information, understand what's at stake for your organization, and get all the data you need to start thinking about it from a global perspective. We will address here the subject from different angles: strategically, financially, and technically. And if you want to get more details, watch our webcast: Server and Data Center changes | Get prepared with tips from an expert.
Summary of Atlassian's announcement
End of Server
Atlassian will stop selling new Server products starting February 2nd 2021 and fully stop maintaining the products in February 2024. If you are a Server customer, you have up to 3 years to plan and execute your platform change as part of your Atlassian strategy.
Server product pricing for renewals and upgrades will also increase by around 15% starting February 2nd 2021.
More precisely: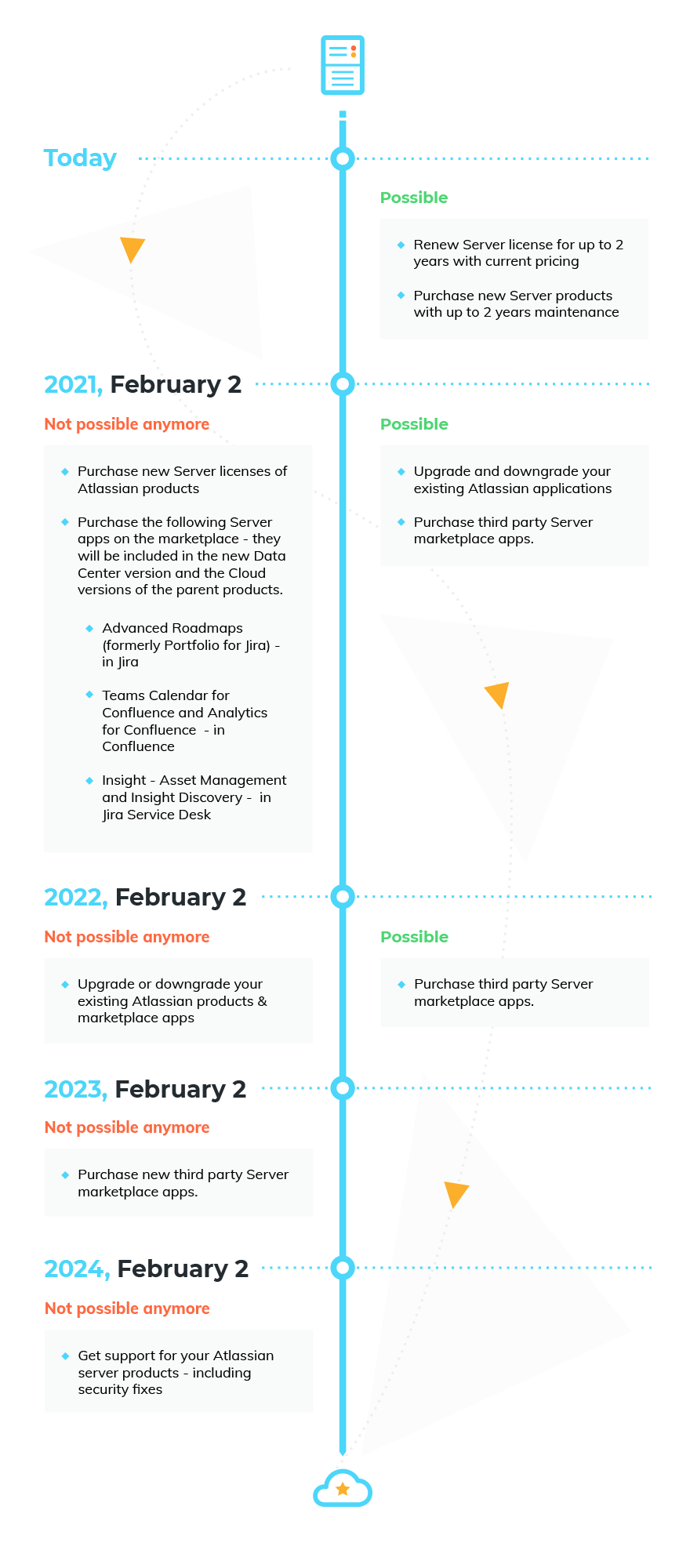 Psst: Our team has successfully migrated hundreds of Jira and Confluence instances for public, private, and hybrid cloud environments. Get in touch with us to find out how we can help you with your cloud migration.
As you can see, the available options for Server products will narrow every year from February 2nd, 2021 until February 2nd, 2024. This gives plenty of time to strategize the best options:
Stay on Server for a little while for you to figure out what direction you want to take.
Migrate your server Atlassian applications to Data Center and keep them behind-the-firewall or host them with a third party supplier like Valiantys.
Migrate your server Atlassian applications to Atlassian Cloud.
Customers use Atlassian products with teams ranging from 10 to 100,000, for small to mission-critical projects, with a huge variety of business applications. Every migration project is unique, that's why it's important to clearly understand where you stand and where you want to go before making any decision.
Not recommended, but theoretically possible:
Keep using Server products without support after February 2nd, 2024. This will put the safety of your applications at risk, knowing the cost of a security breach (which routinely happens), it's a serious gamble. Not to mention the technical debt you will create for your organization.
Migrate to another, non-Atlassian product that offers a behind-the-firewall option. Actually, most of Atlassian competitors are now SaaS-based and as the whole IT industry and new customers agree that the Cloud is the best platform, this may be difficult to find.
New functionalities in Data Center
Starting February 2nd 2021, Data Center products will be bundled with the most popular Atlassian apps:
Jira Software Data Center: Advanced Roadmaps (formerly known as Portfolio for Jira)
Confluence Data Center: Team Calendars for Confluence, Analytics for Confluence
Jira Service Desk Data Center: Insight – Asset management, Insight Discovery
The impact for you if you have one of those apps is:
You have a Server license:

You have one of those apps already: You will be able to renew these marketplace apps until , but not to upgrade or downgrade them after .
You want to acquire one of those products: You will be able to purchase one of these marketplace apps for a Server product until , not after.

You have a Data Center license: You will not need to renew these products, they will be included for free as part of your next Data Center license renewal.
Atlassian's priority support will also be bundled with any Data Center license purchased or renewed after February 2nd 2021 (except for Bitbucket Data Center which must be a 251+ users license).
As a result of Atlassian's continued investment in the Data Center platform, pricing for existing Data Center subscriptions will increase by around 15% on February 2nd 2021. New Data Center subscriptions after that date will see a price increase by 15 to 140% depending on product and user tier compared to the current pricing.
Enterprise Cloud is ready
Atlassian Cloud platform has made a huge step forward for Enterprise customers with the availability of their Enterprise Cloud. This new Cloud plan comes in addition to the Free, Standard, and Premium options.
The main and long-awaited features are:
Unlimited instances. Create as many Atlassian instances as you need, and manage them from a single place. Marketplace apps continue to be licensed by the instance.
99.95% uptime SLA. 
Data residency. Ability to specify where you want your data to be located: EU or NA.
Atlassian Access. SSO and global user management capabilities are bundled with Enterprise Cloud licenses.
Enterprise support. Highest level of support available from Atlassian.
This new plan is targeted towards the largest and most demanding clients:
Jira Software or Confluence 1,000+ user tiers
Jira Service Desk 200+ agents
Strategy
Even if this announcement may feel like a limitation of your options as a customer, many different paths to a new platform are possible.
Migrating all your existing instances to Data Center licenses. Using Data Center licenses on your current Server infrastructure is possible without any impact.
Migrating all your existing instances to Atlassian Cloud (several plans available depending on your needs)
Any combination of both. You may already use Atlassian in a hybrid environment, where some instances are on-premise servers, and others are already in the Atlassian Cloud.
Each solution has trade-offs, and those will evolve with time, as Atlassian is constantly adding new features on both and offering more options in the Cloud. It's not possible in a single blog article to provide the perfect answer but we can definitively help you figure it out.
As a "rule of thumb" here are a couple of criteria that should help you steer in the right direction before further investigation:
| | |
| --- | --- |
| Criteria | Comment |
| Number of users | If you have a very large user base (> 20k), Data Center is the recommended option. |
| Application criticality | Both Cloud and Data Center are possible, but if you choose Data Center you need to make sure you have advanced skills available to manage the platform to provide the right level of service |
| Instance complexity | If your instance customization if quite complex, with very advanced configuration, and cannot be simplified, then Data Center is probably the safest route. |
| Number of apps | If you have a large number of marketplace apps (> 15), you will probably have a hard time migrating to Cloud. It is safest to use Data Center, and possibly migrating to the Cloud later. |
| Data residency | Data Center or Enterprise Cloud. |
| Compliance | If you have very specific compliance requirements like HIPAA, Data Center is the only available option for now. |
Finance
Numerous elements affecting the total cost of ownership of your Atlassian applications are part of the announcement.
Price increases for server maintenance and Data Center licenses
Server: 15% price increase
Data Center: from 15 to 140% price increase
Atlassian has put in place several mechanisms that will help you switch platform:
Loyalty discounts to help transitioning to Cloud or Data Center
Extended free trials for Cloud
Multi-year contracts
These come in addition to a few programs that existed already, and with the fact that some apps are now bundled with Data Center licenses.
The variety of options available in the Atlassian price book and all the specific programs that Atlassian is offering to make the transition to a new infrastructure easier may be a bit complex but here is a summary of what is available now:
Loyalty discount: multi-year discount for Server clients switching to Data Center or Cloud
Dual licensing: Free 1-year license for Server or Data Center to migrate to the Cloud
Multi-year contracts: upfront 3-year maintenance subscription
And the best approach is to have a conversation with one of our license specialists, which will be able to guide you and find the best financial solution for you.
What you should do now
What should you do between now and February 2, 2021?
Your existing Atlassian environment
Gather data on all your Server instances: applications, versions,  # users, plugins, criticality for the business
Re-evaluate your current evolution plan: upgrade, downgrade, need for new features/apps, user requirements, etc.
Assess the business value of consolidating some (or all) of the instances
Do a financial and technical analysis of the migration options, including ROI and TCO
Your future plans with Atlassian
Do you have plans/projects for new Atlassian applications in the coming 6-12 months?
Are they stable enough that you can be comfortable not adding new apps in the next 12-24 months?
Did you already have plans to migrate to the Cloud or Data Center?
Do a financial and technical analysis of the migration options, including ROI and TCO
With time as an issue, we're ready to help you to find out exactly what these changes will mean for you—in fact, we've already done hundreds of these migrations. Get in touch with us today to find out how these changes will impact your business, and to better understand the positive impact of these changes. Or watch our CTO presentation about the impact of this announcement:

Watch now
More Resources: