It was in front of a 3,200-strong audience that Mike Cannon-Brookes took to the stage to officially open the 2016 Atlassian Summit. Sharing details of the event's 75 sessions across seven tracks, Mike was quick to thank the attending customers, ecosystem partners and AUG leaders, highlighting their role in driving the continued success of what is today one of tech's biggest and fastest-moving success stories.
Honing in on this year's Summit theme – Team Up – Mike then revealed his intention to shake up the keynote format, inviting representatives from across Atlassian's product teams to the stage to share their latest and greatest innovations. After all, as Mike put it himself: "We think about teams in everything we do".
So without any further ado, let's take a closer look at the latest news and announcements around the Atlassian stack – all live from Atlassian Summit.
JIRA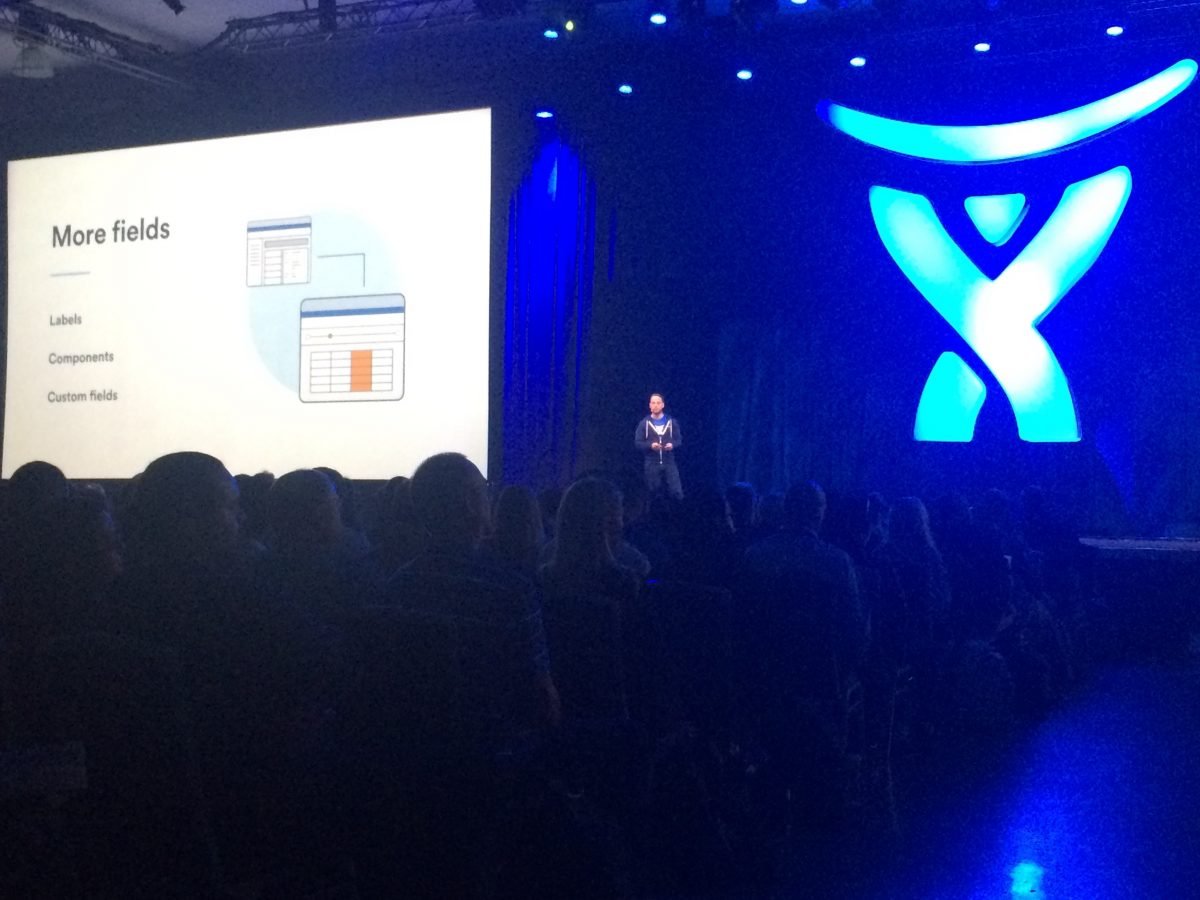 After diversifying from one product into three distinct tools for different user experiences, JIRA continues to spearhead the Atlassian family, cementing its success by drawing in some of the world's biggest businesses.
In the last 28 days, we've spent three million hours planning and tracking projects. And to mirror this, JIRA's product team has spent the year developing new features and functionalities to free up more time for teams. Here are the highlights.
Boards
The latest JIRA release has seen issue tickets revamped, simplified and easier to read, offering more space for project planning. A kanban backlog, meanwhile, gives users increased space to track current work and plan more efficiently.
Portfolio
Portfolio 2.0 and live plans have been upgraded to make it simple for team to create and update project plans. In fact, the team has taken the process of project planning down from 40 steps to just five!
Porfolio works by pulling project information from JIRA and using it to create a roadmap to visualise your work. You can then play with your plan and see, in real-time, how it'll change your project roadmap.
Want more information on live plans in JIRA Portfolio? We have you covered here.
Mobile
The latest release of JIRA mobile has been designed to offer the most personalised JIRA experience yet. The My Tasks function enables you to quickly access tickets you've been working on in the web version, and zoomable, movable boards offer a more intuitive JIRA mobile experience.
Oh, and you may be interest to know that JIRA is now available for Android.
Breaking news from #AtlassianSummit:#JIRA mobile now available in #Android
Click To Tweet
Confluence
How's this for an impressive fact – Confluence has now surpassed over 100 million pages worldwide. It's also helped fuel some seriously impressive projects, from helping the Twitter team manage its service desk requests to empowering Spotify with a company-wide intranet. The overarching sentiment from the keynote? Amazing ideas really do start with a page.
So how has the Confluence product team been working to improve knowledge sharing?
Spaces
By the end of year, Confluence users will be able to make use of fully customisable overview pages for projects. Simple drag and drop functionality when structuring spaces and easier access to recent pages will help users organise pages an impressive three times faster than before.
The team has also been working to create a more consistent user experience across web and mobile where changes made to your Confluence automatically sync with the mobile version, giving you seamless access to recently viewed, edited and created pages.
Other ways in which Confluence's spaces experience has been enhanced include a new space browser for the iPhone version, and the team was excited to announce that Confluence is also now available for Android users.
Did you know that to date, over 100 million pages have been created in #Confluence worldwide? #Atlassian #AtlassianSummit
Click To Tweet
Pages
There were a couple of important points around Confluence pages, too. As the content we create becomes more dynamic, Confluence has now been enhanced to easily support the integration of 80 different file and media types into your Confluence pages.
But that's not all, as (drumroll please) collaborative editing is now available in the cloud in Confluence 6.0!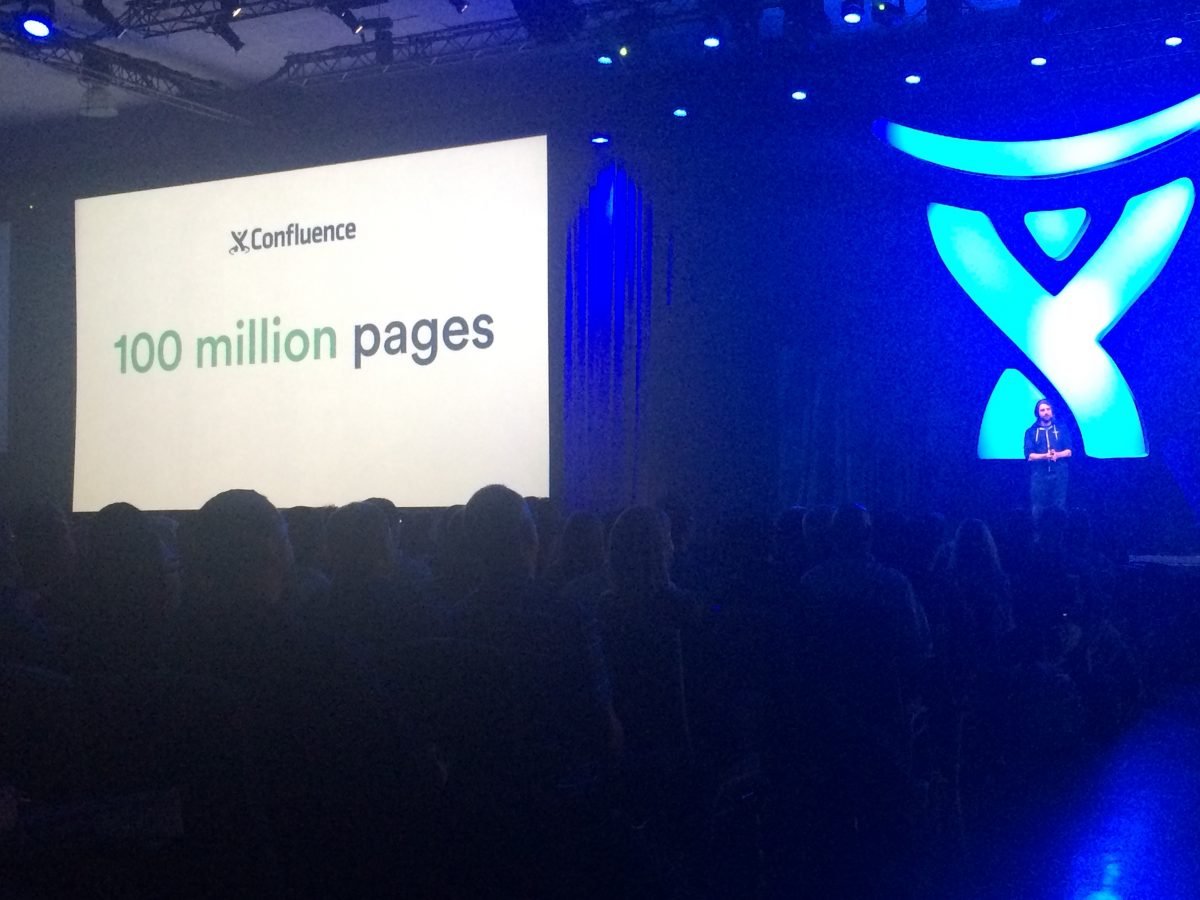 Did you know? The average #Confluence page goes through six revisions and 60 reviews #AtlassianSummit
Click To Tweet
Jira Service Desk
Today, JIRA Service Desk powers service teams at more than 20,000 organisations around the world. The priority for the team this year has been making the service desk experience as effortless as possible for end-users – meaning a stack of awesome new features that enhance customer service.
This customer-centric approach includes the ability to group users, queues, SLAs and reports by company for more personalised service, improved integration of Confluence knowledge base articles into the agent interface for seamless issue solving and support for tailored customer emails in local languages.
HipChat
"We know HipChat is where your teams lives" opened the HipChat team, before running the audience through a number of new features that have helped the tool take collaboration to the next level.
Here's a great example – reworked integrations with JIRA, Confluence, Bitbucket and Status Page that help capture important information without having to leave a chatroom. This means users can:
Follow the progress of important JIRA tickets in real-time in associated chatrooms
Map related Confluence content to a chatroom – simply find what you're looking for and share with a click
Review critical code instantly with improved Bitbucket integration
Communicate urgent issues affecting infrastructure via direct alerts in HipChat rooms for operations and service teams
But the real big news was the announcement of the HipChat data centre beta program, focusing on enterprise-scale deployments of HipChat for video calling, group chat and screen sharing.
Kicking off next month, you can pre-register for the program now. Find out more here.
Introducing Atlassian Home
How many of us work across multiple screens, multiple tabs and multiple tools day to day? Yep, us too!
This is why Atlassian has been developing a way to give users a single view of their work across Atlassian's different tools.
Currently in development, Atlassian Home gives users one place to create, resume and identify their work, with a page that automatically captures the JIRA issues and Confluence pages you're working on and puts them in one location. This means you can pick up work anytime, anywhere.
We'll be keeping our eyes peeled on the latest Atlassian Home news – keep up with us over on Twitter!