There is a lot to consider when choosing an Atlassian training course for your teams using Jira, Bitbucket, Confluence, and Marketplace apps. Is the format going to work for my team? Will the content match my business needs? Will I get the opportunity to get my questions answered? It's important that out of the vast number of training options available, you choose someone who manages all the details – leaving you only to focus on your team's continuous development.
At Valiantys, we want our customers to always have an awesome experience working with us – especially during our Atlassian trainings. These great experiences are a result of our preparation. When things run smoothly, you enjoy the process and get exactly what you want from your training.
Why choose Valiantys for my Atlassian training?
Our training sessions are delivered by Atlassian certified consultants who share their knowledge gained over years of experience working directly with clients. You can expect tips, best practices and concrete advice on how to improve your methodology.
We've formatted our training to be more than an academic exercise, but rather they are interactive and hands-on so you'll be ready to take ownership of your own projects. It's really the best opportunity to pick the brains of our experts and get the answers you need for your use cases. This is regardless of what industry you come from, as we've worked with clients in all sectors and sizes.
Our teams of account managers know the tools very well too, since they use most of them in their day-to-day tasks. They know which courses to recommend for everyone's specific situation, whether it's a Valiantys training, an Atlassian-developed training, or even if a more customized approach is the way to go.
And of course, we use our own tools internally! In order to provide this tailored experience, quite a lot of work has to be done in the background which involves various people, skillsets and tasks. It requires project management skills and tools, so it makes sense that as an Atlassian Platinum Solution Partner we use Jira to manage this process.
We could continue to tell you why to go with Valiantys, but we'd rather show you. So without further ado, here's how we use Jira to manage Atlassian trainings.
Organizing Atlassian training sessions in Jira
Consultants in all of our offices (Toulouse, Paris, London, Rotterdam, Brussels, Lausanne, Olten, Boston, Montreal and Toronto) deliver trainings. Some sessions are organized in our offices and held publicly, which is an opportunity for participants to meet with other Atlassian users and discuss their specific use cases and how they use the tools. Other sessions are organized at the client's site, which is the chosen solution when people require a more customized, off-track training experience.
Since we're part of the Atlassian Training Partner program, we sometimes deliver Atlassian University courses, in which instance we have to synchronize with Atlassian to deliver their courses, following their outlines, with their courseware and on their training platform.
To manage our Atlassian training projects, here are some of the variables to consider:
Is the training conducted publicly or privately?
Is the private course part of a bigger project or a one-off order?
Are several customers from the same company attending the same public session?
Are course attendees coming from different places?
Has the printed training material and goodies for each participant been prepared?
Here at Valiantys, Jira has allowed us to streamline this whole process. We have two Jira issues types in our Jira project Training management: one is Public session, and the other is Private session.
The sales team handles individual registrations for public training sessions, whereas the project managers take care of setting the right date for each private training course.
In both cases, the purchase order is the origin for starting a project, and everything is managed in a Jira project Purchase orders, just like our other services. But these issues can be easily linked to the Public sessions and Private sessions issues with Jira's linking feature.
Likewise, we've created two workflows for each of the main cases: public session and private sessions. This allows us to deal with the specificities of each.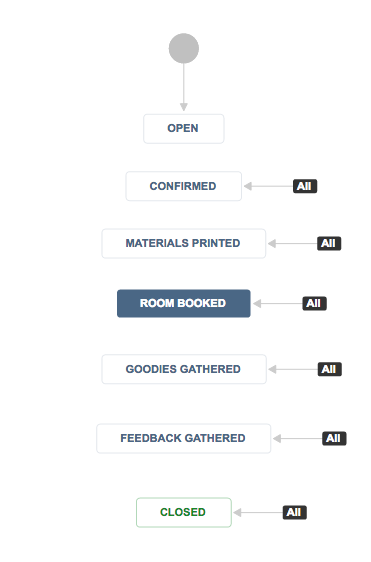 For example, when the session is public, the admin team books a training room which is the right size and has the right equipment. They also make a reservation at a nearby restaurant; we care about the people we do business with, so we're happy to have the opportunity to talk under a casual setting.
We also have two Kanban boards: one for the admin team, which handles most of the organizational actions, and one for the delivery team, which needs to follow-up on a few steps (Has the training been confirmed? Is everything ready? Has it been delivered? Did we get all the required feedback?). This way, we're always sure of where we're at with the logistics.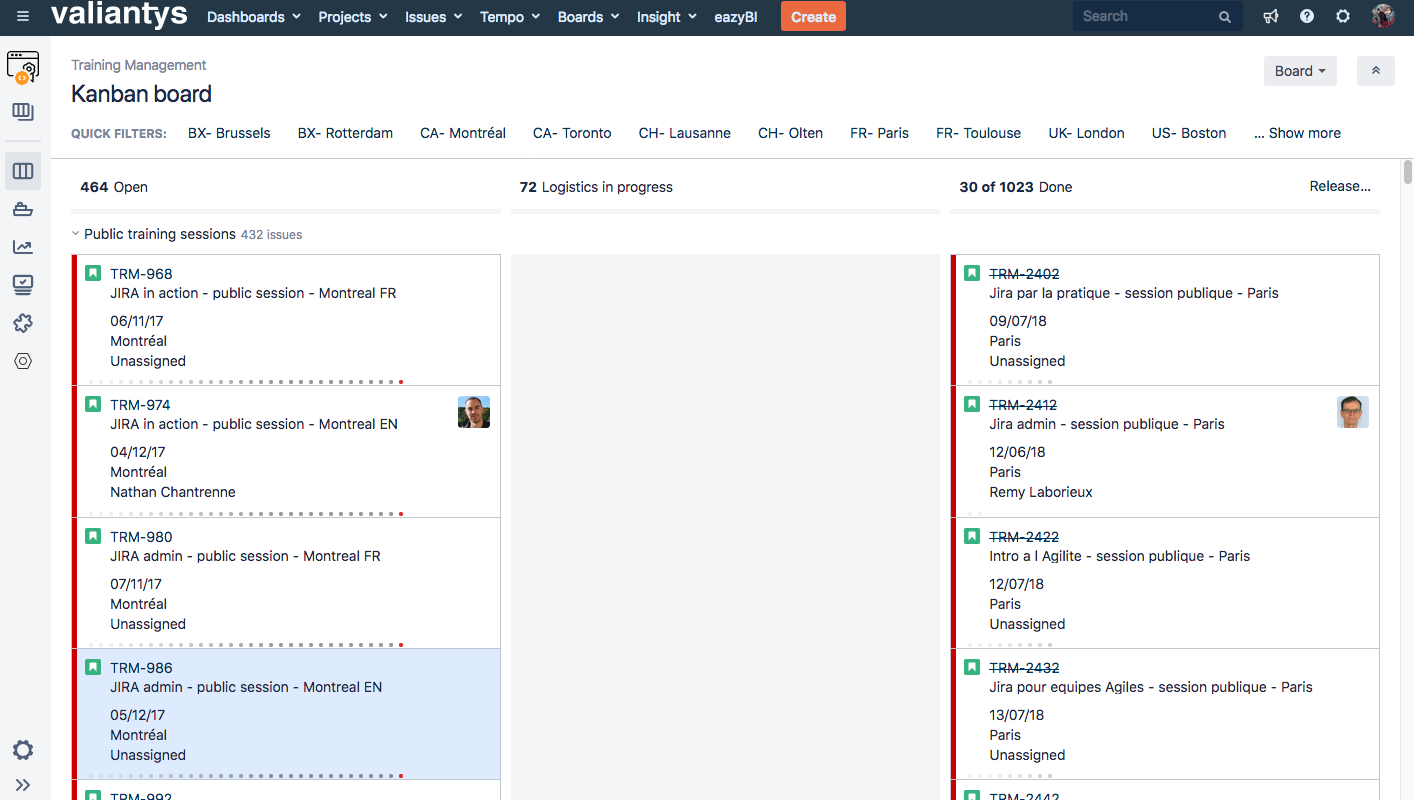 Our Kanban boards feature five quick filters to display only the issues linked to one office at any time – this visibility and transparency works better for everyone. They also contain a subtask issue type Course participant below Public session to enable us to follow-up on individual course participants. We can then send customised invitations, see at a glance the amount of training materials to be printed and gauge the size of the room we need to reserve. We are also able to add links everywhere it's relevant between the projects Training management and Purchase orders.

Finally, the finance team generates an invoice for the services delivered. Here we're back to our project Purchase orders to make sure everything is traceable.
All the aspects of our Atlassian training sessions can be managed in Jira: registration, logistics, delivery, continuous service improvement and finance. And it seems to work, since customer satisfaction is high, participants become knowledgeable and autonomous, and they recommend us to their colleagues.
Join Valiantys for your next Atlassian training
Ready to improve your skills with the Atlassian suite? Check out our training catalog and choose the right fit for your team. Whether you want a public training or something more private in your own office, rest assured Valiantys is prepared, organized partner.
Register for a training session