Data management is a critical part of any business because data is a valuable asset for organizations. Data holds business value that drive efficiencies. That means data tools can greatly improve one's ability to make the best business decisions and act in the most effective way. For instance, Confluence allows you to maintain all your business knowledge in one place and foster team collaboration around documents.
Yet, the native tables in Confluence lack features for structured data and spreadsheets, and this is where Elements Spreadsheet for Confluence comes into play.
This app now allow you to export Elements Spreadsheet tables into Microsoft Excel spreadsheets and overcome the native table limitations, so you can do better project management, reporting and budgeting. In this article, we'll show you how you can embed structured tables in an Elements Spreadsheet macro, and then export them to Excel or Google Sheets.
Embedding spreadsheets in your Confluence pages
Elements Spreadsheet is an app that extends Confluence functionalities and allows you to edit and view data in structured tables in Confluence pages.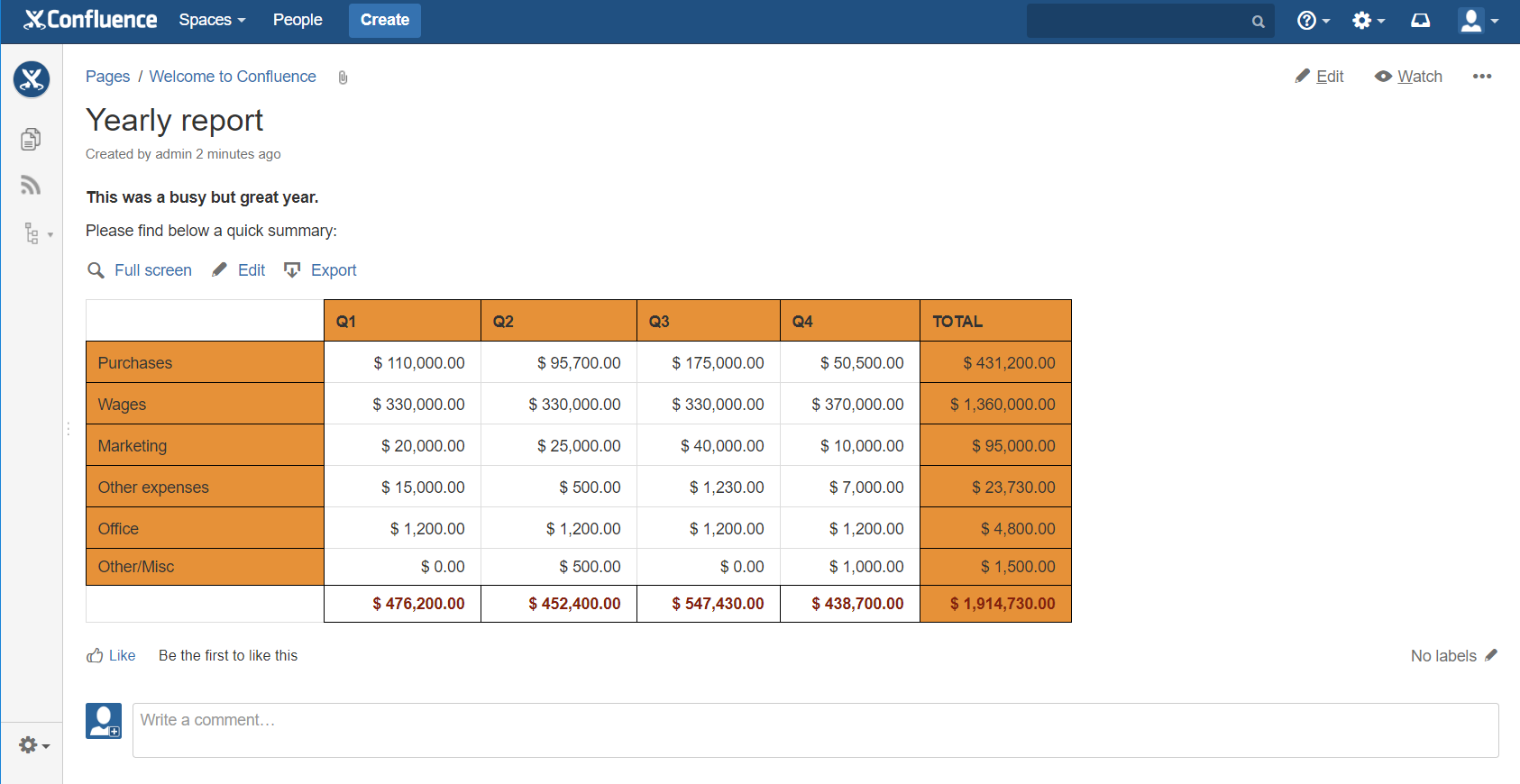 As you can see, your Elements Spreadsheet tables are integrated seamlessly in Confluence with a native look and feel. This app provides some advanced features, which include styling and formatting cells, lines and columns, formula support and display customization.
But Elements Spreadsheet is not designed to clone each and every feature in historical spreadsheet tools such as Microsoft Excel or Google Sheets. Instead, it provides Confluence users with the core features of a spreadsheets editor that is needed to get work done.  To offer our users a way to work with their data outside our app, we have added a handy export feature in our latest release. You can now export the whole spreadsheet in Microsoft Excel format and download the file in just a few clicks. This particularly is useful if you need more advanced spreadsheets features, or if you simply want to share a report with your manager or a team that isn't using Confluence.
Exporting your Spreadsheet data to Excel or Google Sheets
From the Elements Spreadsheet editor, you can access the export feature through a new toolbar button: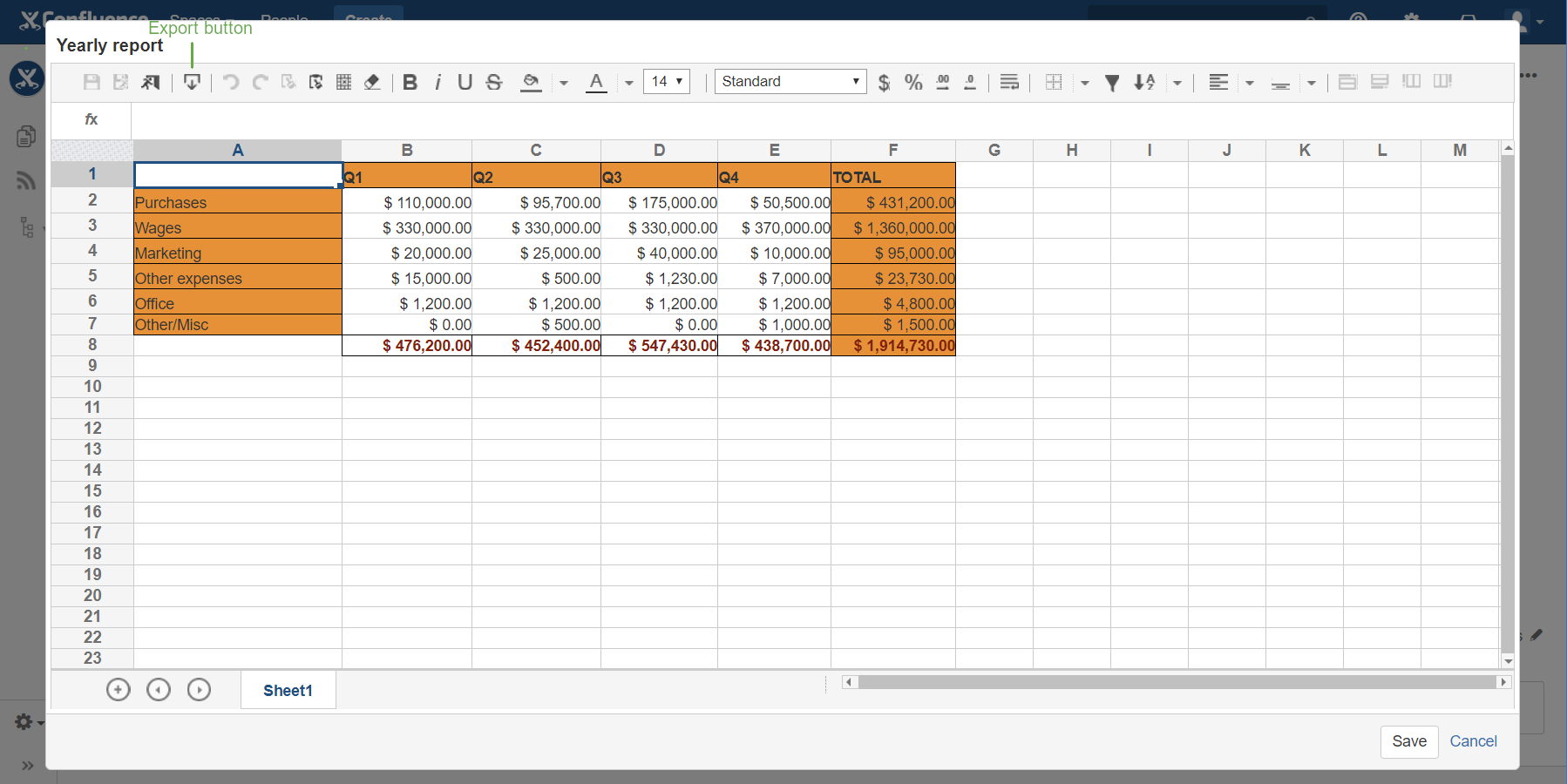 The data from the editor is exported "as is" so even unsaved changes are exported. There also is the possibility to use a dedicated export link while in read mode: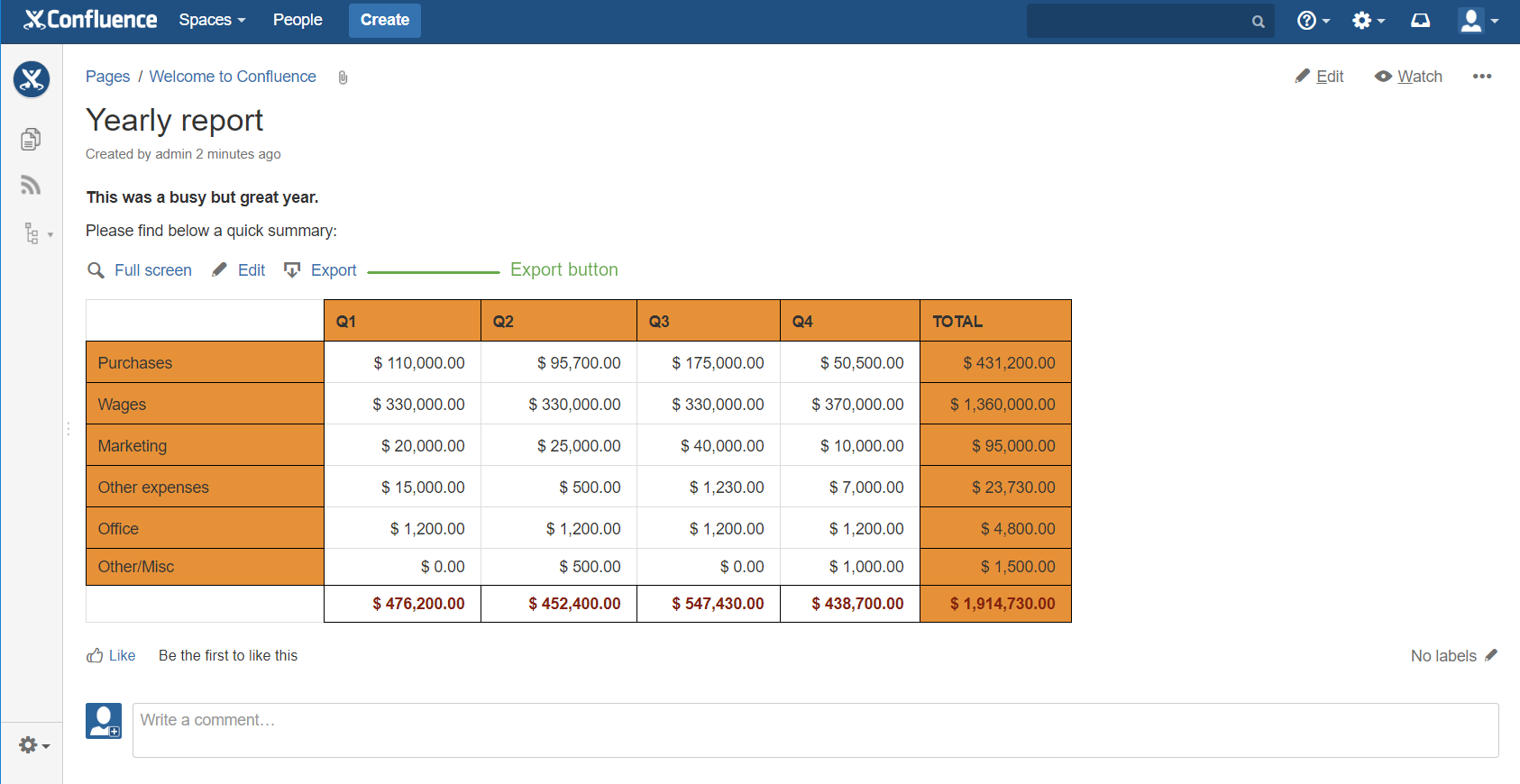 After the export is complete, the user is prompted to download or open the Excel file and perform additional operations.

Not yet an Elements Spreadsheet user? Give our app a go.
The new export feature opens new ways of using your spreadsheet data across your organization. From now on, you can work within Elements Spreadsheet knowing that whenever the need to export tables comes up, you'll have a quick way to share it with non-Elements Spreadsheet users. This is a nice and useful new feature that greatly benefits all our users. Keep in touch because more exciting new features are around the corner.
Try Elements Spreadsheet for Confluence