If your current IT Service Management solution is not up to par with your expectations, you may be considering Atlassian's Jira Service Desk. You're justified in wondering: How do you deploy your solution? How can you ensure that this new solution is a success?
After more than 12 years of experience in ITSM projects with Atlassian tools, Valiantys defined a roadmap along with the the key information required to help you carry out your project.
For a quick summary of the information below, download our infographic at the bottom of the article.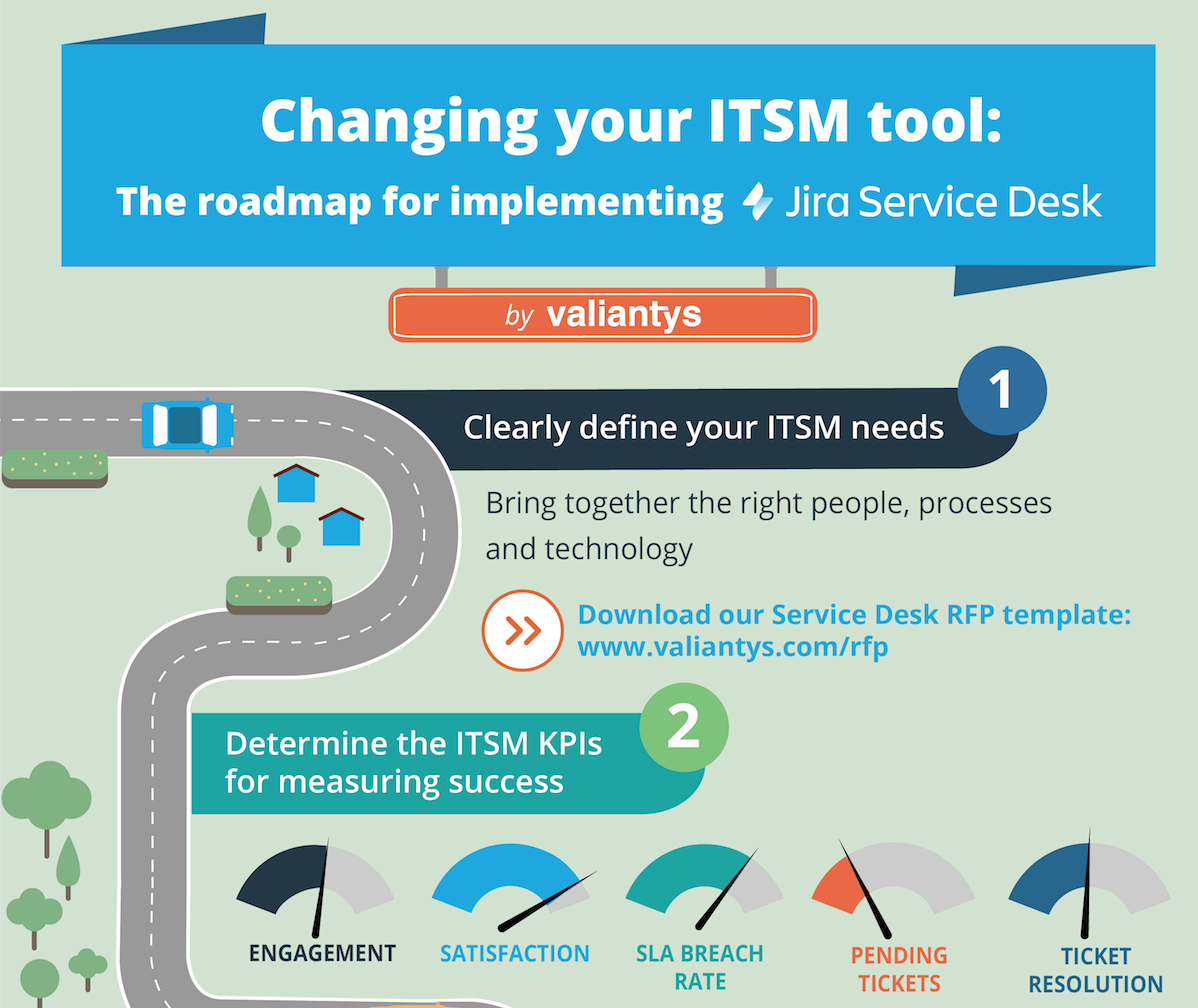 1. Clearly define your ITSM needs
It is essential to understand the needs of several teams: IT, developers and testers. To help teams clarify their needs and prioritize their goals, Valiantys conducts discovery workshops with our clients. We know that ITSM is about bringing the right people, process and technology together:
People: From the leadership team to the developers, everyone needs to understand, own and agree on the vision, the direction and the objectives of the IT organization.
Process: Defining the end-to-end processes is critical, starting with identifying the key steps at the global level then moving into more detail to capture the various layers involved and the various exceptions.
Technology: Once the people aligned and processes defined, technology can be applied to ensure consistency to keep the processes on track.
You should have a medium to long-term vision of these needs so you can anticipate the growth of your business and IT services. What is projected for employee growth, number of tickets and the number of users? How will the company's IT system of evolve?
It is important to ask these questions early in your process so you can scale your platform correctly over time.
The advantage of Jira Service Desk is the tool evolves with you in several ways:
2. Determine the ITSM KPIs for measuring success
While the KPIs will depend on your goals, here are the indicators we recommend using to measure the overall effectiveness of your ITSM team:
User satisfaction: You can you the  NPS – Net Promoter Score and regularly analyze a sample of tickets
User engagement: Do they use your knowledge base? Do they submit a ticket or do they contact the IT support staff directly?
SLA breach rate
The number of incidents, problems and changes
Time to resolution
First contact resolution rate
Regarding implementing the project itself, we recommend monitoring the service availability and cost optimization as KPIs.
3. Have a strategy for migrating your ITSM data
You have two options: You can migrate your data from your previous tool to Jira Service Desk, or you can simply start from scratch. The impact here will affect your project management and your budget.
Do you need to migrate data and if so, why? Do you need to migrate all the data, or just part of it?
Valiantys has a strong, practical expertise in ITSM with over 75 Atlassian certifications, so if you're looking for a fail-proof way to migrate, you can rely on our experts to guide you through the process. Our proven methodology ensures a successful transition: no data loss, data consistency, effective mapping, migration times, implementation of test instance, etc.
4. Choose your ITSM solution
When choosing an ITSM tool, it is important to focus on the features which are the most critical for your business needs. The better ITSM tools on the market are rich in functionality, however this can make it hard to stay focused on what the real needs are, as the "wants" can get in the way. These extra features can be attractive, but in reality they might have little practical use, complicate daily activities and add to the cost.
The key is to find a compromise between scalability and ease of use.
Jira Service Desk offers many features, but through a modular design so it scales to teams of all sizes. Its ITSM configurations and ready-to-use workflows make it easy to adopt ITIL best practices and a quick deployment completely possible. Once you have the basics in place, you can build upon your solution through custom settings and  ITSM apps from the Atlassian Marketplace like Insight, Automation Lite for Jira, Automation for Jira, Candylio, Elements – Advanced checklist for Jira, or you can develop your own custom app.
5. Decide whether to do a POC before launching your ITSM solution
This is a good time to check certain key points relevant to your ITSM project and create a better framework before the launch. Here are some reasons to consider a POC (Proof Of Concept):
Validate your project's technical feasibility. Will it work for your company? Does Jira Service Desk fit into your IS?
Validate Jira Service Desk's adaptability to your processes
Validate the Proof Of Value (POV) of Jira Service Desk compared to your previous tool
Measure the time it will take to integrate Jira Service Desk
Validate the functional coverage: What features are natively covered by Jira Service Desk, and which apps will you need to integrate?
Be aware that there are two types of POCs: the "disposable" POC and reusable POC which is used in the production phase. Jira Service Desk is one of the few tools which a POC can be offered, as other traditional tools can't be tested with a POC because it would be too heavy to deploy.
6. Make a budget for your ITSM project
Atlassian's pricing is transparent on their website; you can even compare the acquisition costs between Jira Service Desk and Servicenow. You'll see that the prices are considerably different, as Jira Service Desk offers on average an 80% savings.
Beyond the price of the license, you'll need to consider the price of apps from the Atlassian Marketplace. On average, companies using Jira Service Desk spend the equivalent of 50% of their licenses' initial price to purchase apps. While this ratio will vary from one company to another, having this benchmark will give you and idea of how to arrange your budget.
If you need assistance knowing if the apps you want will meet your functional and performance requirements, contact us. Many of our customers, such as Amadeus, rely on our teams to identify, select and purchase the apps best suited for their team.
It's possible to deploy Atlassian tools on your own, either on your infrastructure or through the Atlassian cloud. Yet if you're short on time, don't have the technical skills or your IS infrastructure is complex, you can always ask an Atlassian Platinum Solution Partner like Valiantys to guide you through the process. The setup and deployment from an expert is roughly the cost of licenses fees for one year.
The Cloud comes with limitations, such as less choices for your apps and lacks advanced configurations settings on your instance and with your IS. Valiantys' Hosting solution let's you take advantage of the benefits of the Cloud along with a high level of customization for your Jira Service Desk.
7. Sell Jira Service Desk internally
Great news – you've found the right ITSM solution! Now you just need to convince your boss and other stakeholders. Here is a summary of the arguments:
Simple, intuitive and easy to use. Jira Service Desk allows IT teams to focus on what's important.
Jira Service Desk has a quick deployment, on average in 1.2 months, and average of 3 times faster than competing tools.
With ITIL configurations available out-of-the-box, Jira Service Desk can improve the value of IT services from day one of the launch.
Compared to the cost of traditional ITSM solutions, Jira Service Desk can save your team up to 80%.
It's easy to implement DevOps processes with Jira Service Desk, as at the origin it is based off of the Jira Software platform, thus creating a perfect integration. Development and IT teams can interact faster and more reliably to resolve incidents, problems, and initiate changes.
Make sure you include all the stakeholders when presenting your project:
IT teams and directors
Directors from teams which will be highly impacted.
A sample of Jira Service Desk users (This is recommended when you get closer to the launch)
8. Choose the right partner for your ITSM journey
Jira Service Desk is designed as top-down initiative, so it is helpful to have a partner to guide your ITSM journey. They assist with integrating your solution with existing ITSM processes, systems and data. Ideally this should be done quickly and without service interruption in order to start benefitting from the new ITSM platform.
In the Atlassian ecosystem there are a large range of partners, so the choice doesn't seem self-evident.
To start, check the scope of the services offered by the Atlassian partner. While today you might only need help with licenses and training, your needs may be different tomorrow. At Valiantys, we can help with a full range of services, including licensing, the evolution of your instance, governance optimization, instance consolidation, and support and hosting. Running an audit will help to clarify your situation and needs.
One point that should not be overlooked is training your administrators. With a short training, your team will acquire the skills needed to fully perform their jobs autonomously. At Valiantys, we offer trainings led by our certified consultants – the same ones who deploy your instances.
Obviously as well, you'll need to choose an Atlassian Partner that a high level of knowledgable surrounding ITSM, as they'll need a good understanding of ITIL processes and how to integrate them at your organization. Valiantys is one of the leading ITSM experts in the Atlassian ecosystem – with on the ground experience to back up this claim. Along with winning several awards for our work with Jira Service Desk, we're proud that in 2014, Atlassian integrated our app Vertigo SLA into Jira Service Desk.
Ready for Jira Service Desk!
You are now equipped and ready to launch your own ITSM project with Jira Service Desk. It's a lot of information to absorb, so we've prepared a summary of these steps in a free downloadable infographic. Share it with your team and keep it visible during your ITSM launch journey so you don't skip any steps.
Download the visual