What does being a Jira Service Desk admin say about you? It means that you've invested in one of the most collaborative ITSM solutions on the marketplace. The tool covers many essentials out-of-the-box, such as advanced  SLAs, intuitive customer portals, basic automation and email handling.
But you're not the type of person who is willing to settle when your requirements aren't met. For those occasions you can browse through over 750 apps to customize your service desk and fine tune it to exactly what you want.
As Valiantys has assisted clients for over 12 years with their unique ITSM solutions, we've noticed some apps are the usual suspects when it comes to creating a fully-fledged Jira Service Desk project. Features like advanced automations and email management, asset management, checklists and dynamic forms are commonly requested. We've compiled a list of our six top Jira Service Desk apps to extend your ITSM solution.
Customize your Jira Service Desk with advanced email management
Do you have the one annoying spammer that will not stop emailing your service desk? Would you like to customize the design of your email directly from Jira Service Desk?
While a light email management is covered within Jira Service Desk, there are times when stricter requirements need to be put in place, such as blacklisting emails, sending emails outside of Jira, handling multiple issue types via email and email manipulation (such as inserting values from the email body into custom fields).
Email This Issue, edited by META-INF KFT, allows you to go beyond the built-in Jira Service Desk email handling. You can set up your entire email approval process within Jira Service Desk.
Incoming emails
The incoming email configuration allows you to you to perform regex filters, blacklists, workflow transitions and more.
In the example below, we can see a mail handler set for a project, and we can perform the task of Creating or Commenting on an Issue, as well as Initializing issue fields.

For example, if the body of the email contains "Urgent matter" then the Impact is set to "High":

Outgoing emails
The outgoing email feature allows you to configure templates and notifications based on events along with configure the types of responses.
Instead of using the default Jira Service Desk templates, we can define our own custom email templates by using HTML, CSS and inserting custom field data into the emails. This allows users to create custom-made email templates that can include elements such as the company's color scheme and logo.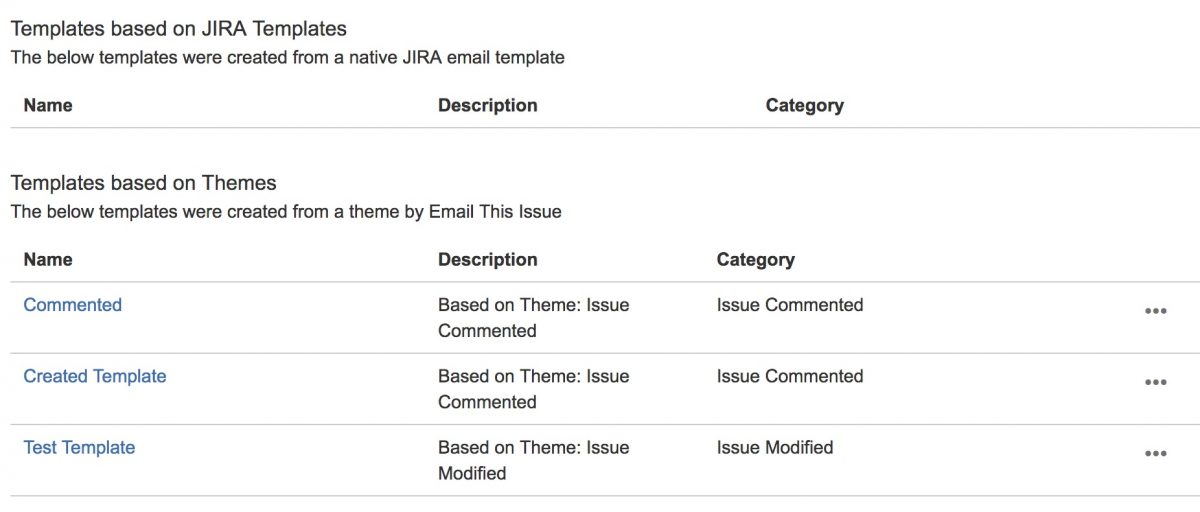 Customize your Jira Service Desk with advanced automation
The apps Automation Lite for Jira and Automation for Jira, both edited by Code Barrel Pty Ltd, help to extend your ability to automate within Jira Service Desk.
Automation Lite for Jira is a free app which provides some functionalities that come with the paid alternative. However it has a limitation on the number of times it can be used per day. The paid app, Automation for Jira, unlocks the full version allowing for a multitude of different automation operators as well as unlimited usage.
Automation for Jira helps to edit issues, transition, create other issues, set an assignee, and more. It greatly enhances the automation aspect of your project, saving both time and resources in managing your service desk issues.
Below is an example of a use case; when Urgency is set to "High", we'll automate it so the issue will Escalate and the proper person will be assigned to the issue.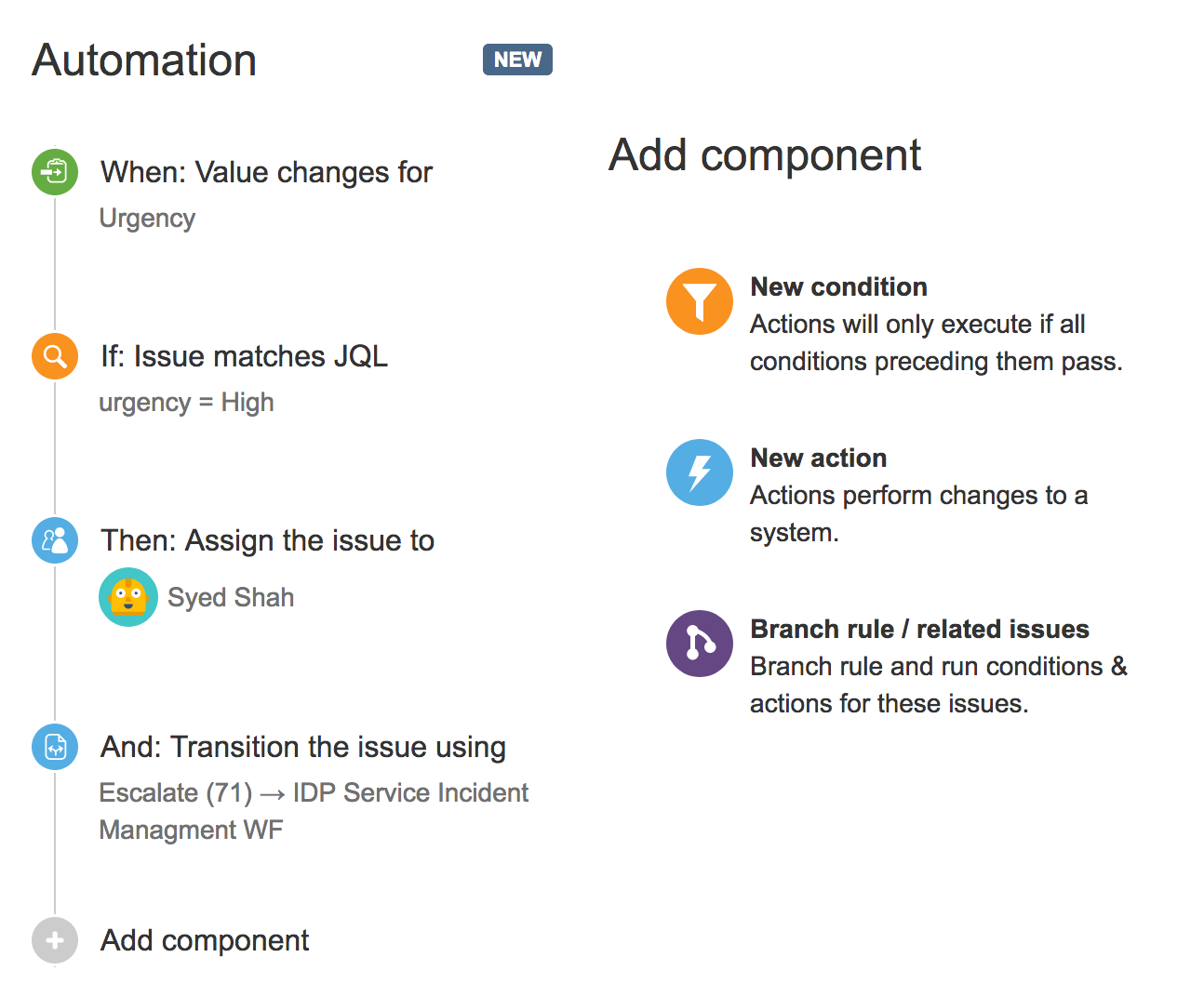 Customize your Jira Service Desk to include an asset management solution
Your service desk might require connecting the physical and digital worlds together to organize your assets and ultimately serve your customers better. Without the use of apps, the recommended way to do this natively in Jira Service Desk is to use "Components", which can be cumbersome to configure. Rather, Valiantys' go-to app for asset management is Insight.
Insight – Asset Management for Jira, is an app edited by Riada. It allows you to create object schemas, customized to any terminology (IT Hardware, Peripherals, Service Lines, HR records, etc.). Data can be gathered through various different methods, including LDAP, CSV, and the Insight Discovery app.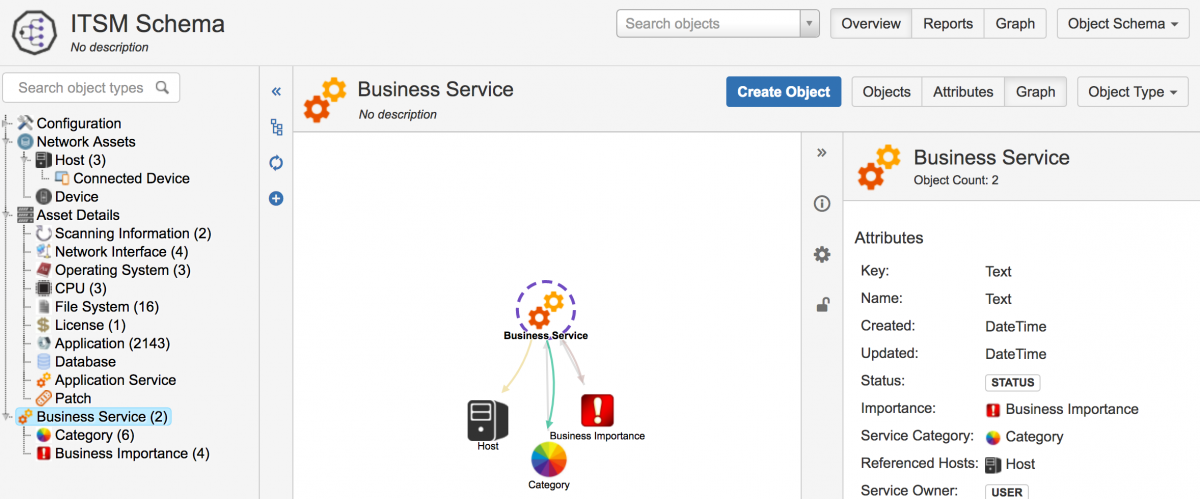 You can integrate Insight with your Jira Service Desk by creating custom fields which pull information regarding assets. This allows users to select impacted Service Lines, or for service desk agents to choose affected servers.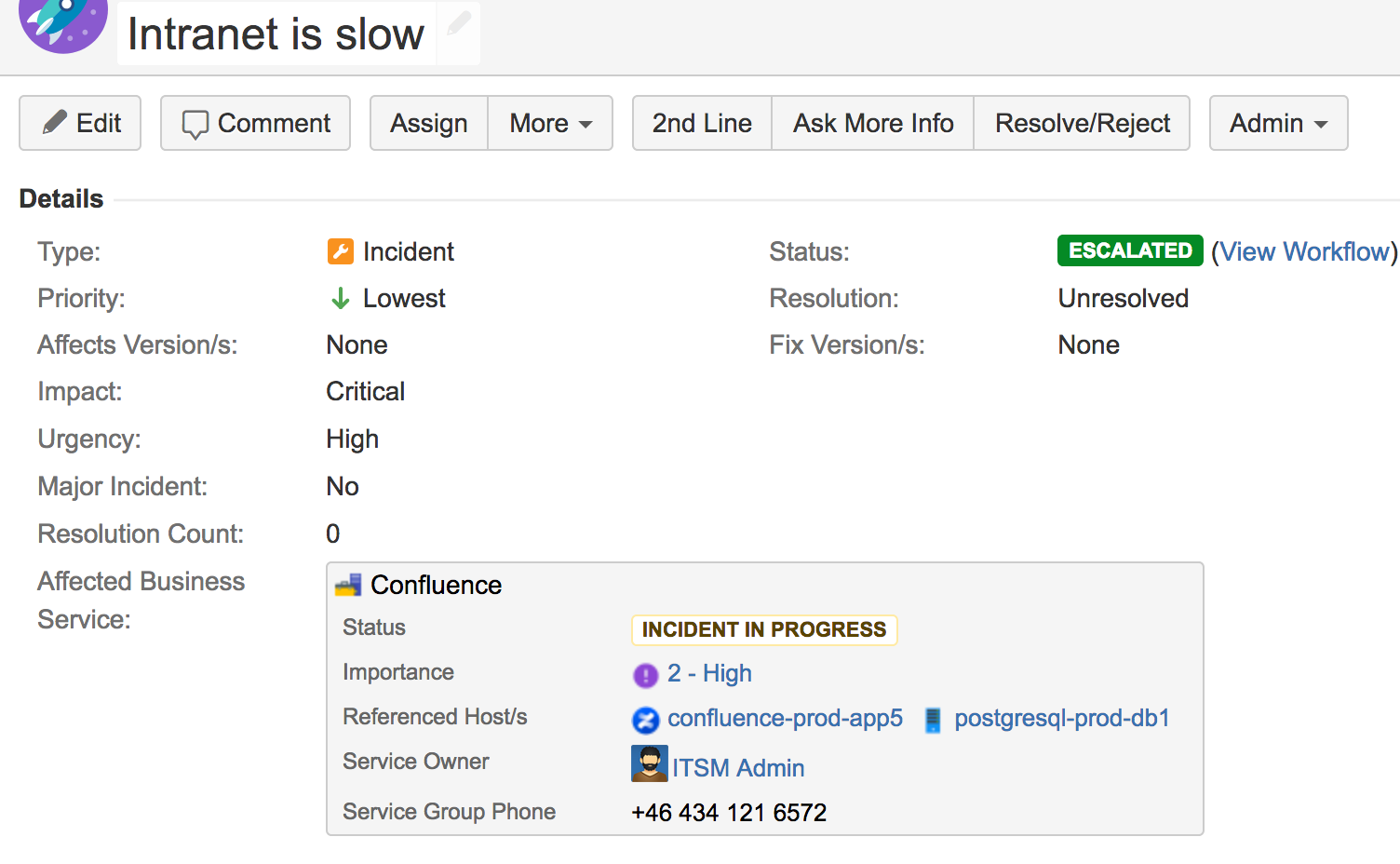 Customize your Jira Service Desk to manage your checklists
Service desks often have a fair number of reoccurring tasks, whether it's on-boarding new employees or performing specific checks for certain incident types. Again, there isn't a simple way to do this in Jira Service Desk, but fortunately there's an app to ease this work.
With Elements Checklist for Jira, edited by Elements, we can create different kinds of lists using various attribute types such as users, dates, checkboxes, simple text, etc. This creates custom checklists that fit most use-cases.
By using this app for repetitive tasks, we can have a predefined list of instructions which agents can tick or enter information into as they're progressing through the issue. Using this method reduces the amount of default subtasks which need to be created, and overall is a quicker way of tracking smaller tasks.
With the cloud version of the app, checklists can also be used by customers on the Jira Service Desk customer portal. For instance, users can directly select the hardware they require.
Below shows an example of an employee leaving the company and the tasks that need to be performed – all tracked within Jira with the help of Elements Checklist: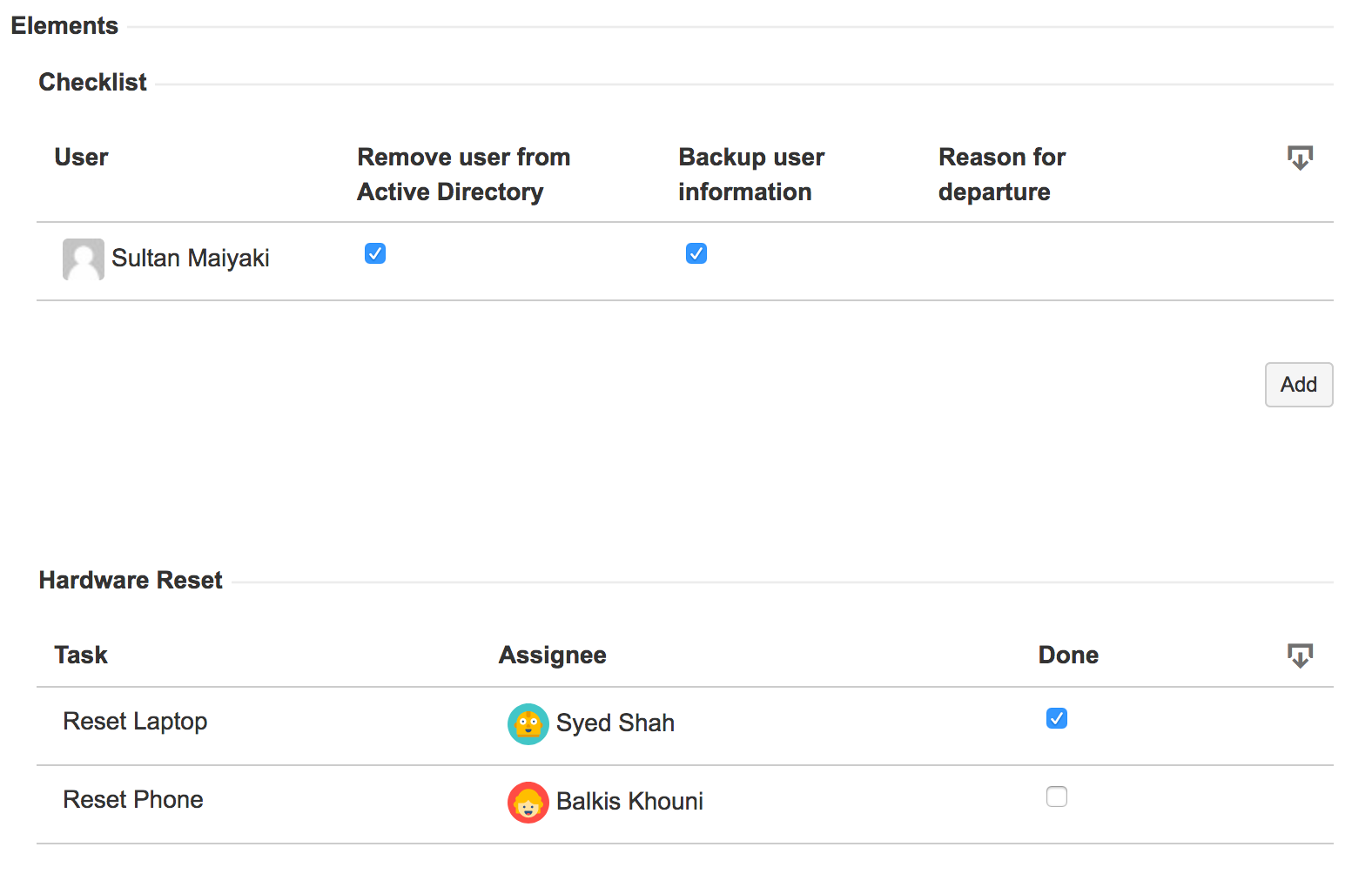 Customize your Jira Service Desk to incorporate dynamic forms
When creating forms for users to fill out – such as through the customer portal – it can get quite cumbersome to display a lot of fields which might not be relevant for all scenarios.
Extension for Jira Service Desk, owned by Deviniti (Formerly InTenso), gives you the ability to hide or display fields based on select list options, and create custom fields which have dynamic values. These forms can be set to show and hide custom fields on the Customer Portal, as well as allow dynamic custom field values to be used, giving your users specific options and fields to fill depending on their choices. For example, if your incident is related to your business, you'll want to know what function it impacts: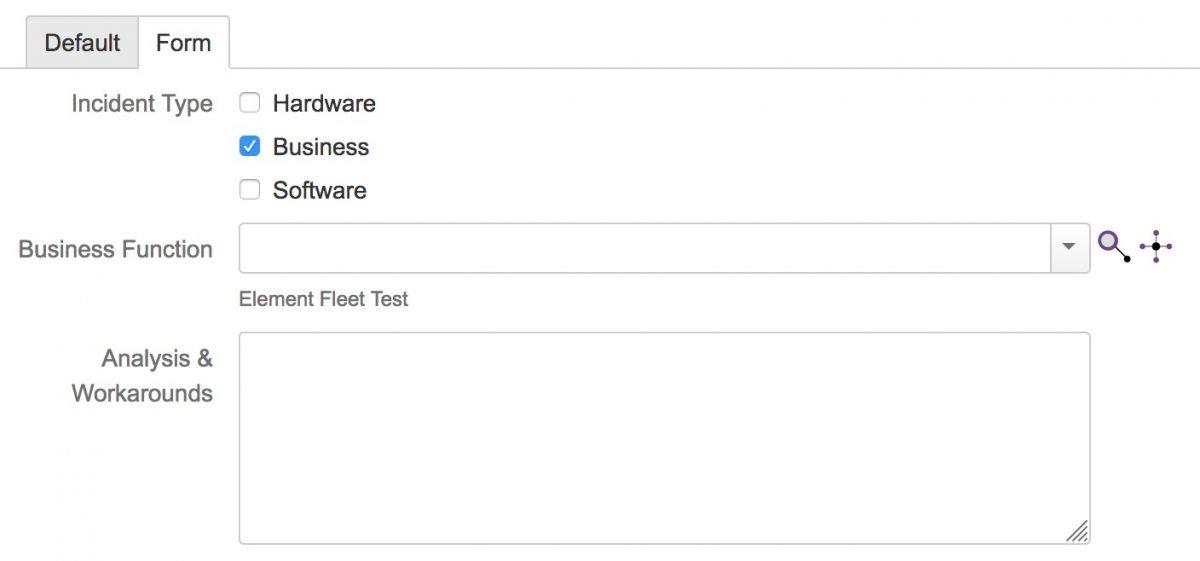 If your incident is hardware related, you'll want to know which server is affected. Needless to say, listing the business function below would be confusing.

Customize your Jira Service Desk with your own graphic layer
Without any added design element, the different screens on Jira Service Desk can seem too bare and simple for external or internal clients. The Marketplace app Refined Theme for Jira Service Desk allows you to configure your own graphic theme. These themes can either be applied globally, or to a specific portal. The interface for the configuration is user-friendly, making it easy to choose different options and elements. It's one of the apps we've integrated into our own service desk portal at Valiantys: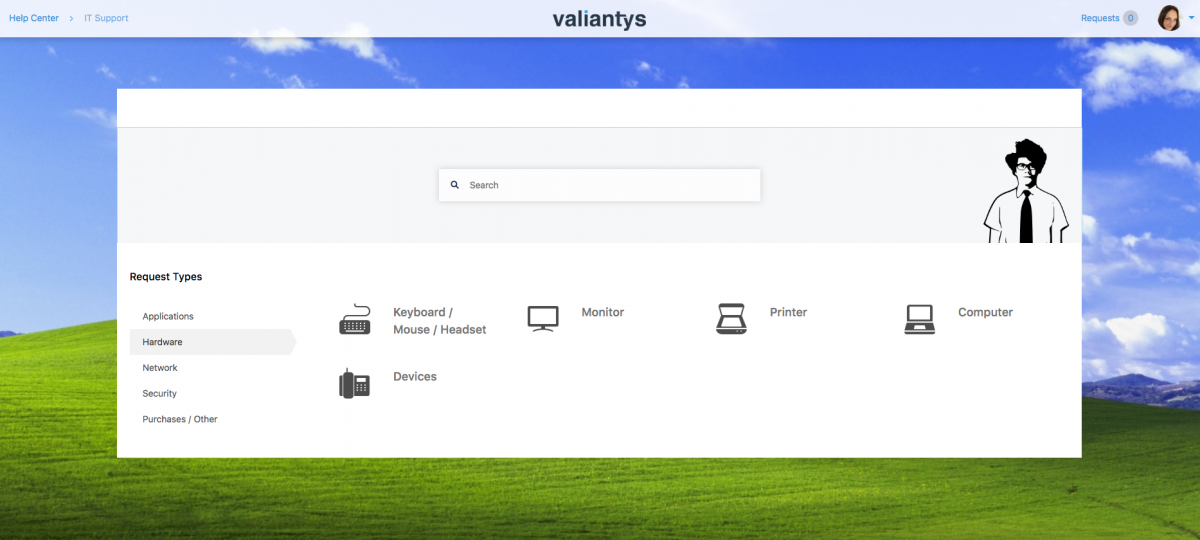 The app certainly helps in giving a solid graphic identity to your instance.
Let Valiantys help you customize your Jira Service Desk!
Of course, there is a lot more than just installing the apps in your instance. You'll want to look into functional and performance testing along with governance around your apps, and that's where Valiantys' Atlassian certified consultants come into play. Just click below to get in touch.
Contact us