It's been several months since Atlassian announced Jira Ops at the Atlassian Summit in Barcelona.  The early access phase is now over, so it's reason enough for us at Valiantys to have a closer look and check what's inside the box.
Jira Ops is not Opsgenie
In recent discussion with our clients I noticed some confusion around Jira Ops and Atlassian's  latest acquisition, Opsgenie.
While both tools are useful for incident management, Jira Ops is not Opsgenie. Opsgenie is essentially an alert routing tool that makes sure the right alerts are sent to the right people at the right time and place.  Opsgenie is just one of many tools that can be integrated with Jira Ops, including:
StatusPage for communication with customers,
Slack for internal communications,
Confluence to document postmortems.
What is an incident? What are Atlassian's best practices?
If we talk about incidents in regards to Jira Ops, we talk about major incidents – not the minor incidents you would track in Jira Service Desk. Let's take a look at Atlassian's definition of an incident in the Incident Management Handbook.
Jira Ops is based on Atlassian's own developed best practices for major incident management. According to Atlassian:
"An incident as an event that causes disruption to or a reduction in the quality of a service which requires an emergency response. Teams who follow ITIL or ITSM practices may use the term major incident for this instead.

An incident is resolved when the affected service resumes functioning in its usual way. This includes only those tasks required to restore full functionality. 

The incident postmortem is done after the incident to determine the root cause and assign actions to ensure it is addressed before it can cause a repeat incident."
Valiantys goes into more details on the differences between a problem and an incident here.
Furthermore, it is important to note the values that guide Atlassian's JiraOps, as there is no process that could possibly be a one-size-fits-all solution. According to Atlassian, their values are:
"Guide autonomous decision-making by people and teams in incidents and postmortems. 
Build a consistent culture between teams of how we identify, manage, and learn from incidents.
Align teams as to what attitude they should be bringing to each part of incident identification, resolution, and reflection."
Getting started with Atlassian's Jira Ops
Once you have subscribed to Jira Ops on Atlassian Cloud, you can start your first Jira Ops project. If you already using Jira Software or Service Desk, Jira Ops will be another next generation project template to choose from, when you create a new project.
Jira Ops will immediately try to connect you with other tools like Slack, Statuspage and alert routing tools (Opsgenie, xmatters or pagerduty). In my case, I went directly into the Jira Ops project. My mistake, it turns out, is there is not much to do without integrations. There is a clean user interface, a simple workflow (New – Accepted – Fixing – Resolved – Canceled) and a timeline once you start working on an issue – but integrations are a must-have.
So back to square one –  let's do all these "getting started steps," and suddenly Jira Ops makes sense.
If you add Slack, you will be able to broadcast important messages from Jira Ops into the Slack channel for fighting incidents; you can add important information, like decisions, in a custom action within the timeline. This is either possible in real time or after the fact.
When you update your Statuspage, the updates will be added to the incident timeline.  You will never lose track when and what you communicated to your customers.
Incidents created from Opsgenie in Jira Ops can be acknowledged in Jira, and vise versa. The issue will transition automatically in Jira and more information will be added as time goes by.
All this will result in a great overview of the current incident and its events. If you have to add other players to your team or need to do a handover to another incident manager, they are immediately up to speed.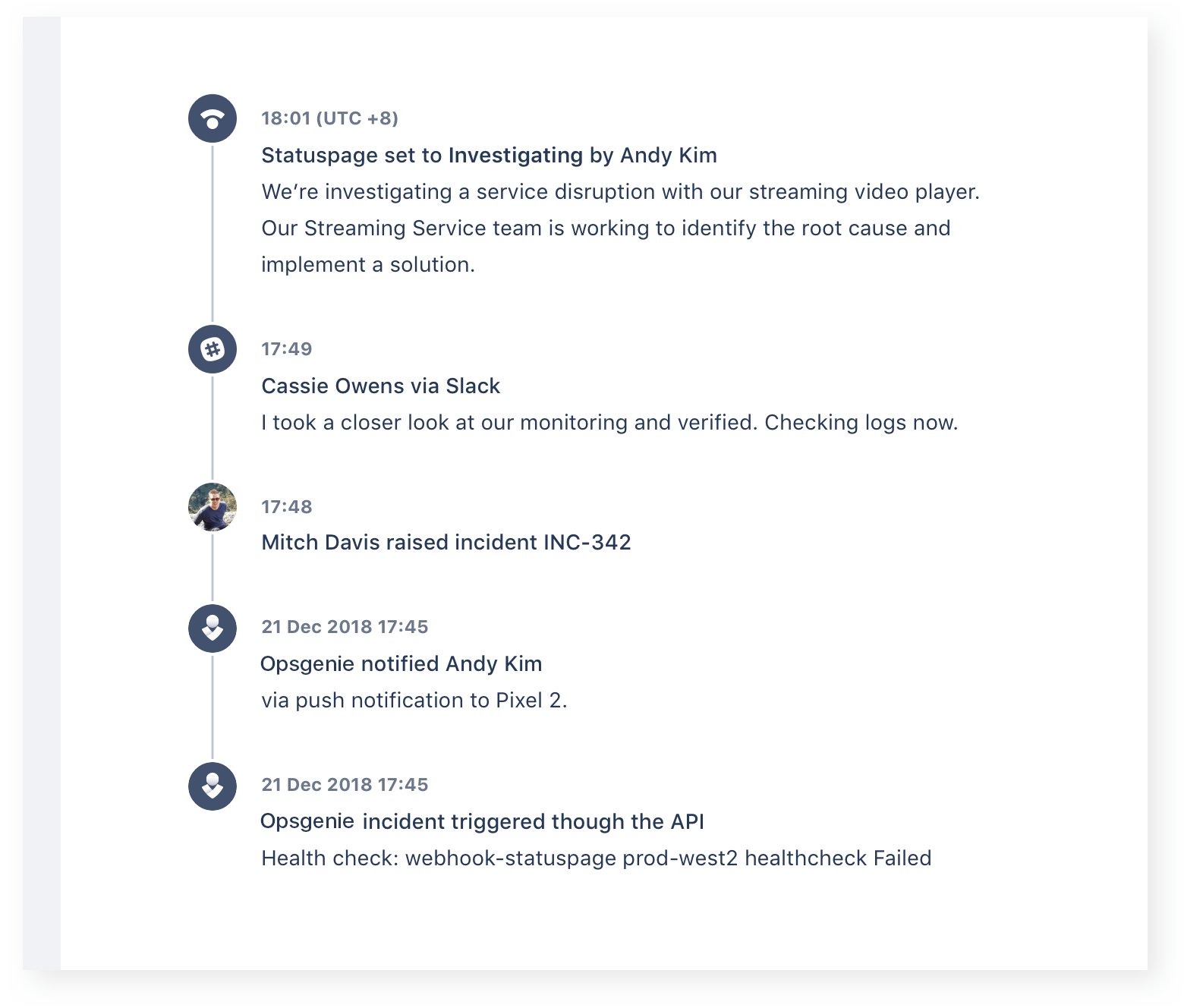 Atlassian's Jira Ops and Postmortems
For sprint retrospectives, Atlassian created a postmortem blueprint in Confluence. With the new user experience, creating a postmortem feels almost like doing another workflow transition; seamlessly, you're transitioned to Confluence's postmortem page.  Here you can document the postmortem and improve the incident management of your team and organization. This easy to use timeline in Jira Ops is also available in Confluence. You can easily document in the timeline without switching between tools.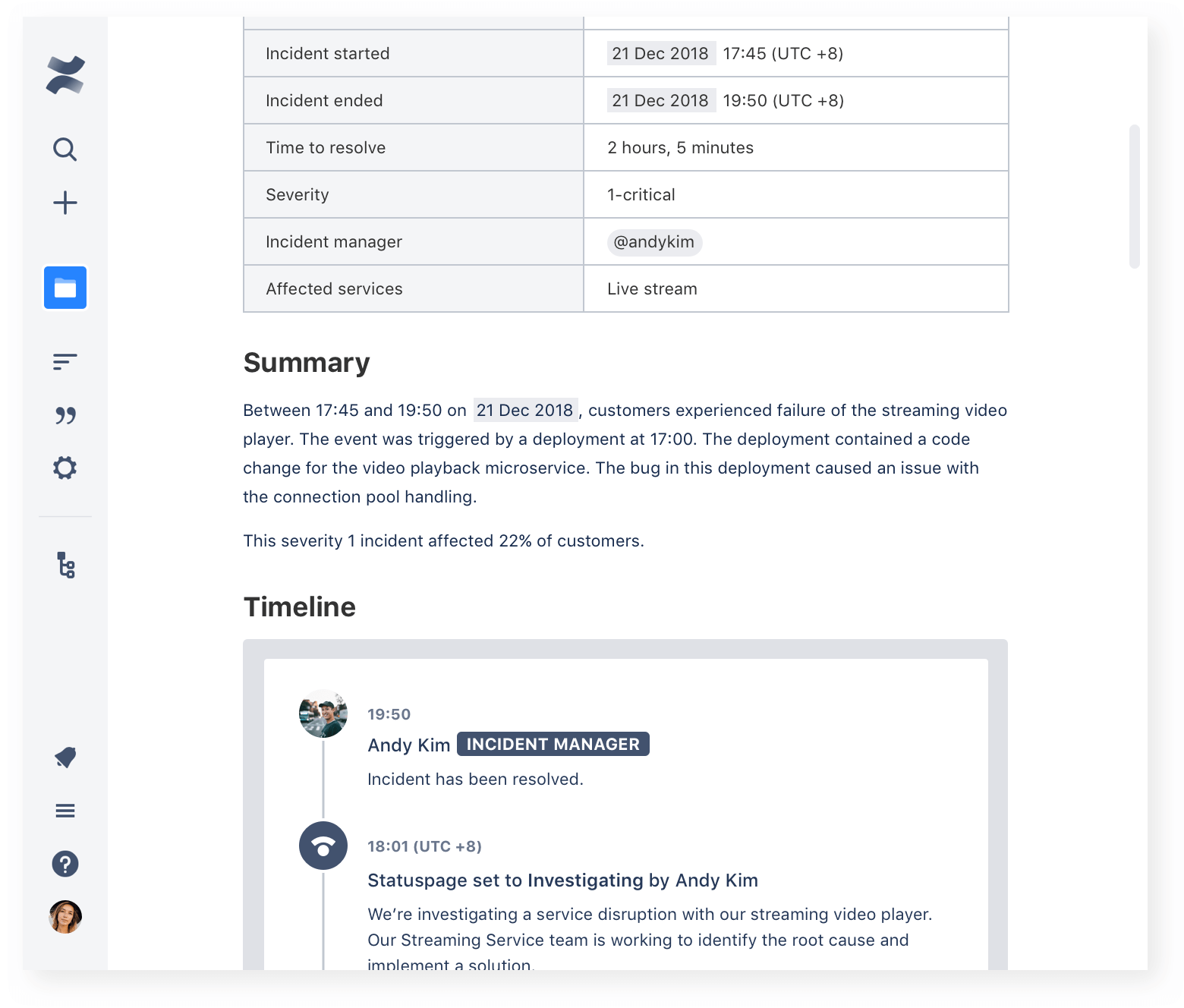 As a nice plus, the tool keeps track of your postmortems so you can easily see your pending postmortems.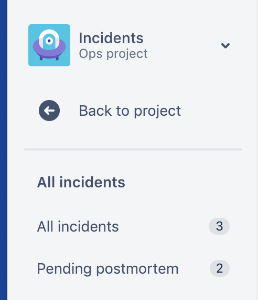 Interesting in learning more about Jira Ops? Valiantys' certified Atlassian consultants can tailor the tool to your processes.
Let's talk