Even though high availability applications are not a new concept, upgrades are not without outages – and this is a big problem for enterprise level companies. Therefore, Atlassian launched zero downtime upgrades for Jira Software.
How does this work? Atlassian's Data Center offering allows Atlassian products to be installed and distributed on separate machines, known as nodes, with a load balancer serving as a controller. The load balancer re-routes users to appropriate, healthy nodes in situations where one node is unavailable. This is how it is possible to have high availability with zero downtime.
This is currently supported in Jira Software 7.3 and above, meaning all nodes in the cluster must be current to this version. We'll show you how this works and what it means.
Putting Jira Software Data Center to the test
In order to perform this test, we installed Jira Software Data Center 7.3 with two nodes and a load balancer by Apache. Below are the steps we took:
1. On node 1, we chose the "Put Jira in upgrade mode" as suggested in the documentation. To do this, we navigated to 
> Applications > Jira upgrades.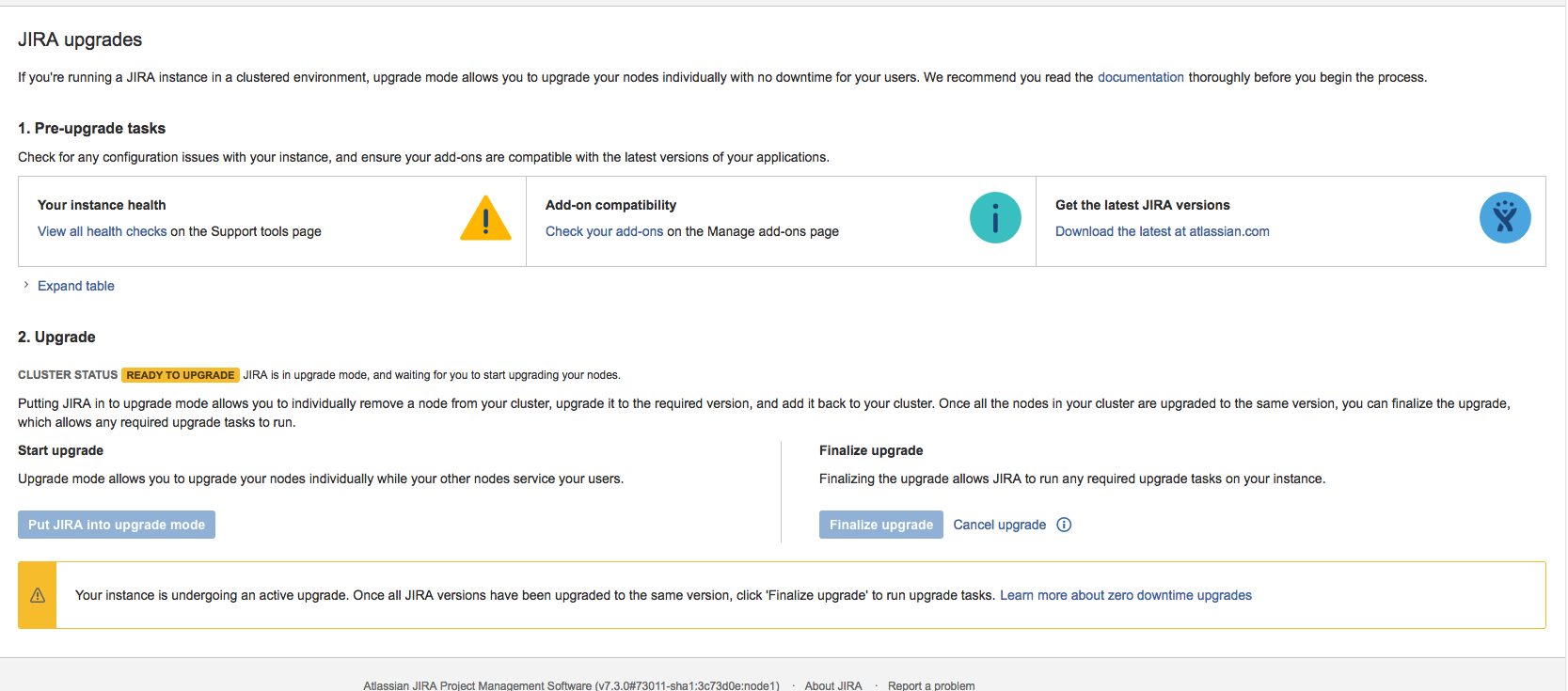 The status of node 1 immediately changed to READY_TO_UPGRADE. 

2. At this point, Jira expects that you will bring down the node for an upgrade. As such, the node will be temporarily removed. Any logged in user in the current node will be redirected to another node. That is the magic of zero downtime – your users don't even know the difference!


3. Once the first node has been removed, node 2's  status will automatically change to MIXED. Signalling that one of the node is undergoing upgrade. Below is the screenshot from node 2.


4. Node 1 conducts the upgrade and registers this information in its logs:


5. Once all your nodes are upgraded –  one after the other – you can then "Finalise upgrade" . This can be done by navigating to 
> Applications > Jira upgrades.
And that's it! Our test underwent an upgrade from versions 7.3.0 to 7.3.2, yet it will be interesting to see what would happen if we tested a major upgrade, such as from 7.3 to 8.0 (As a best practice for our clients however, we recommend smaller and regular upgrades).
Does zero downtime sound like the solution you need? Get in touch with us to learn more about Jira Software Data Center!