In the second of our two-part blog, Senior Consultant Chris Le Petit shares his team's experiences as winners of the first Valiantys ShipIt. 
When I finally returned to the hotel, both Bertrand and Gael were extremely relieved to see me. We decided to regroup at 9am after breakfast and review what we had. I continued to work on my tasks for about an hour, but could feel myself slowing down and making more and more errors. I decided to compile a list of all the things I knew I had left to do, prioritise them and mark what was required and what was optional. Then I went to bed.
The final stretch
In the morning I expected to feel much more tired than I did, but I think the excitement of the event helped me overcome it. After breakfast and a shower I was ready to finish the 'required' list and start looking at the optionals – one of those optionals was the commercial.
Larbi continued working on the web app while Bertrand and I found a couple of spots to film our commercial. If you ever need someone to star in a commercial for your ShipIt project, Bertrand is the best person for it –  we had three scenes to shoot, and he nailed them all on the first take. It was perfect.
I recorded the remaining demos and started trimming and stitching the videos together, whilst Bertrand finished the slide deck. We finished just in time for the 11am deadline. When the time came for us to present, a technical issue with the slide deck prevented us from going ahead with our initial plan, so Bertrand improvised and completed the presentation without slides or notes.
The moment of truth
The presentations were done, votes were cast and we all went to grab some lunch and wait for a couple of hours to hear the results. A combination of a lack of sleep, our adrenaline rush fading away and the urge to have a nap after eating too much all kicked in, and made this stretch feel like quite a long time. When the results were finally revealed, I wasn't even sure I had heard it right at first – Bertrand certainly couldn't believe it, his eyes were wider than a child's on Christmas Day!
We got up on stage, collected our award and winner's t-shirts, thanked everybody for their votes and felt very awake again. I think it took quite a few days to wipe the smiles off our faces. The rest of the day is quite a blur, but it was an honour to have won my first ever ShipIt, especially against the tough competition that we saw.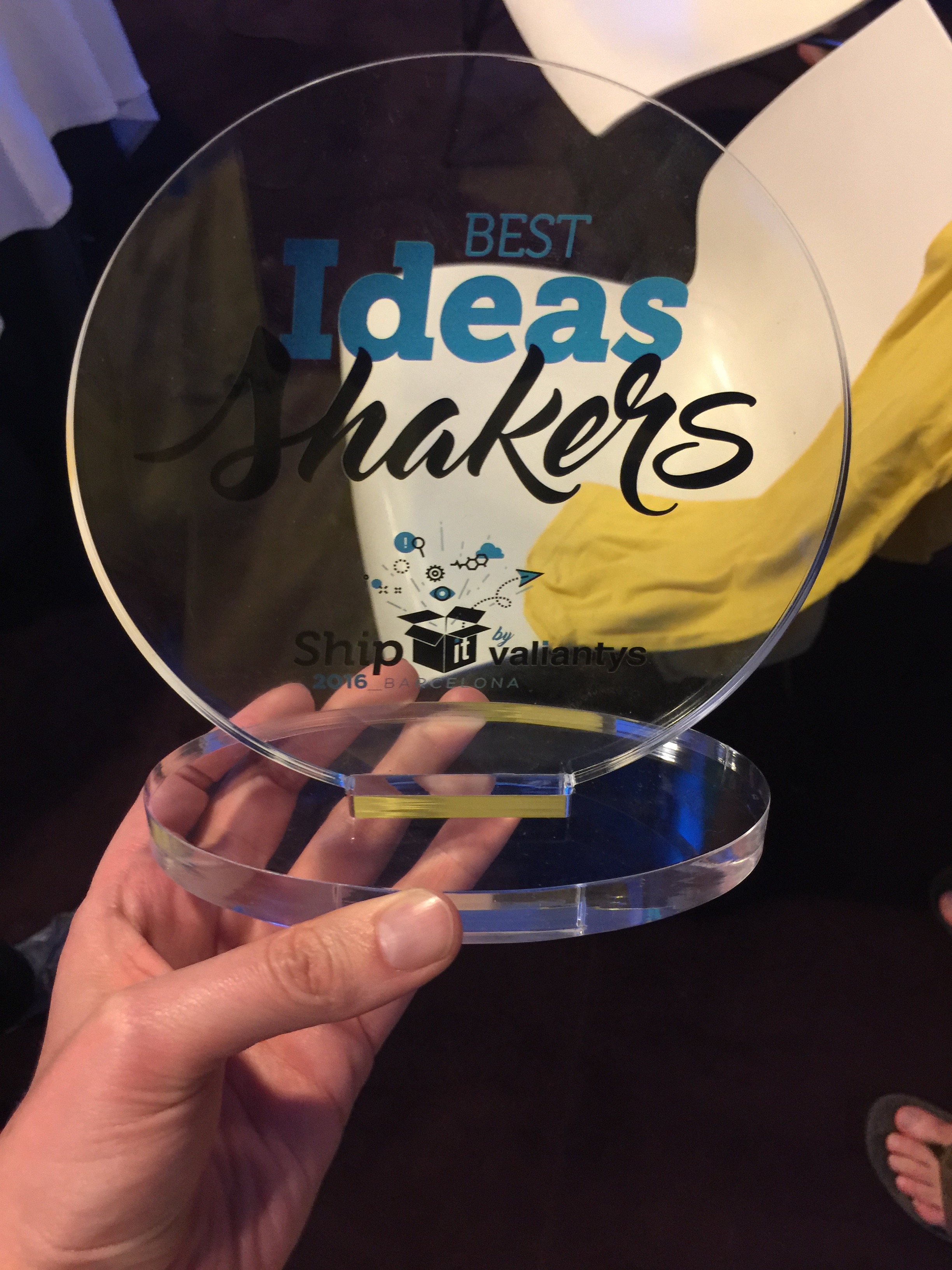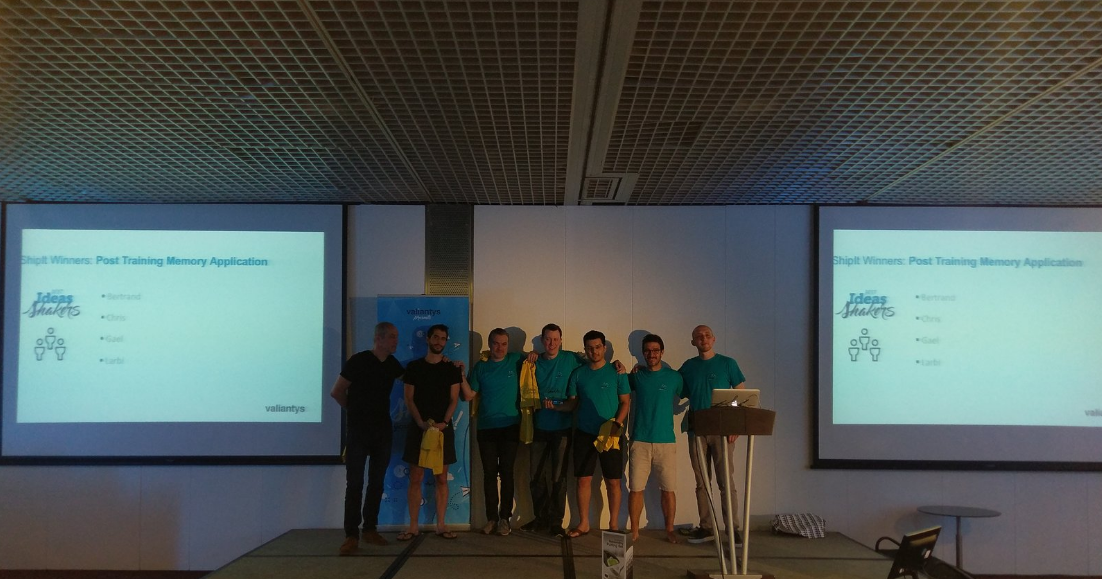 In hindsight
Looking back, we were fairly well prepared for the Valiantys ShipIt, and I think that preparation was key in our success. Any kind of event like this will present challenges, and the more you can anticipate and be prepared for anything that comes your way, the better you'll do on the day. Here are my key takeaways:
Have a clear definition of the minimum deliverable project you can achieve. If you can definitely create something and add bells and whistles with the extra time, that is often better than delivering nothing but the bells and whistles.
Try and set up your environment before the day – we had issues with the wifi being slow but thankfully we'd already downloaded the largest files we needed. If we hadn't done this, we could have lost a few hours.
Stay in touch with your team and meet regularly to discuss progress on individual tasks. Be prepared to adjust goals as the day progresses and you learn more about the project.
The presentation is key – you could have the best project in the world, but if no-one know what it is, they won't vote for it. Two minutes was a very short amount of time to present in, so practicing beforehand or using a video to ensure you meet the time limit is key to not getting cut off mid-way through your pitch.
Don't panic when things go wrong, just see how you can fix or work around the problem. There's always something that won't go to plan, and it's better to skip the stage where you stress about it and just get on with fixing it.
Have fun! It's always exciting doing these kinds of things, so make sure you're working on a project that you find fun and interesting – if you're doing something you enjoy, you're much more likely to be successful.
We'll keep you updated on the progress of this and others awesome Valianntys ShipIt initiatives over the coming months. In the meantime, if you're looking for industry-leading training in Atlassian tools, take a look at our training courses.