If you are used to customise Confluence, the must-have "theming" add-on RefinedWiki must sound familiar. RefinedWiki offers a wide range of possibilities but its standard themes don't necessarily fit your business needs. In this article, I propose you to discover a newborn add-on in the world of Confluence customisation: Theme Press, which deals with these limitations effectively. Thus we will go through this new tool and compare it to RefinedWiki. We will identify the pros and cons of both tools and in which cases they should be used.
What is Theme Press ?
Theme Press, successor of Zen Foundation is the new add-on launched by Brikit. It allows you to customise your Confluence either completely or only specific spaces by visually transforming it  into a website. Ease of use, ergonomics and stability are the main strengths of this add-on.

Licences for old users of Zen Foundation will be free and included in the maintenance contract.

Compared to RefinedWiki, Theme Press offers you some new features and new possibilities. To learn a bit more about it, here's a quick comparison between these tools.
RefinedWiki and Theme Press: how are they different?
RefinedWiki
RefinedWiki allows you to choose from built-in themes and to improve the basic design of Confluence. A few customised items will be added to the global layout, such as display / hide some items, sidebar with quick access, colors, logos … Here's an overview of our enterprise wiki setup with one of the theme offered by RefinedWiki :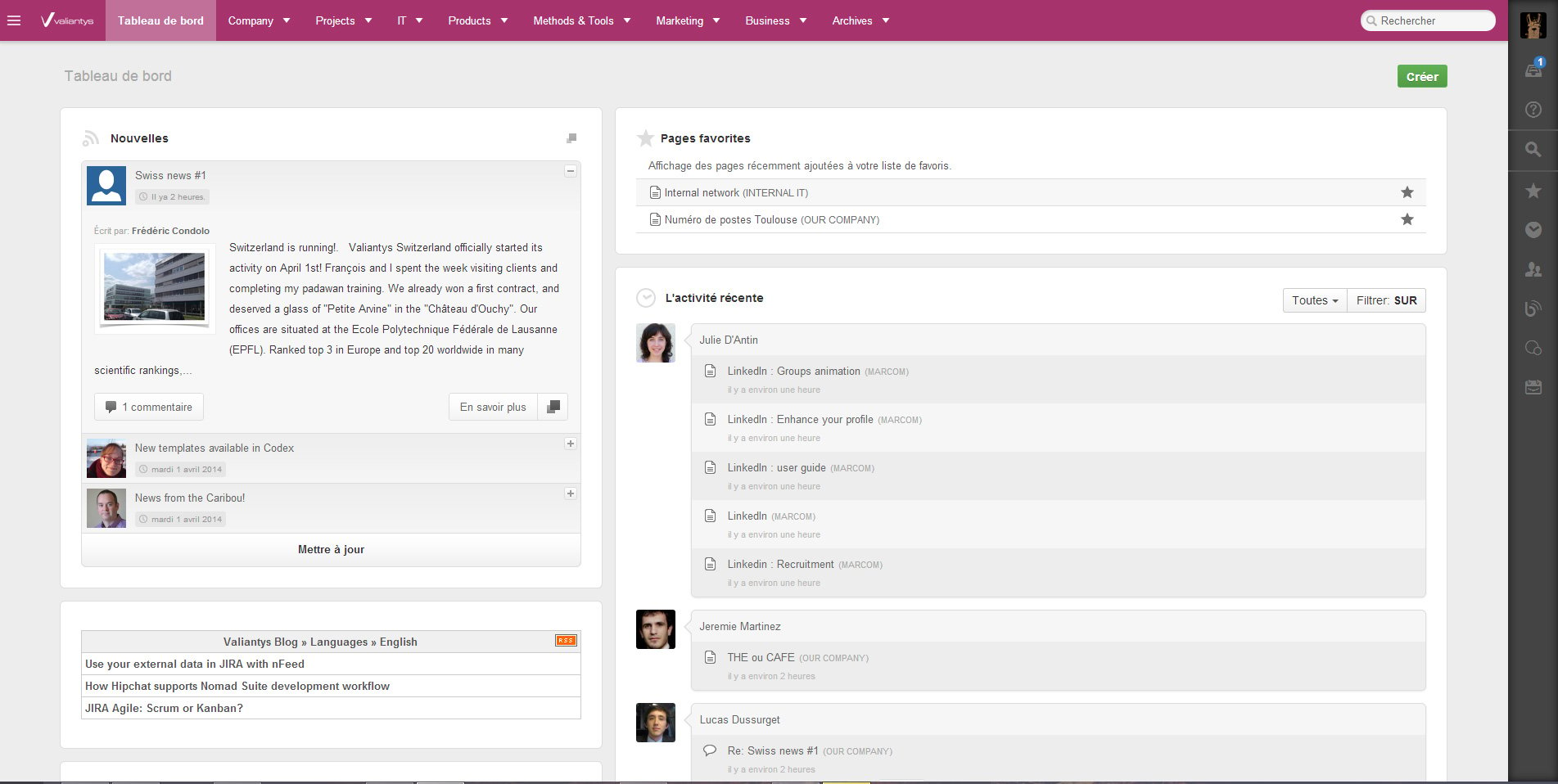 However if you want to create your own themes, you can modify the built-in ones for a deeper customisation. For instance, take a look at our fully customised Confluence above :

Visit Valiantys' add-ons documentation

If you want to obtain this type of design you must have a strong knowledge in CSS (override basic styles) and specific formatting add-ons to target your styles (especially Content Formating Macros by Adaptavist).

This type of customisation has one major disadvantage: in case of migration or version upgrade, many things will have to be reviewed, consequently you will waste time.

To sum up, RefinedWiki is a powerful tool but its customisation possibilities are limited.
Theme Press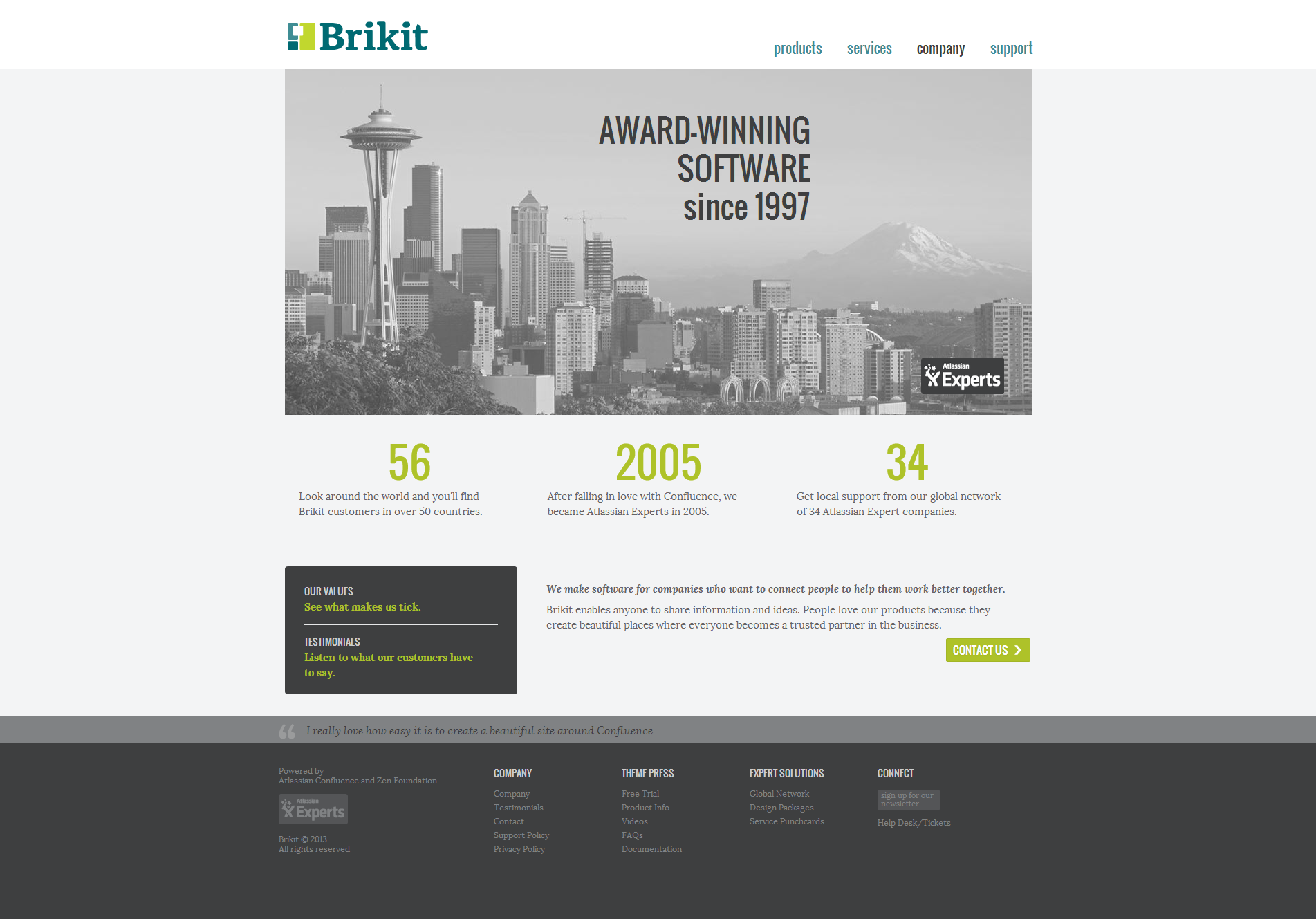 On the opposite, Theme Press helps you to customise Confluence entirely. Once it is customised and configured, you will feel like you are on a real website. It will display a header, a customisable dropdown menu, a footer and will have a sophisticated layout and will offer you a total control over each page content layout. The designers of the add-on attaches great importance to the compatibility between different versions of Confluence, which is a guarantee of the future stability and scalability. Considering both ergonomics and flexibility of this tool, we decided to launch a redesigned project of our documentation based on RefinedWiki (link above) with this one. Here is an example of customisation with the official Brikit website to illustrate the extent of the opportunities offered by the tool.
Conclusion
To sum up, these two add-ons have very different goals :
RefinedWiki allows you to customise Confluence's design partially, which is sufficient in most cases
To fully transform Confluence into a website, Theme Press is the must-have tool
Both tools provide advanced customisation through custom style sheets and scripts, which can be useful in case the basic settings are not sufficient to fit your needs.

Knowing that Confluence structure evolves all along the releases, avoid a maximum CSS overrides and target your own styles to guarantee a better flexibility.

As a webdesigner, Theme Press totally changed my way of designing a Confluence theme. With plenty of options and customisation, I obviously have a preference for this add-on. What about you? What's your favourite tool 🙂 ?
Resources