Zephyr for JIRA is an add-on application that brings test management capabilities to your JIRA projects. It is the only vertical test management application built exclusively for the JIRA 5 platform. Available the very day JIRA 5 was released, it is being actively developped: Zephyr for JIRA v1.6 was released on November, 19th.
Overview
A brief recap of its main features:
A new top-level "Tests" item is added to the navigation bar in the JIRA Workspace allowing the user to create, plan, execute and track their testing.
A new Issue Type called "Test" is also created and indicated by this icon: .
You can create a test just like any other issue type in JIRA but it has has additional fields and capabilities. Like any other issue type, tests can be searched and reported on.
In addition, test cycles can be created for each version in a project and these tests can be executed as part of those test cycles or in an ad hoc manner. Tests can be cut down into test steps.
Tests can be added to a cycle in multiple ways: individually, from previous test cycles, or via a saved JIRA search. This feature illustrates Zephyr's clever integration with JIRA.
Test metrics can be tracked via gadgets that are part of the Test Dashboard and can also be found in the gadgets gallery to be added to any dashboard: Test Execution Burndown, Top defects impacting testing etc.

A progress bar provides a quick view on how many tests have been executed, what % of the overall testing has been completed for a test cycle and on hovering over the different status colors, the # and % of tests in that status.

Bonfire integration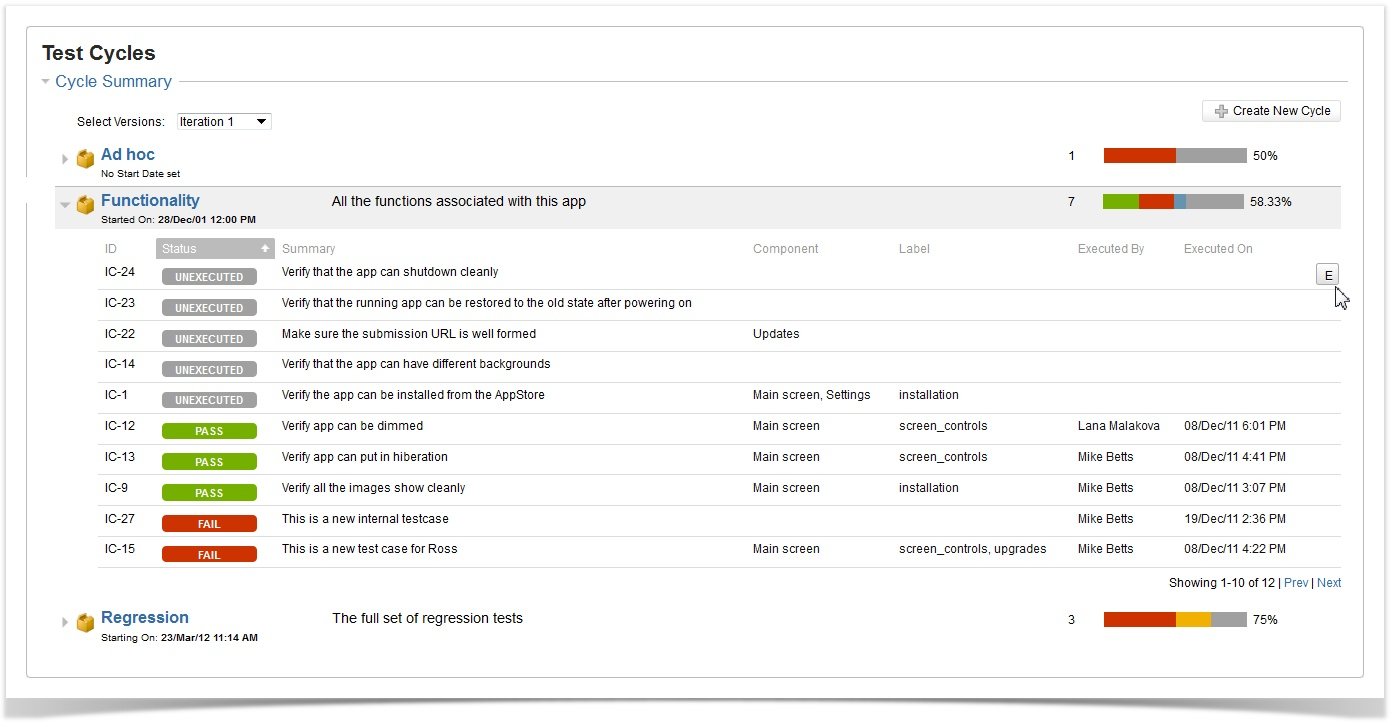 New features
Among the many improvements and new features of this release, let us highlight:
Test Cycle export capability (including for Ad hoc cycles) allows execution data to be exported to a CSV file.

Test Executions have test step level status changes

Various UI improvements:

Visual marker to keep track of your test execution position in the Test Cycles list

Quick Execute capability allows test execution status changes directly when viewing a test in a Test Cycle or when viewing a test issue.

Issue Selector now available to easily add defects during test execution.

Lots of inline editing capabilities.

New Welcome screen for first time users
Overall, this release manifests the editor's will to integrate test management capabilities tightly into JIRA in an intuitive way for the user.
Let us mention that Zephyr for JIRA v1.6 is compatible with JIRA 5.1+. JIRA 5.0.x users shall turn to Zephyr for JIRA v1.5 instead.
Links
To find out more about Zephyr, check out the knowledge base, community forums and documentation of the editor, as well as ZephyrTV video tutorials.
And be aware of the rather steep pricing.