Valiantys Software is now Elements, a Valiantys company

We might have changed our name, but we're the same team behind Elements. The new Elements brand and visual redesign reflect our identity as a software publisher and are a  reminder of the connectivity between our different apps. As part of the rebranding, our products have new names: nFeed is now Elements Connect, Exocet is now Elements Copy & Sync, Elements is now Elements Checklist, and Spreadsheets is now Elements Spreadsheet.

To read more, check out our announcement from March 20, 2019.
From meeting notes, timeline and project releases, Confluence gives you the ability to collaborate on countless teamwork activities at any scale. Confluence is all about collaboration, sharing information and feedback in context.
Spreadsheets have become essential for many departments to organize data, run calculations and create reports. But what tool comes to your mind when you hear about spreadsheets? Most of you will think about Excel, and that seems logical. Excel is a powerful tool, but it faces serious limitations when it comes to managing agile projects and overall collaboration.
When you email Excel files between team members who are all updating various versions of the same document, it results in lost time, confusion and errors. Another quick fix would be to use traditional Confluence tables, but this will not allow you to run calculations and format data as you wish.
That's where Elements Spreadsheet for Confluence comes into play. Here's how to change the way you work with data.
A lightweight spreadsheets editor within Confluence
Elements Spreadsheet for Confluence provides you with the vital features you need to build advanced tables for most of your day-to-day needs.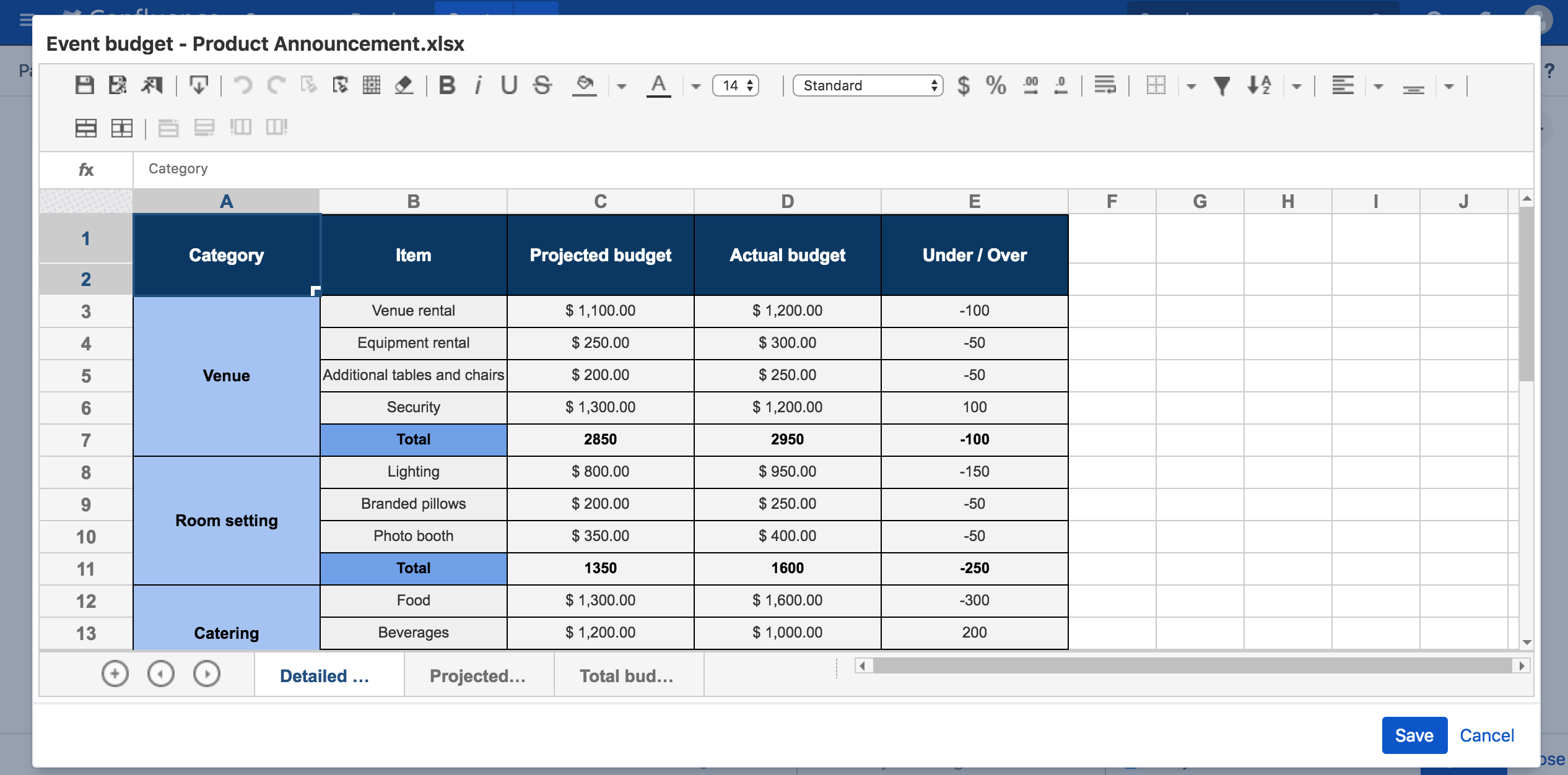 It comes with a wide range of features:
Number and text functions
 Enhanced formatting and styling
Data sorting and filtering
Cross referencing between sheets
Sheets for templates and blueprints
What really sets Elements Spreadsheet for Confluence apart is how seamlessly it integrates within your Confluence pages. You can read, comment and edit data in context rather than going through endless email threads or leaving Confluence to open an Excel attachment.
Don't start from scratch: Import and export your data with Excel
Elements Spreadsheet for Confluence makes it easy to import data from Excel. If you already have large sheets with a lot of data in Excel and want to import them in your Confluence table, our app is able to import from and export to Excel.
If you've already tried attaching Excel sheets to a Confluence page, you know it takes quite some time and doesn't work very well.  As it does not keep the format and display, this should be avoided.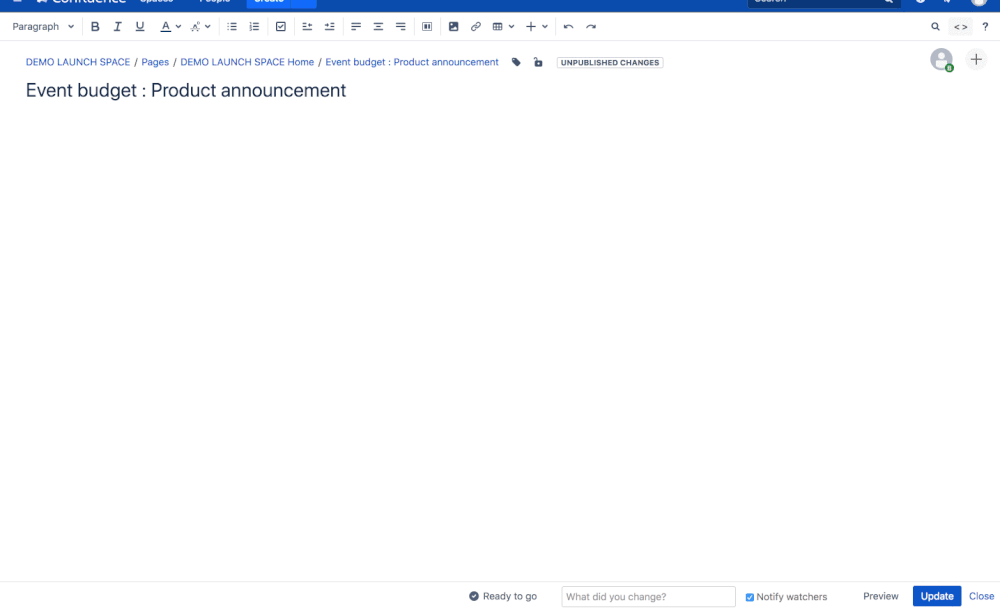 With Elements Spreadsheet for Confluence, the import is straightforward. In just few clicks you will be able to import and gather all your data in advanced tables, embedded into your Confluence pages. As it will keep your formatting and formulas, there is no need to recreate your work.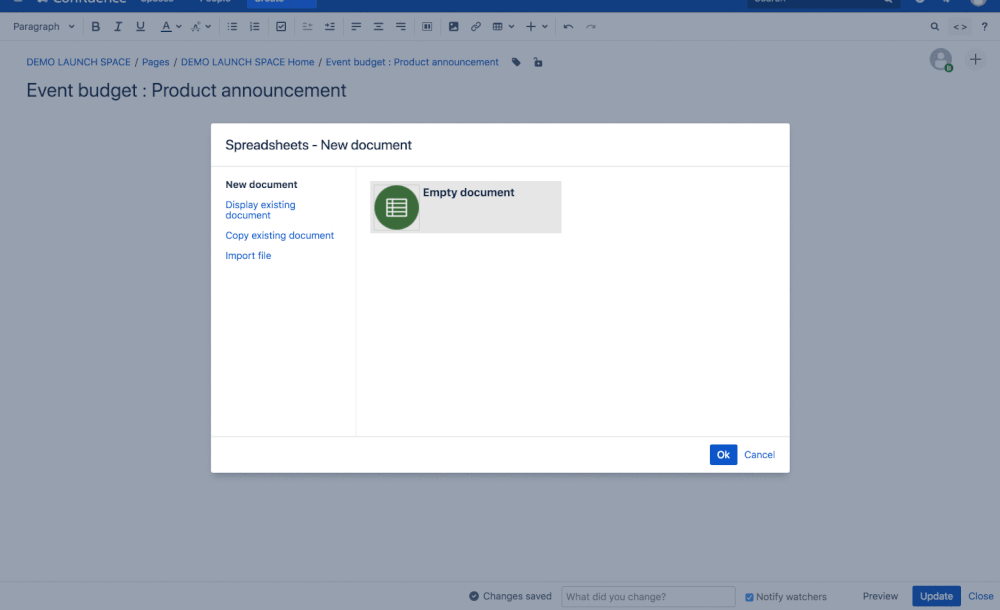 Use charts to visualize the data contained in your Spreadsheets
Elements Spreadsheet for Confluence also integrates with other apps from the Atlassian Marketplace. For example, Elements Spreadsheet for Confluence integrates very well with Table Filter and Charts from StiltSoft.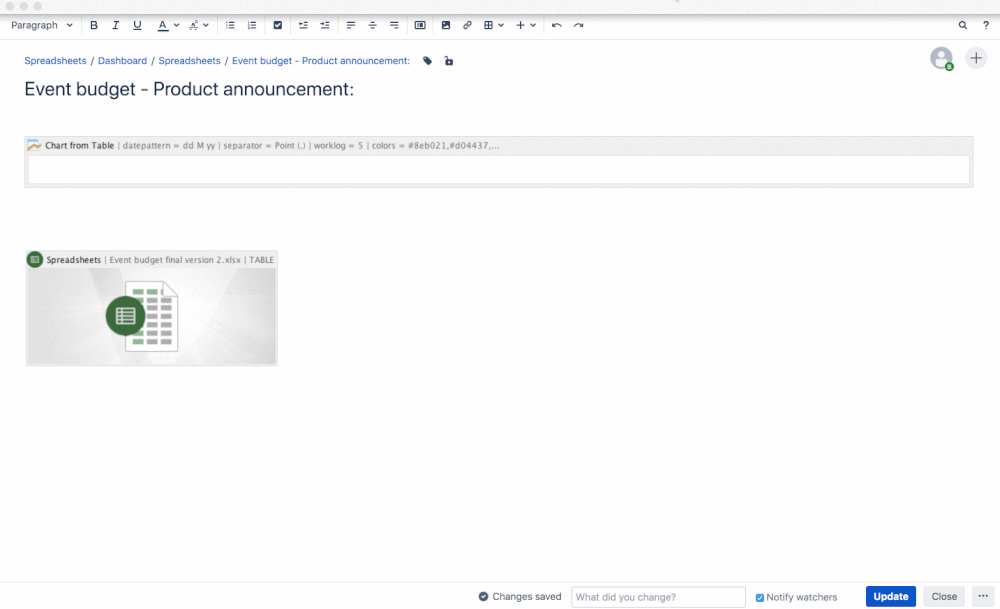 To display content from Elements Spreadsheet as a chart, simply wrap your Elements Spreadsheet macro inside a Chart from the Table macro. Then set the chart type, define the dimensions of the table chart, select the values and labels columns. Save the page and it will display your chart.
By showing it visually, you can give your data instant meaning.
Make Confluence the one source of truth for spreadsheets and rich-text
Elements Spreadsheet's integration in Confluence will enhance collaboration around data and advanced tables. Using Elements Spreadsheet for Confluence, end-users have one place to edit and share feedback on your spreadsheets, which prevent them from endless back and forth emails and confusions. You'll also spare your end-users the need to maintain information in different systems, and they can avoid commuting between Confluence and Excel all the time.
Our teams have dedicated their efforts to make this app easy to play with. There is no need of training and in just few clicks you will have access to all the functionalities.
Try Elements Spreadsheet for Confluence