If you've just set up a new Jira Cloud instance for your support and development teams, congratulations! But how do you easily link your support requests that require development work and that development work done by your software team? And what about this communication issue: when a customer adds a new comment, maybe providing more information about how to reproduce the bug they're experiencing, the developers don't automatically see it in their project. While they are working on fixing a bug, the developer has to look in the Service Desk ticket for the latest comments.
What if comments or attachments added to a Service Desk ticket could automatically be copied to the linked Jira Software ticket?
Set up Jira Cloud to meet your ITSM needs
The first step to simplifying everyone's life is to create linked copies of your support tickets in the right project where developers will work on the problem. There are some out-of-the-box options to do this in Jira Cloud, but you'll quickly run into limitations on what and how you can copy your support tickets. The Jira Cloud app Elements Copy & Sync is an easy way to set up custom linked copies of your support tickets.
Create custom linked copies of your support tickets in your developers' Jira project
By setting up an Elements Copy & Sync recipe, you can configure which fields you want to copy from your Service Desk to Jira Software, whether or not comments and attachments will be copied, and whether or not the fields, comments, and attachments will be synchronized.
An example of using Elements Copy & Sync to escalate an issue to a software team
Here's our recommendation: activate the synchronization. If the customer adds a comment with more information or attaches a new screenshot on the original Service Desk ticket, they will automatically be propagated to every single duplicated issue, with no additional action required from the end-users. This way, you will always be sure your information is up-to-date.
Simplify ITIL processes like issue escalation, change requests, or incident management
With Elements Copy & Sync for Cloud, Jira admins can create recipes for multiple ITIL processes (escalate issues, change requests, incident management) to make them easy and mistake proof. You can guide users as much or as little as needed to make sure issues are copied like they were intended. For example, you can select precisely which issues will be copied, like only incidents or problems.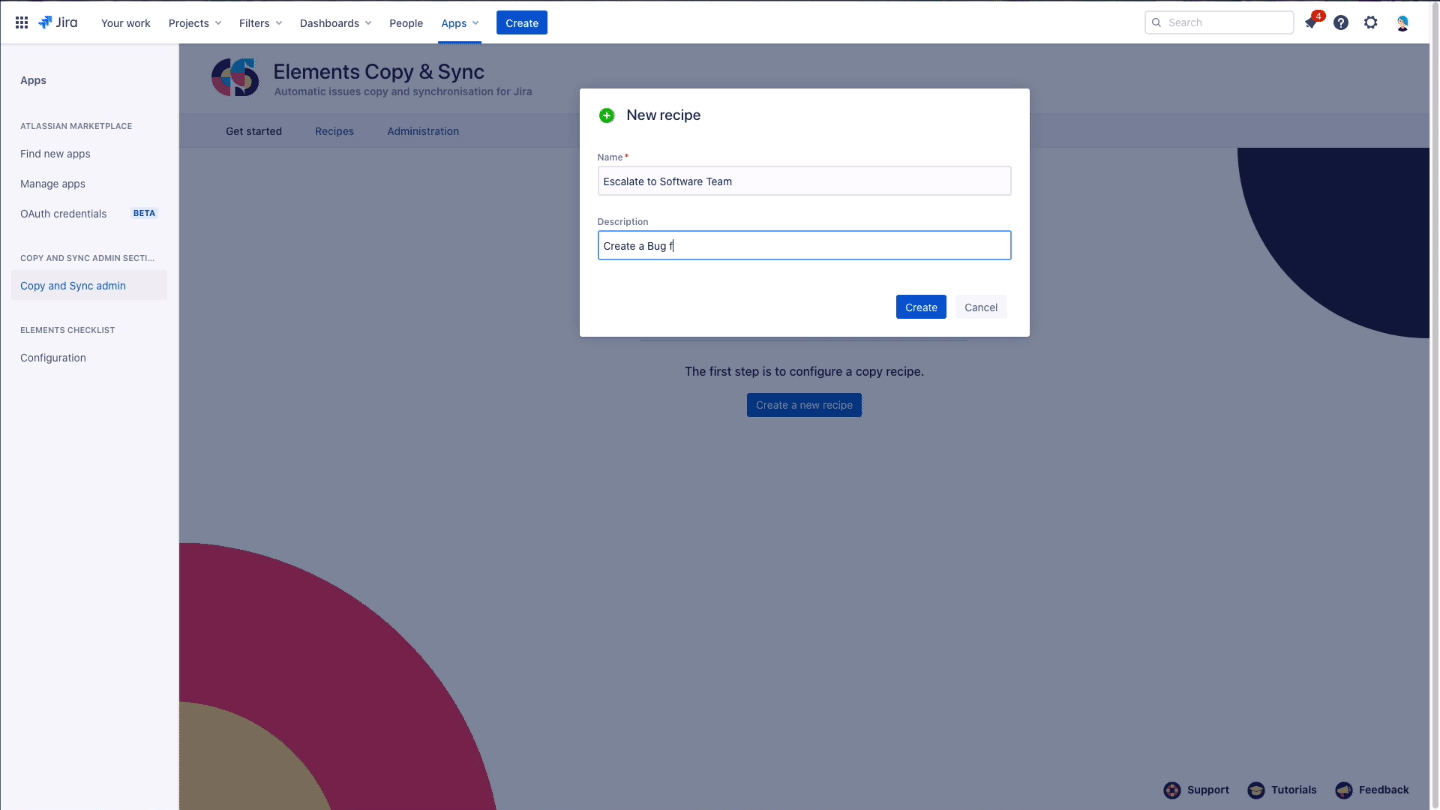 Creating a recipe is easy with no-code configuration
Then you can select where the issues can be copied. To make it easy for agents to find the right target project, you can select just the projects you want for the recipe. Agents can choose the right development team based on the incident or problem. Configuring field, copy, and attachment copy and synchronization is done in a few clicks.
How to configure what will be copied to the target issue when recipe is used
Making sure your Jira users can easily follow the ITIL processes you've put in place is key to getting the most out of your Jira Cloud. Regular tasks like issue escalation, change requests, or incident management needs to be correctly handled by Jira Service Desk agents so that key information gets to the teams that need it and problems can be solved. With Elements Copy & Sync recipes, you configure the process once, then it can be used in multiple situations. You guide the user in a process like an issue escalation, all while reducing the manual tasks they have to perform.
Want to create recipes to copy, link, and synchronize your issues for bug escalation, change requests, or incident management? The Cloud version of Elements Copy & Sync is available now on the Atlassian Marketplace.
Contact us