This is a guest post from K15t Software, the makers of the Scroll Content Management add-ons for Confluence. In this blog post, they explain how to create professionally styled Word documents from your Confluence content with their add-on Scroll Office, available on the Atlassian Marketplace.
The story behind Scroll Office
When we launched K15t Software back in 2009, our vision was to develop add-ons for Atlassian Confluence that would turn this kick-ass collaboration platform into a single source for all enterprise-wide content. Our add-ons help Confluence users to manage (technical) content more efficiently, and to publish documentation and other wiki content in their desired format.
Many users require the Microsoft Word format to print documents and exchange content with employees, departments, partners and customers. But huge documents with scrambled formatting, distribution via email, and manual merging of changes can keep you from your work. So it's vital to manage and share content assets centrally.
Our Scroll add-ons enable organizations large and small to use Atlassian Confluence to effectively manage corporate knowledge, documentation, or any other content like meeting notes. They know this enterprise wiki is the perfect platform to keep track of changes, and to review and improve content collaboratively – so that everyone is 'on the same page'. But how to export the valuable content from Confluence?

K15t Software's Scroll Office add-on allows Confluence users to collaborate on content in the wiki, and then export one or more Confluence pages to Word documents. Our add-on produces stylish native Word 2007/2010 documents that comply with corporate design guidelines and documentation requirements.
Creating templates for Scroll Office in Microsoft Word
We've made it easy to create templates for Scroll Office. Simply use an existing Word document or create a new one, and once you've inserted placeholders, it'll be ready for use. These placeholders (document title, page content, version information, Confluence space logo etc.) are automatically replaced with the actual content when you publish with Scroll Office.

Export schemes for user-friendly exporting
Scroll Office enables you to export Confluence content to Word documents by clicking Tools > Export to Word. Scroll Office provides numerous export settings (which template to use, how to process content, link handling, etc.), which we've bundled together into Export Schemes – similar to Confluence's Blueprints feature. Choosing an Export Scheme only takes a few clicks – and you can export the same pages with different settings for various purposes.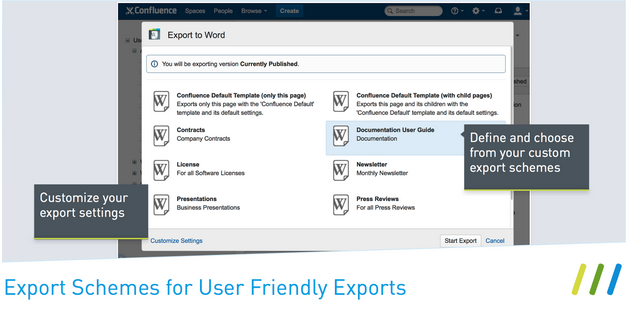 Advanced content generation
Scroll Office allows you to utilize almost all the features offered by Word – such as title pages and additional static pages, page headers and footers, and styled contents tables. You can use pre-defined Word styles to format Confluence content (e.g. lists and table styles) as required. You can even generate a keyword index from your Confluence content – a feature frequently requested by customers who manage print-ready technical documentation with Confluence and Scroll add-ons.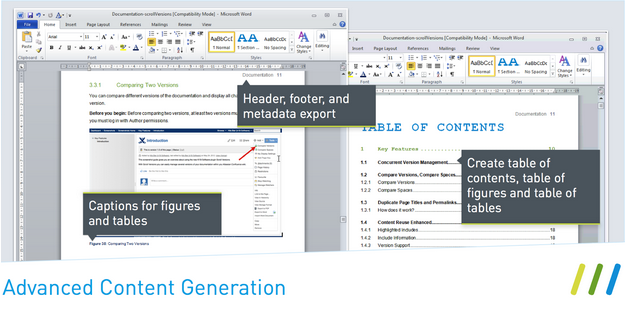 Anything else?
You may already be using one of our other Scroll Content Management products, such as Scroll Versions or Scroll Translations. Perhaps you use workflows in Confluence, too. Wouldn't it be a pity if, when you exported your managed content to Word, you were no longer able to use the versions you'd created or the content you'd translated?
Like all Scroll Exporters, Scroll Office is compatible with all other Scroll add-ons. And it also dovetails perfectly with Ad Hoc Workflows, enabling you to publish only Confluence pages that are in the final "Published" workflow state. When exporting, that means you can choose the exact version, variant, and language of the content to appear in your Word document.
In addition, we've provided a REST API to automate exports. By calling a specific URL, you can automatically obtain a Word document with the latest Confluence content – which you can include in the nightly build of your product, for example. Doesn't that sound great?
Our customers and partners tell us we've succeeded in creating an awesome add-on that goes far beyond Confluence's built-in Word export functionality. Now it's your turn to create content in Confluence, and publish beautifully-styled Word documents:
Try Scroll Office for free
Do you have any questions or opinions on Scroll Office? Please let us know in the comments, or email us at info@k15t.com.
About K15t Software K15t Software builds tools and solutions for wiki-based documentation. Their Scroll content management add-ons turn the enterprise collaboration platform Atlassian Confluence into a single source for all content within the organization. The add-ons help content developers and all other Confluence users to manage (technical) content more efficiently, and to publish documentation and other wiki content into the formats that the target audiences need.

More than 1,800 customers around the world use K15t Software's solutions to make documentation easier for everyone.