Valiantys Software is now Elements, a Valiantys company

We might have changed our name, but we're the same team behind Elements. The new Elements brand and visual redesign reflect our identity as a software publisher and are a  reminder of the connectivity between our different apps. As part of the rebranding, our products have new names: nFeed is now Elements Connect, Exocet is now Elements Copy & Sync, Elements is now Elements Checklist, and Spreadsheets is now Elements Spreadsheet.

To read more, check out our announcement from March 20, 2019.
When an incident occurs, fixing it rapidly and with minimal impact for users is the number one priority. But what happens after the incident is resolved and service restored? How do you prevent the incident from occurring again and learn from what went wrong?
Incident postmortems describe the impact of the incident, the actions taken to mitigate or resolve it, its root cause, and the follow-up actions taken to prevent it from happening again. They are incredibly valuable, allowing teams to continuously improve and reduce the number of incidents over time—but doing incident postmortems is easy to forget and can be tedious.
In this article, we'll show you how to build your own robust, transparent postmortems management process with Jira and Confluence by using the Elements Copy & Sync app (formerly Exocet). Pretty soon, you'll be able to learn and continuously improve with every incident!

Carrying out your postmortems efficiently
Let's say we have an incident management team working in Jira Software. Every time a new incident occurs, a ticket is created in the Incident Management project.
Of course, what we're about to show you also works if you use Jira Service Desk to track incidents.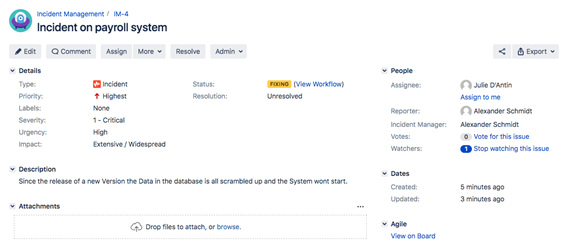 Once the incident is resolved, it's time to carry out a postmortem to learn from what happened.
Postmortems need to be both easy to fill in and quick to create in order not to be skipped. In our example, we use Elements Copy & Sync to trigger the creation of a postmortem page in Confluence, based on a prebuilt template. When the incident is resolved, an Elements Copy & Sync operation is made available in the issue.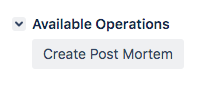 Once your incident manager clicks on the "Create Postmortem" button, they are immediately prompted to create a postmortem document in Confluence. This allows you to make incident postmortems an integral part of your incident management workflow. It also saves time for your incident management team.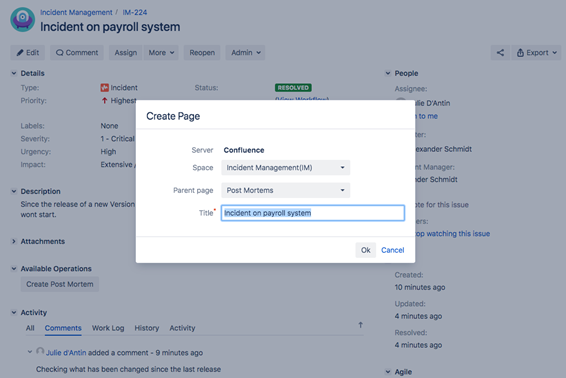 If you want to make postmortems mandatory, Elements Copy & Sync also allows you to trigger postmortem page creation in Confluence via a post-function during a workflow transition. 
On the postmortem page, the team can then discuss the incident to prevent it from happening again. Elements Copy & Sync injects information that needs to be discussed from the incident issue tracking into the postmortem page in Confluence, and links the page to the issue for reference.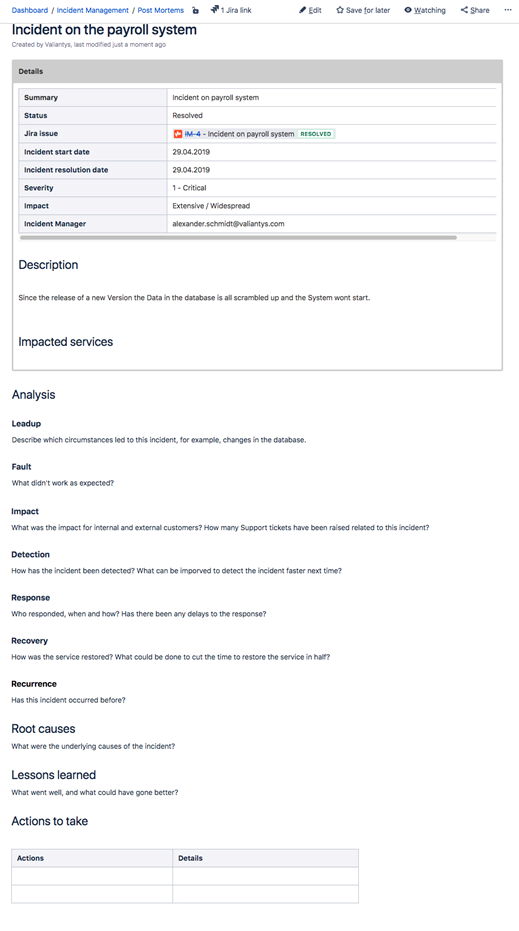 Everything the team needs to complete the postmortem without missing any important topics is at hand:
Details about the incident, including key information copied from the Jira issue
An analysis section covering each stage of the incident
A root causes section for reflecting on the underlying causes of the incident
Lessons learned from the incident
Actions to take in order to address the root causes and lessons learned
Keep all your postmortems in one place
Sometimes, to get more global insight, you need to reflect on past incidents. The postmortem pages all appear in a page property report in Confluence so that they can easily be found later on.

Address the root causes and learn from every incident
Once your team has analyzed what happened and gained a clear understanding of what went wrong and why, it's time to take action on the root causes. The worst thing that could happen is that everything you've learned gets lost and buried in the postmortem. That's where the native integration between Jira and Confluence reveals its magic. After you've published your postmortem in Confluence, you can create Jira issues from the Confluence page. You just select the text of each action item and click the "Create issue" button — it's super simple and can be done in no time.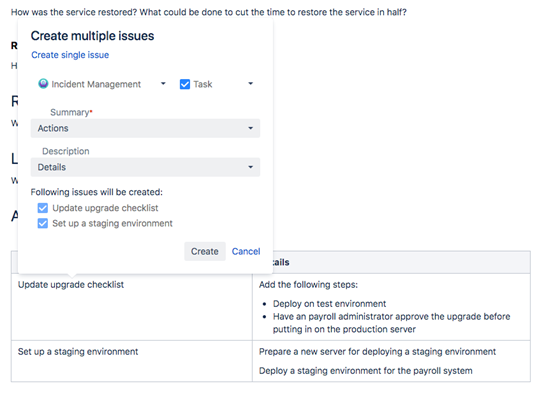 These issues will be added to your development team backlog, where they'll get tracked and completed in a timely manner.
Now you have a complete, closed loop from incident resolution to improving your service every time an incident arises. Interested in setting this process up for your team?
Try Elements Copy & Sync today!