Recently I had a wonderful opportunity to work with one of the gaming companies here in UK who already was using Jira for their project management. I spent lot of time with their development team, release manager and few other stakeholders.
The company has several products on their website and mobile apps, for both Android and iOS platform. Each platform is handled by three different teams called WEB, IOS and ANDROID, who are distributed in different geographical locations. Furthermore, the individual developers and testers in these three teams are also working from different locations. While they were quite happy with Jira for issues tracking, as more team members started using Jira it soon became very difficult for the individual Project Managers of these teams to have clear visibility over the work.
The biggest challenge in their case was not the geographical distribution of the development and testing team, but rather being able to deliver a specific feature on all three platforms at the same time. To add to the complexity, they have several bugs and change requests to manage. These may or may not impact one of more platforms, yet when a bug is reported on their website it is also needs to be tested on their mobile platform before it can be fixed.
To summarize, the biggest challenges were:
Planning and tracking multiple projects within a single view
Managing resource allocation
Controlling cross project releases
Here, Portfolio for Jira was the recommended solution. By using Plans, not only can Portfolio for Jira be used to plan and track various projects, but it can also be used to create an aggregated view for multiple plans, which is called a Program.
Never heard of Portfolio for Jira?

Even before talking about Plans and Programs in Portfolio for Jira, it is very important to understand the purpose of this product. In a nutshell, it can plan releases, give insights over resource visibility, dependencies and team management – for both Scrum and Kanban based projects. Above all, it lets you create different scenarios in your plan.
Imagine you are working as a Project Manager who is responsible for releases. You have a limited number of developers in the team and you need to ensure a timely delivery. While planning for the project, both in terms of estimated resources and the timeline, the bottom-line question is whether you can deliver on time. However, what would happen if you got one more developer for two weeks?
You would probably be able to finish few more stories in your sprint, but before you can make a commitment to the stakeholders, you need to do lot of calculations to adjust your schedule. This is a pain as it takes lot of time. Portfolio for Jira solves this problem. You can create different scenarios and check how additional resources would affect your schedule. You can create multiple scenarios within a Portfolio plan. Once you are satisfied with the scenario, it can be applied on the project.
Let's go back to our challenge on how to manage three different types of projects; here's the configuration we set up in Portfolio for Jira.
Step 1: Create three different plans for three different projects
There were three projects in Jira – Web development, Android and iOS, each with its own Agile boards and sprints. We created three different plans for each of these projects. Creating a plan in Portfolio for Jira is very simple. Just give your Portfolio Plan a name, specify what project, board or filter you want to include in the plan, choose the team and its scheduling methodology (Scrum or Kanban).
These three plans are managed by the individual Project Managers, who are responsible for planning and tracking their own project.
Step 2. Create a Program
A Program is a group of different plans in Portfolio for Jira. Go to Portfolio in the navigation menu and click on Create…

Select Program and then click on the Create button.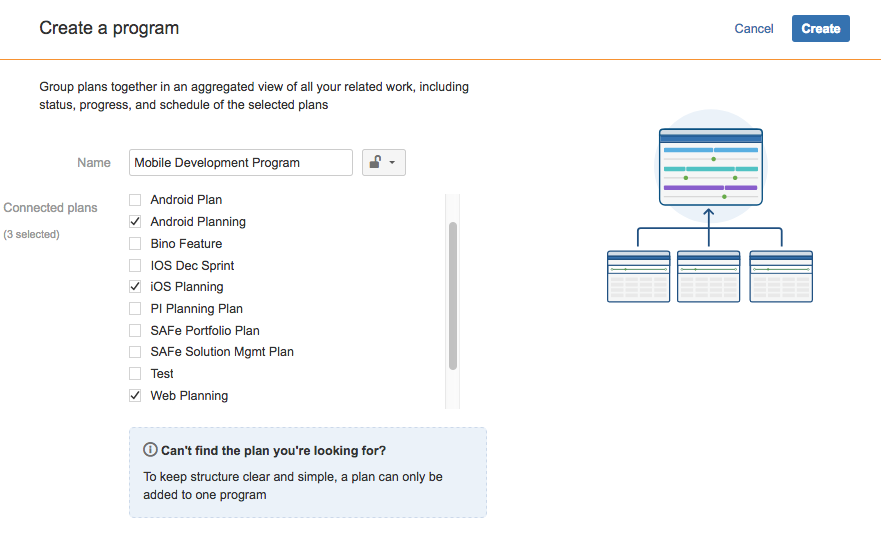 Give your Program a name, select the Connected plans and click on Create button.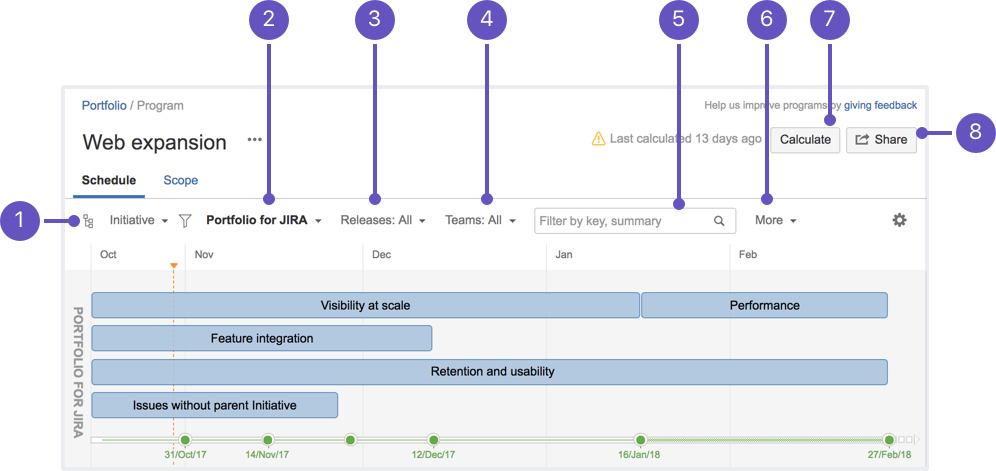 A program will be created that will give an overview of the status of the plan across multiple streams.
As you can see, on the screen there are different options to choose from that will either let you change the view of select a different plan.
Filter by issue hierarchy
Filter by plans
Filter by releases
Filter by teams
Filter by issue key, summary
Filter by status category (To do, In progress, Done), completion date, scheduled range
Calculate the schedule of the program
Share read-only reports
So far so good. We have three Plans for each stream of work and one Program to get a bird's-eye view of the overall status, but there is still one crucial thing missing from this configuration.
Step 3: Create cross-project releases
As I mentioned earlier, these three different streams work independently yet most often the new features that they release are applicable for all platforms: Android, iPhone and the website. Ideally the releases should be on the same day.
Currently the client was using three different projects, with each having its own individual release managed by creating a new Version in the Jira. This works, but it is difficult for each Project Manager to collaborate on the release as these Versions are stored in different projects and their dates needs to be synced manually.
Fortunately, Portfolio for Jira has this amazing feature to create Cross-project releases within a Plan. To use this feature, your Plan should have issues coming from multiple project. For all the releases where the feature is impacting multiple platforms, we modified the original Plan and included the relevant issues (using filters) from other projects and then create a Cross-project release in your Portfolio plan.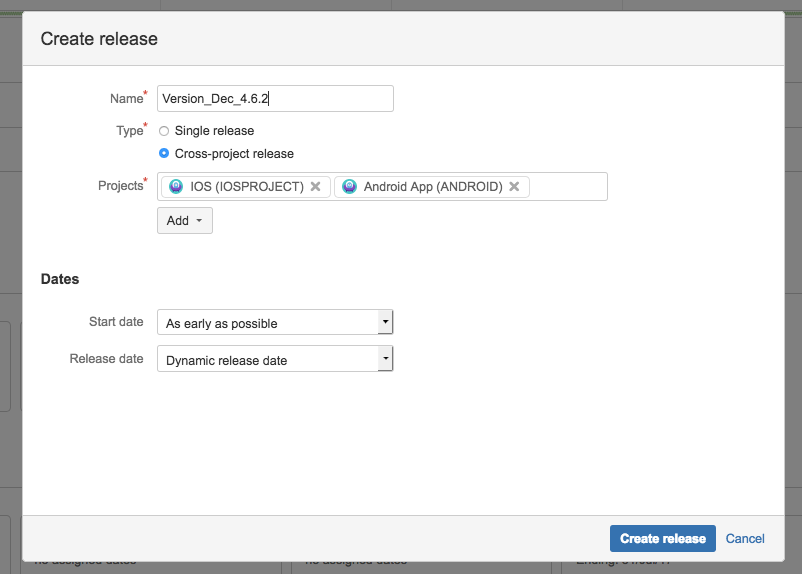 Once you create a new release for multiple projects, you can start assigning issues to it and managing it within the same plan. The Program view will also let you stay on top of what is happening in your plan as well.
The whole idea here was to bring visibility to not only the Project Manager who are responsible to track the project, but also for the stakeholders and common team members who are working on common releases across various work streams. This configuration of Program to Plan to individual Boards gives you different layers and the data for analyzing the work, like effort and timelines are rolled up from the bottom layer to the top layer.
Learn how to release like a boss
If you want more information on using Portfolio for Jira, check out this site for more information. You can also contact Valiantys directly with specific questions regarding your project.
Get in touch