Valiantys Software is now Elements, a Valiantys company

We might have changed our name, but we're the same team behind Elements. The new Elements brand and visual redesign reflect our identity as a software publisher and are a  reminder of the connectivity between our different apps. As part of the rebranding, our products have new names: nFeed is now Elements Connect, Exocet is now Elements Copy & Sync, Elements is now Elements Checklist, and Spreadsheets is now Elements Spreadsheet.

To read more, check out our announcement from March 20, 2019.
In sales, the fine line between success and failure is often measured in how well opportunities are qualified. Is the prospect likely to buy, and is your team likely to win? Is it really worth the long effort, or should you try to fail fast before moving on to the next opportunity? These aren't straight-forward questions, so being able to control the factors you can makes a turbulent sales journey a bit more predictable.
If you're looking to learn from example, look no further than Openminded, one of the leading independent pure-players in cybersecurity in France. Realizing they needed a better way to manage opportunity qualification data and processes, they used the leading Atlassian Marketplace app Elements Connect (formerly nFeed) to gather data from an external ERP (Enterprise Resource Planning) system inside Jira, seamlessly connecting people to the data and process.
The challenge: Organizing the opportunity qualification process
Before turning to Jira and Elements Connect to manage opportunities, Openminded was tracking them solely in its ERP system, Boond Manager, and struggled with the tool's limitations. For starters, there was no way to set required fields, meaning that data critical to determining the prospect's likeliness to move forward on an opportunity could potentially be missing from the system. Equally as important, the tool didn't provide a workflow to track progresses, so it was difficult to have visibility over who internally was responsible for which prospect and the status of each opportunity.
Account managers and business developers sometimes failed to seize important information and the quality of data in the ERP wasn't as good as it should be.
"We knew we would want to move away from Boond Manager at some point," says Tsuyoshi Shimabukuro, CTO at Openminded. "We looked for a solution that would allow us to capitalize data so we can improve the quality of data in Boond Manager before migrating to another ERP."
Rather than recreate the wheel, they turned to a tool they were already using to manage their processes' workflows – Jira. The company had already deployed the tool to manage their ITSM processes and the team's adoption of Jira was solid. Extending the power of Jira to better manage the opportunity qualification process seemed logical.
But how could the data (or in some cases the lack of necessary data) from Boond Manager be integrated quickly without disturbing the company's ability to chase down opportunities?
Bringing data from the ERP into Jira with Elements Connect
After some research, Shimabukuro decided to use Elements Connect to both enforce the opportunity qualification process and enrich the ERP database.
Here's how it works: Data from the ERP is made available in Jira via Elements Connect. A new process was configured in Jira to track opportunities, and various fields regarding prospects were prepopulated using Elements Connect. This process was built internally, with a Valiantys Atlassian certified consultant assisting with the configuration of Elements Connect.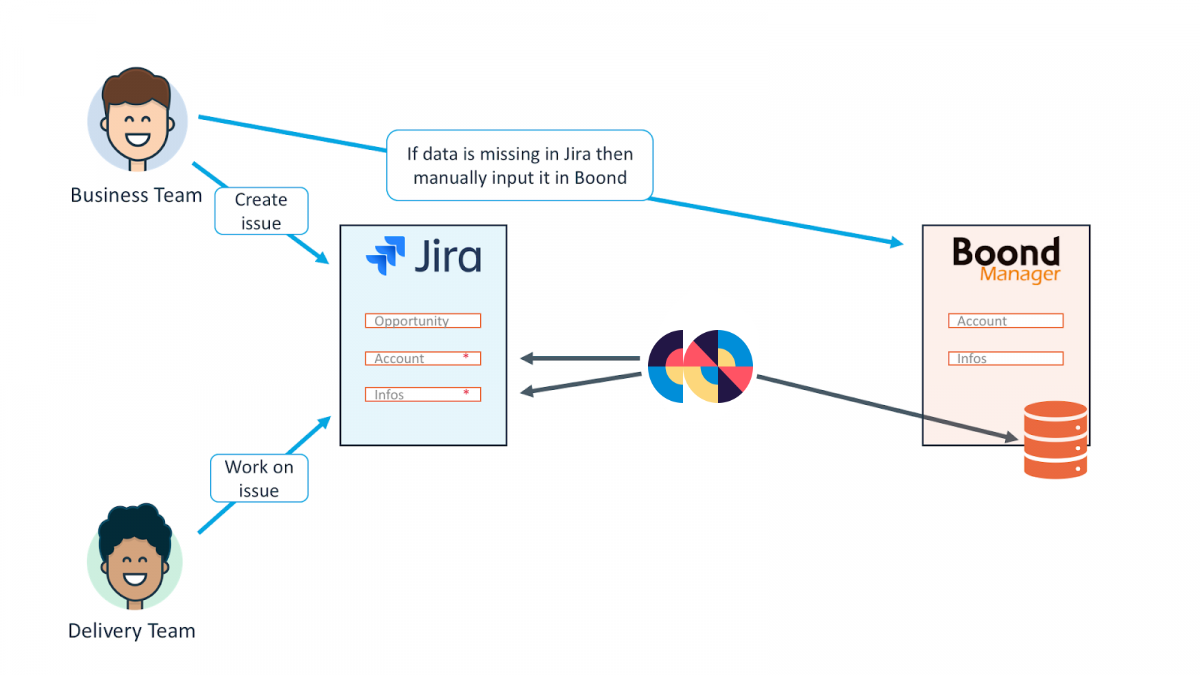 For each opportunity, account managers select the customer and their requirement. Both are Elements Connect fields connected to the ERP database, and there is a dependency between the "Customer" field and the "Requirement" field.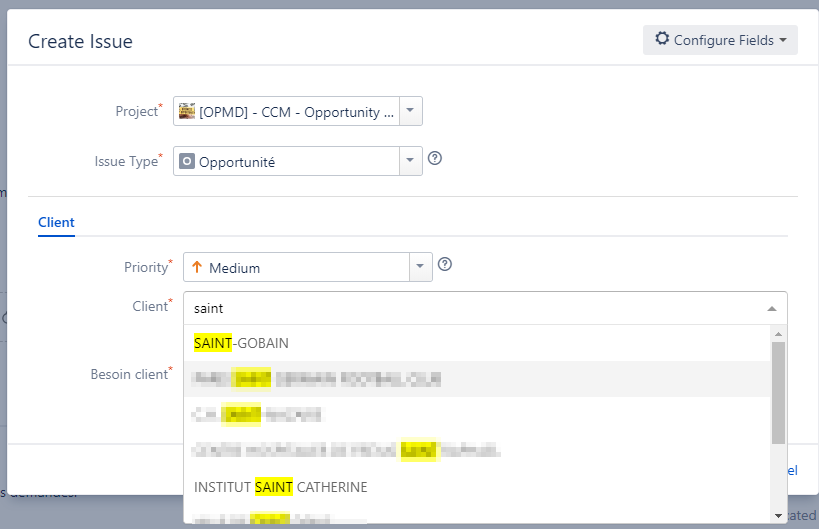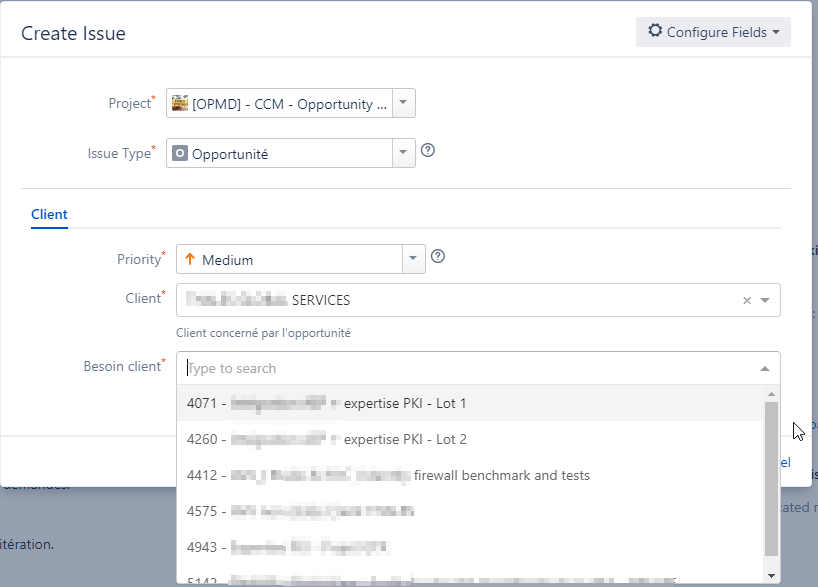 From here, several tabs displaying information from the ERP about the account are shown in read-only mode. This was made possible through customizing the display of Elements Connect's custom fields via HTML and a scripting app.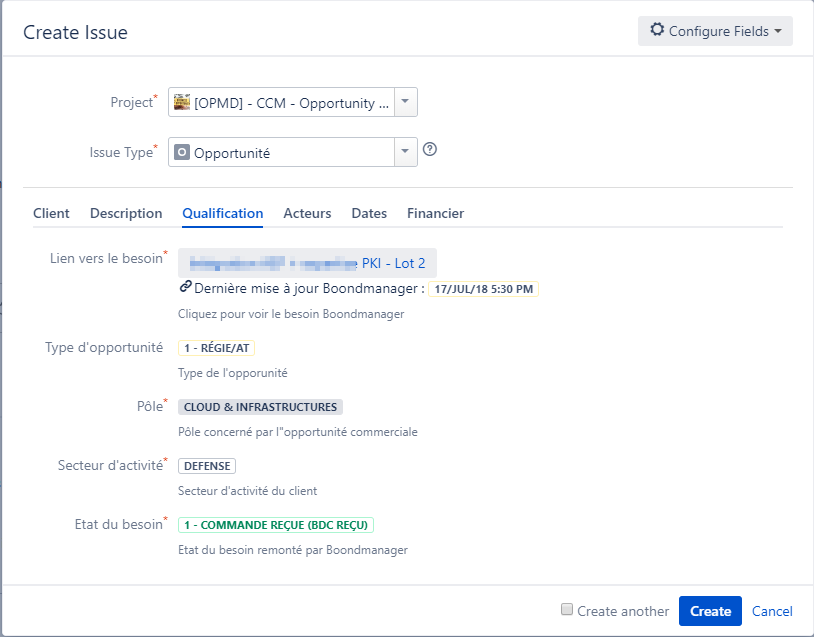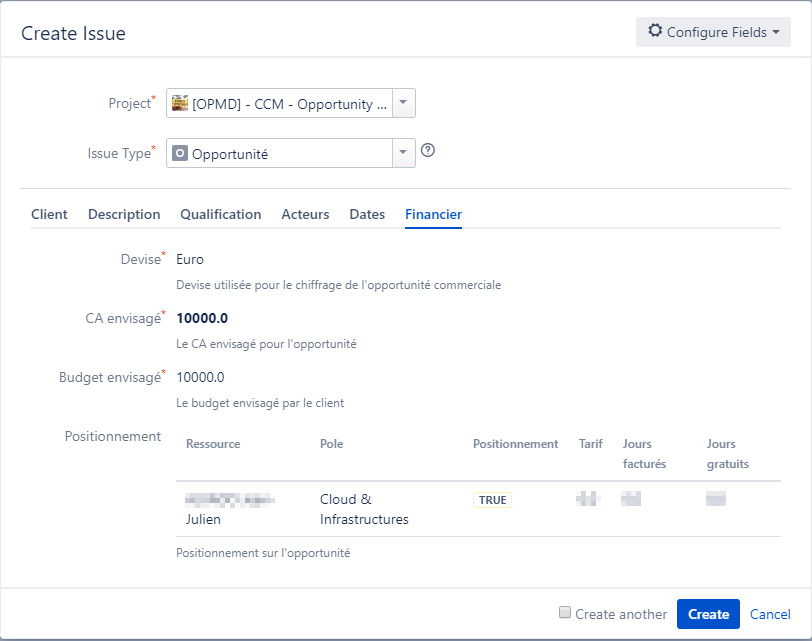 Enriching the source database
If a required field is missing a value, Jira won't let the user create the issue. The account manager will need to go into Boond Manager and add the missing data. Only then will he be able to finalize creating the issue.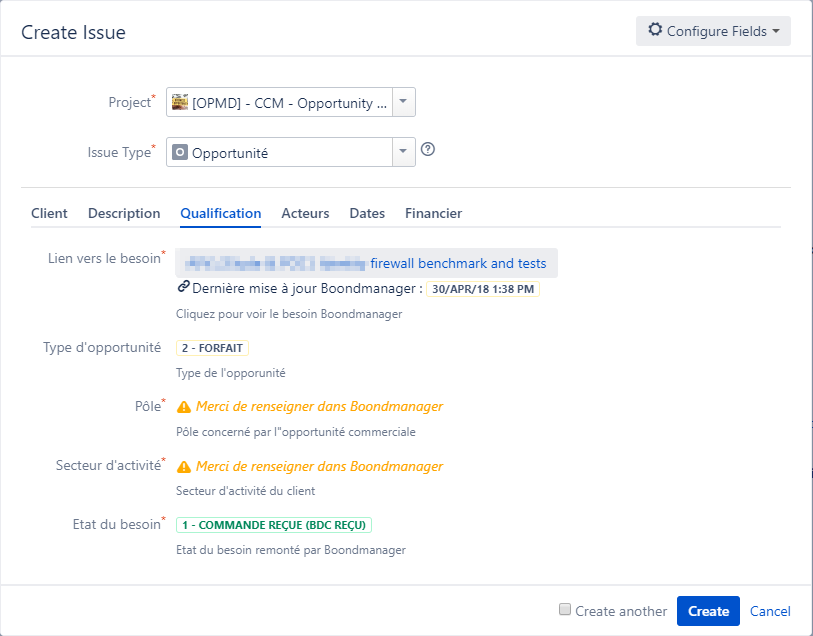 Using Jira and Elements Connect to manage the process and data availability allows Openminded to significantly improve the quality of data. Elements Connect avoids data duplication and saves end-users time by automatically populating the existing data in Jira.
Centralizing information in Jira to facilitate interactions between stakeholders
Once the opportunity ticket is created it becomes the single point of contact for business teams, who access both Boond Manager and Jira, and operational teams, who only use Jira in their day-to-day job.
All the required information is made available from within Jira thanks to Elements Connect. Users do not need to toggle between tools or different modules in the same tool.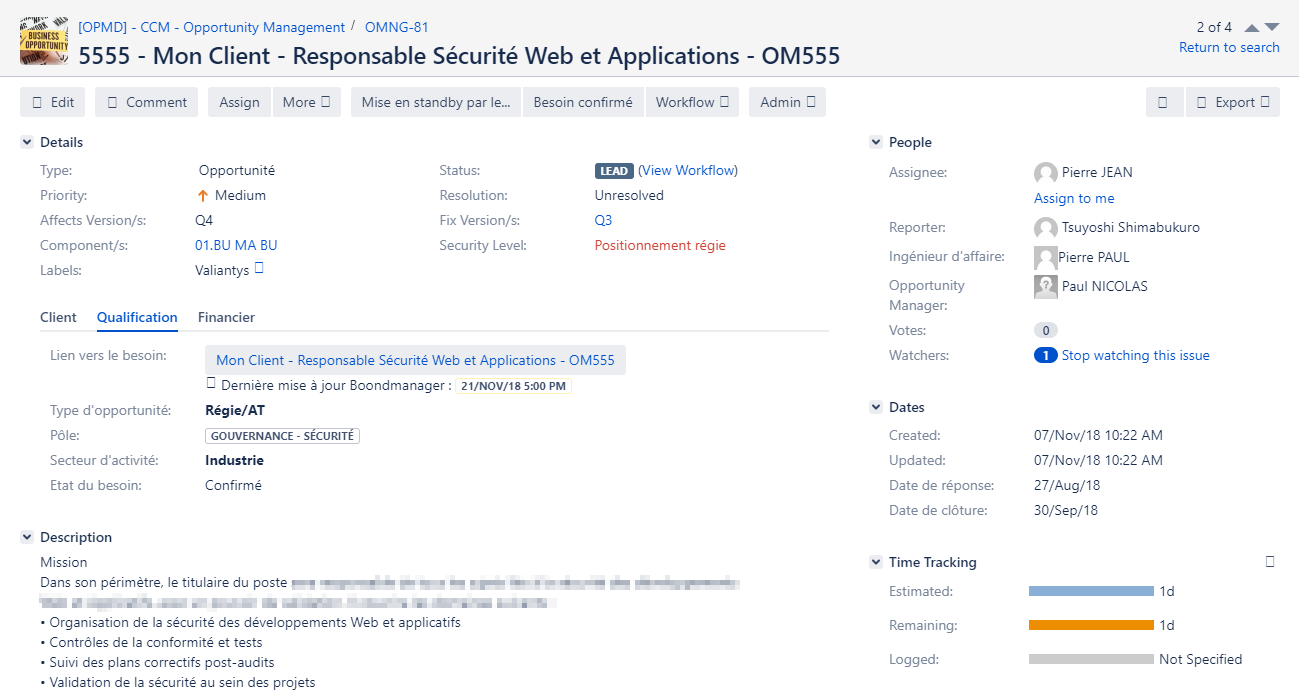 "Elements Connect is a versatile app," says Tsuyoshi Shimabukuro. "One of the product's key strengths is it allows you to manipulate data from several data sources to enrich Jira issues. You can customize the way you display this information to your users, which is a real bonus as using industry jargon within issues strengthen the adoption of Jira overall."
Leveraging Elements Connect even more
Elements Connect is instrumental in making Openminded's processes more robust and strengthening business users' adoption of Jira.
Feedback from management and users has been very positive. Productivity is increased and the quality of data in the ERP has improved. This encourages Tsuyoshi Shimabukuro and his team to pursue data quality improvement initiative in order to secure and simplify the migration from the company's legacy ERP to a new one in the future.
Openminded has more planned for Elements Connect. They want to leverage the versatility of the app to enrich issue tracking for security incidents, with information from in-house databases and indicators of compromise (IoC) data sources.
Visit the marketplace to learn more about Elements Connect and start your free trial today.
Learn more about Elements Connect (formerly nFeed)