If like me you enjoy hiking in the mountains for a few days trip of long walks, I am sure you've already turned back and looked at the ground covered since you started walking and had this emotional feeling that the journey was impressive.
I have the same feeling looking at the JIRA journey : what a year it's been for our beloved product!
At Summit 2014, JIRA was in version 6.3 which had introduced the data center deployment mode, offering large organisations a more stable and resilient installation. During the 12 following months Atlassian has filled JIRA with a bunch of new super features in JIRA 6.4 – including the gorgeous release hub and a much more consistent User Interface – and went on with the revolution of JIRA 7, to make it better, smarter, faster, stronger.
The revolution of JIRA 7
Let's walk through the changes JIRA 7 brings to the JIRA experience :
BETTER
It is long since we've all been convinced that JIRA, although it was designed by developers for developers, can easily apply to the needs of many other categories of users, covering a wide variety of use cases. The rapid adoption of the JIRA Service Desk add-on by IT teams was certainly of good evidence of this, the many projects we've delivered involving non-IT teams, from asset managers to life insurers, are other strong ones. However, for these teams JIRA remained as a product primarily focusing developers, whose feature and layout had been tweaked, pretty much like a painted facade can only mask the cracks in the wall.
This is for this purpose that since the version 7 JIRA is made of 3 different applications : JIRA Software, JIRA Service Desk and JIRA Core. All three can be installed on the same instance and JIRA Core comes for free when any of the first two is purchased. But the magic happens at the project level: each JIRA project now has a type and depending on this type (Software, Service Desk or Core) only the relevant features are enabled. No more questions from business users trying to figure out the purpose of the 'Agile' or 'Service Desk' links in the header menu or questions the meaning of odd fields such as 'Fix/version' or 'Component'.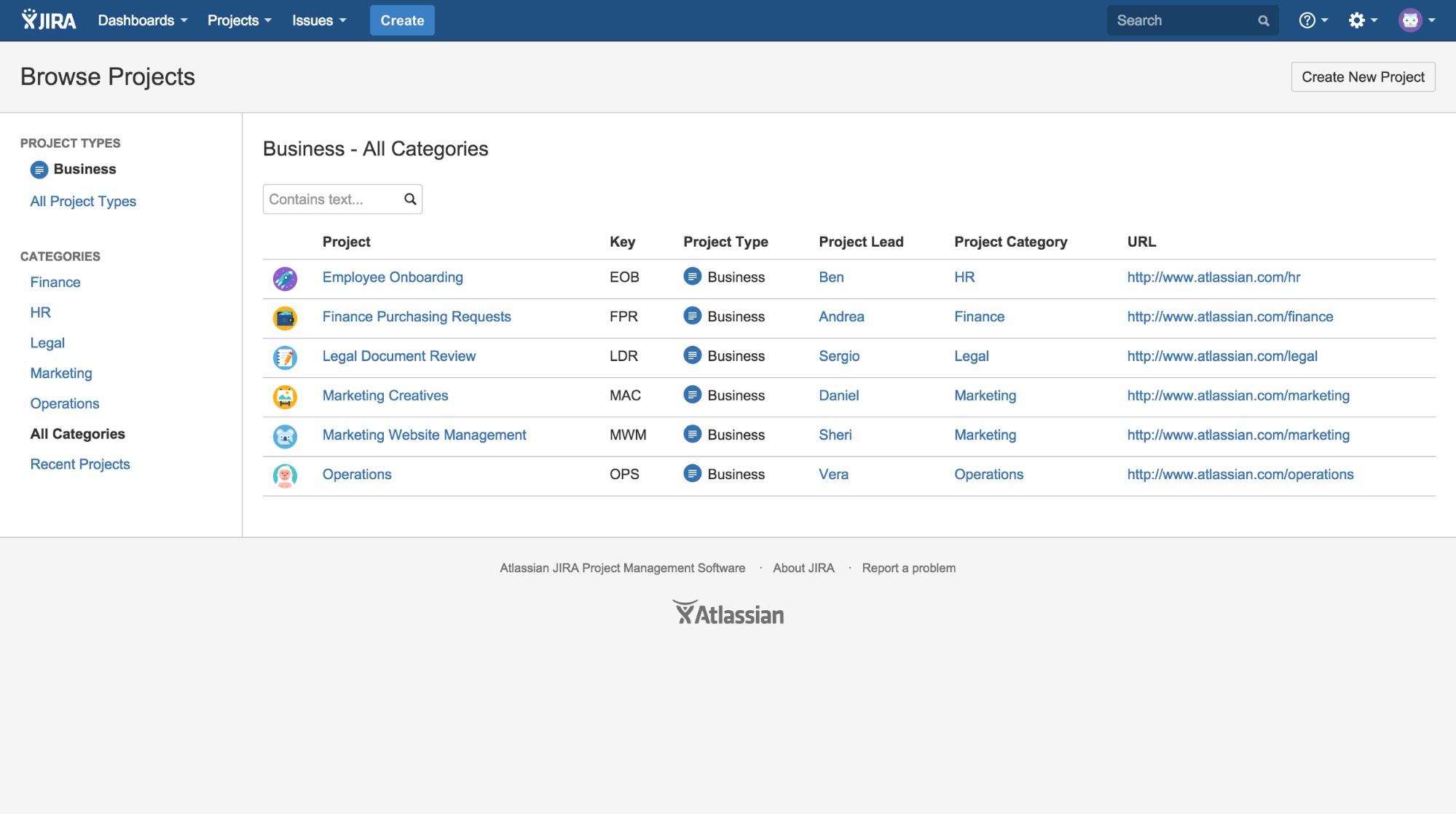 SMARTER
As mentioned, JIRA 7 is project centric, meaning that only the features relevant to a project type are enabled, which is certainly better, but the way it is delivered by JIRA is simply smart. At the heart of this revolution is the mighty sidebar. As a command center for a project, it offers one click access to every useful features when working within a project: backlog, active sprints, reports, etc. for JIRA Software, Queues, reports, customer portal, etc. for JIRA Service Desk, Issues overview and reports for JIRA Core.
It is also from this bar that you are now able to access most of the add-ons purchased on the marketplace. No more congestion on the header menu that would stretch with every new addition.
Finally this bar has a section to list links which are useful for your team and keep them handy: requirements and specifications pages in Confluence, dedicated HipChat room, even a Spotify playlist 😉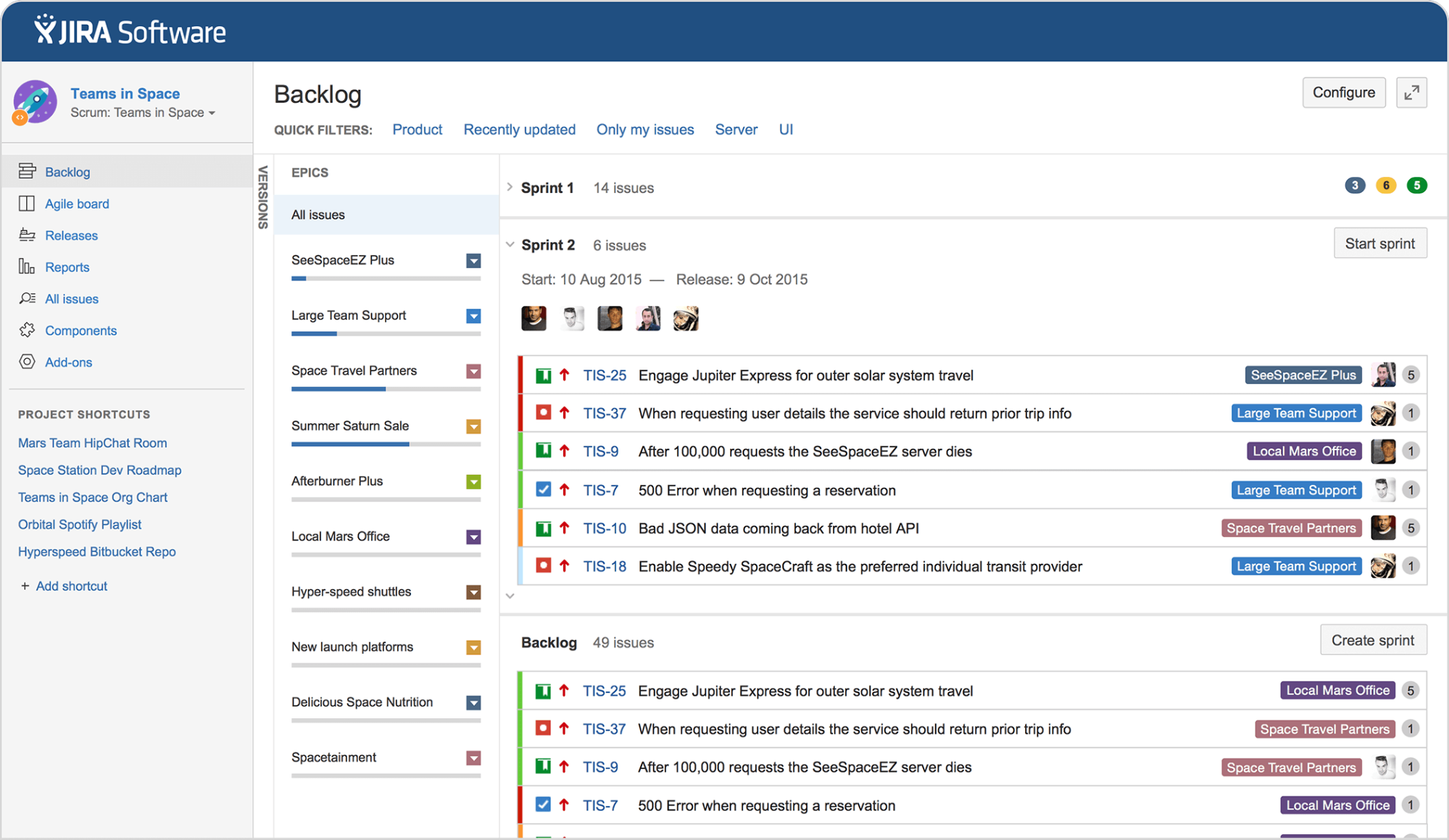 FASTER
The figures come from comprehensive tests performed by Atlassian. Overall JIRA is now 2x faster than it was last year. From what we've noticed it's well worth the upgrade. You're tempted but not sure of the impact on your organisation? Why not contacting your favourite Atlassian expert?
STRONGER
Data Center had brought the high availability and automatic failover to JIRA installations, it was improved over the year, now providing the mechanism to handle a Disaster Recovery scenario.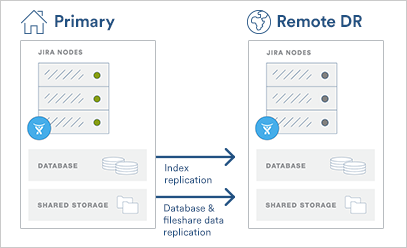 So, what's next?
The next steps on our journey with JIRA are pretty exciting! Let's have a look at what's down the road.
Plan
JIRA Portfolio was introduced last year as the first fully integrated PPM solution for JIRA, that finally helped answer the many 'what if?' questions that come up during the planning phase of a project.
Recently rebranded as Portfolio for JIRA, the version 2 will be available soon and will provide better integration with JIRA:
plan will automatically include the content of projects or agile boards
full synchronisation of the plan with JIRA issues, including the sprints, either in real time (auto-commit) or when the plan has taken shape.
Mobile
As many of us, you must be a bit frustrated not being able to bring JIRA with you when on the go without a laptop. Those days are (almost) over: soon a mobile application will be released that will enable JIRA users to interact efficiently with their instance from a smartphone or tablet. We've only seen a few screenshots but that's very promising !
No more attachments, but real documents
Attachments will travel 1st class too, they will benefit from the features rolled out in Confluence earlier this year: splendid preview, management of version.
A board for everyone
JIRA Core will have access to task boards: providing quick overviews of the issues state without the details from Agile boards that may overwhelming in a non-software context.
The journey's just begun
At Valiantys, we are excited about the days to come, days where JIRA will unleash the potential in many more teams. And we think you may be too.
Any questions or help? We've got great mountains guide within the team, to make your journey even better.
Contact us