After our popular part 1 and part 2 of the Jira roadmap series, we have our final instalment for you to read.
The next-gen roadmap is without a doubt a great new feature, its easy to use, simple and effective. Getting a roadmap for your issues in a classic project in Jira cloud though is not quite as simple. The Atlassian marketplace is pretty crowded when it comes to roadmap apps for Jira, and as a Jira admin, making the right decision is key to keeping your users happy. This post will look at some of the apps out there at giving you that roadmap functionality for your classic projects in Jira Cloud.
As with any app you add to your instance, you need to think of the impact it will have on the instance itself, your users, and your data. With this in mind, you should always take time to read the vendor's privacy policy, see what reviews have been left by other users, and read the documentation.
Easy Agile roadmaps for Jira
Easy Agile Roadmaps is up there as one of the most popular apps to provide roadmap functionality in your classic projects. It offers the features that align with your kanban and scrum boards such as swimlanes, quick filters, drag and drop, export, and some editing from within the roadmap. There are some differences currently between the server and cloud version, this is something that you will find with many established apps however, as they would originally have been designed for server instances. One such difference the cloud version of this app has is the ability to show an Epic's progress, but they can still appear on the board with other issue types. Some features of the app are:
Allows for a visual timeline of Jira issues

Configurable swimlanes

Ability to add in milestones or significant program dates

Quick filters

Drag and drop features

Ability to track epic progress

PDF export

Edit versions from within the roadmap
The interface for the roadmap is easy to use and the app generally has good reviews. The documentation for the app is also good with some beginner video tutorials and general user guides, as well as FAQs and troubleshooting material. There is also a support desk for the vendor. Pricing for this app is calculated based on the number of users you have on your instance.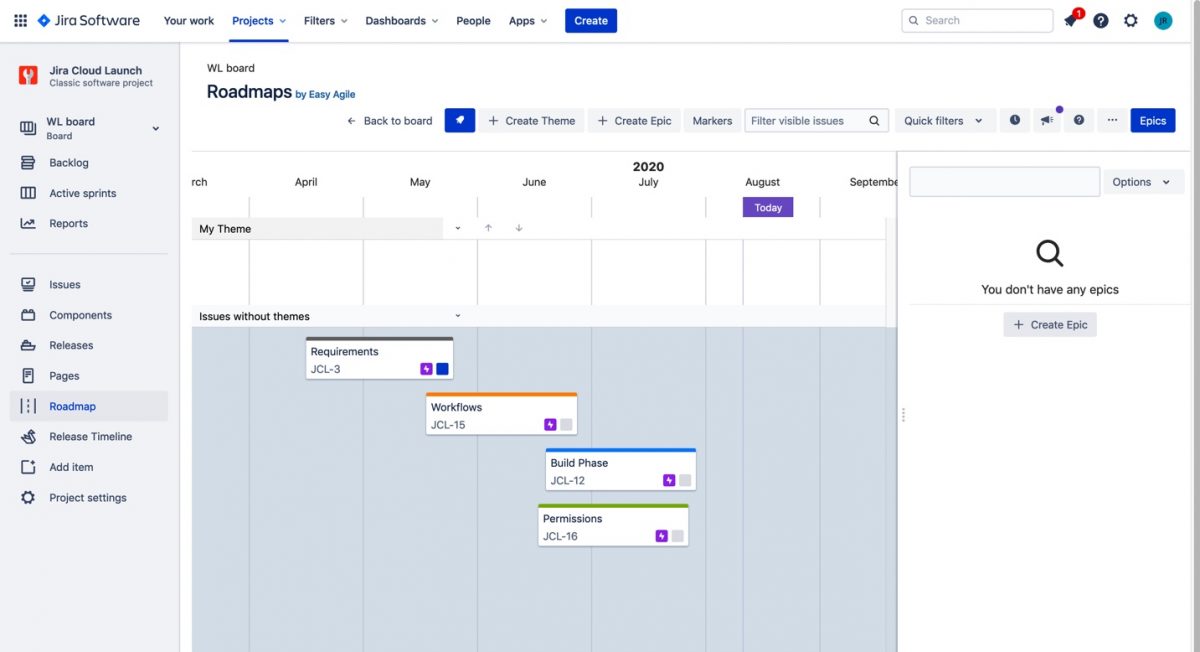 BigPicture – Project Management & PPM
As the name suggests, this is a big app! There are a lot of features available within this app, and a roadmap is amongst them. The app provides features to suit most methodologies, and the roadmap is aimed at SAFe agile practitioners. Other features included are Gantt charts, boards, a risk matrix, reports, and resource management. The Gantt chart offers a better view for individual issues and allows users to create issues from the chart UI – the roadmap offers more of a high-level view which shows users the commitments and forecasts, and not so much the individual Jira issues. The app encourages users to make use of all the different modules available to achieve your goals.
Scaled Agile Framework® compliant roadmap

Ability to create and organize Jira issues using a variety of tools – Gantt, roadmaps, boards, etc

Drag and drop feature

Dashboards

Use advanced JQL filters to manage work

Quick filters

Build customized structures (WBS) according to Jira component, fixVersion, epic, subtask or even issue link 

>

Import and Export to Excel and MS Project

Markers, baselines, and task coloring
There are video tutorials, user guides, quick start guides, and training all available from the vendor. They have a lot of reviews, mostly positive, and have a support desk available too. Pricing for this app is calculated based on the number of users you have on your instance.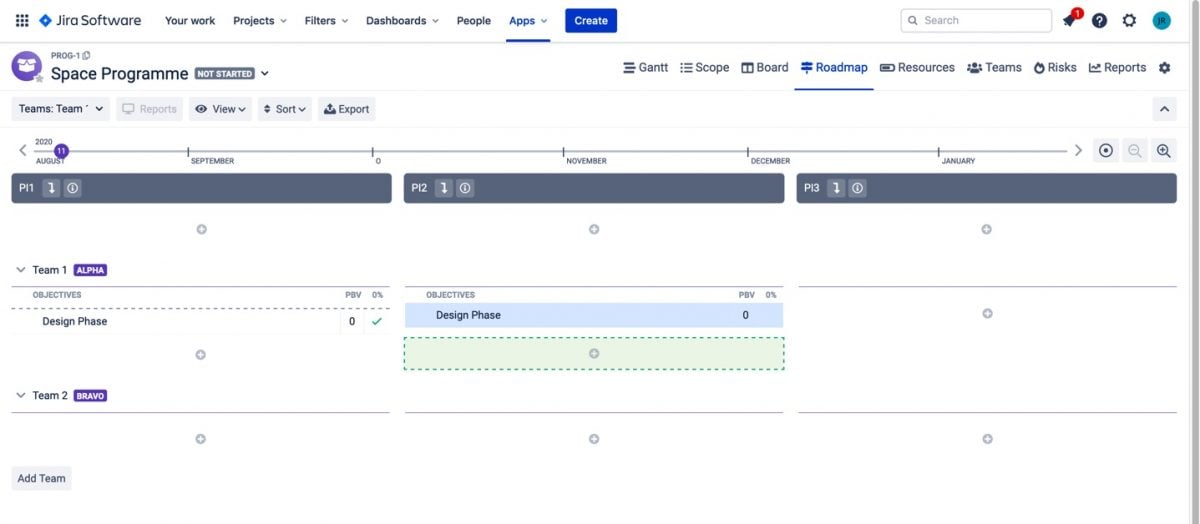 Swanly – Portfolio release roadmaps Jira
Unlike the last two apps, Swanly Portfolio Release Roadmaps Jira is only available in the cloud. Currently, there are two timelines listed, Issues and Releases, at the time of writing only the release timeline is available, but the vendor states an issue timeline is coming soon. This app is aimed at managers who want to have visibility over the delivery of their projects and their releases. Users import projects that they want visibility over, this will then enable teams to have the ability to structure releases and plan and track their work. Other features include release dashboards and reports.
Project level release timeline & list view

Export feature list to excel

Manage release status

Release dashboard

Create issues from the release detail view

Time estimates and story point

Burndown charts for the release

Release permission configuration
This appears to be a newer app on the product roadmap scene, and it does not have as many reviews as the aforementioned apps, but the review does have a generally positive, and the vendor is responsive. There are lots of helpful video tutorials and a quick start guide too to assist users with getting their releases and projects imported, and there is through the documentation on all aspects of the app. There is also a support desk, and a demo can be booked with the vendor. Pricing for this app is calculated based on the number of users you have on your instance.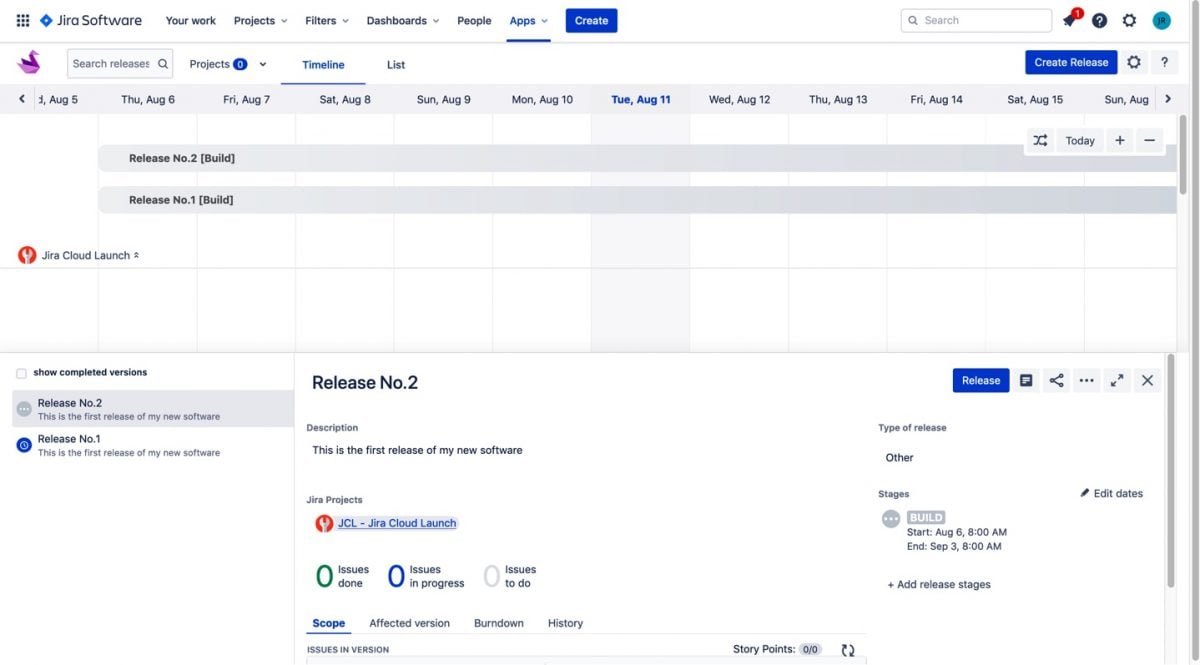 Conclusion
There are a lot of other apps on the marketplace which provide roadmap functionality and worthy of investigation, I decided to pick the apps based on the 'Cloud Security Participant' badge which appears on the Atlassian Marketplace. As mentioned before these are listed as some options to provide users of classic projects with roadmap functionality, and have been listed to provide the reader with some starting point and as such is intended for research purposes only.
As an Atlassian Platinum Solution Partner, Valiantys can help you simplify your handling of Jira, especially with your projects. Thanks to the Atlassian suite and apps, your teams can gain agility. We are here to accompany you from the conception of the solution to its hosting to the coaching of your team thanks to training and daily support.
Contact one of our consultants now