Jira has evolved significantly since it started out as a tool to track bugs in software development. Yet even today, Jira is mostly recognized at face-value as an "IT tool" rather than a tool that can be leveraged by all businesses. In truth, Jira has loads of functionalities which are fully capable of dealing with non-IT challenges – such as managing complex Human Resources processes. For this use case, we believe that setting up the on-boarding process with Jira Service Desk – with a little help from our Elements Copy & Sync –  will be a game changer for how organizations are digitally transformed.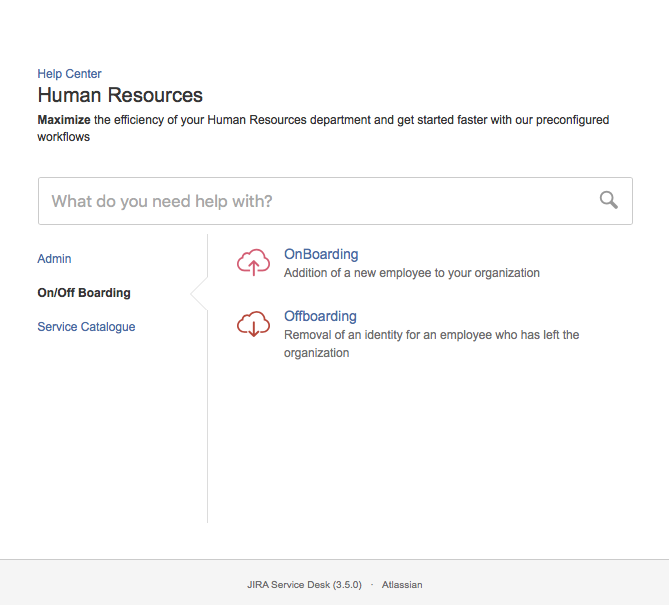 On-boarding: A modern business challenge
The responsibility for successful on-boarding reaches far beyond just the HR department. Rather, these processes are complex, complicated, and involve a lot of people from various organizational units. They require managing several teams' schedules, assignments, etc. Yet in many companies, on-boarding is being performed on an ad-hoc basis – you might not be totally sure if the full process was followed, as parts of it are executed at a very low level of communication.
So why is this problematic? Consider the following:
The growth of geographically distributed companies and teams makes it more likely that details could fall through the cracks
A rapidly changing job market means employees may only stay with a company for around 2-3 years, meaning on-boarding needs to likewise be accelerated
Any digital on-boarding process by nature comes with both physical and cybersecurity security hazards that need to be mitigated
Getting the governance over skills and trainings is vital for the success of future projects
Company assets need to managed during on-boarding, which requires time and attention to detail.
These factors are directly translated into time and money at the end of the day – so it's better to get the on-boarding process right the first time around. If you are hiring people, it becomes evident that a more agile approach is needed – and the first place you should consider turning to for your solution is the Atlassian suite.
How to revamp your on-boarding with Jira Service Desk and Elements Copy & Sync
Jira Core and Jira Software are capable of supporting various management processes as they facilitate cross-team and cross-project traceability of tasks, openness and transparency, all while securing sensitive information. However with Jira Service Desk, you get the same standard Jira capabilities along with self-service capabilities, integration with a knowledge base and SLA monitoring.
What does this mean for on-boarding? Imagine that as a HR Manager, you are about to hire a new candidate. The person is ready to start his job – but as the employer, are you ready?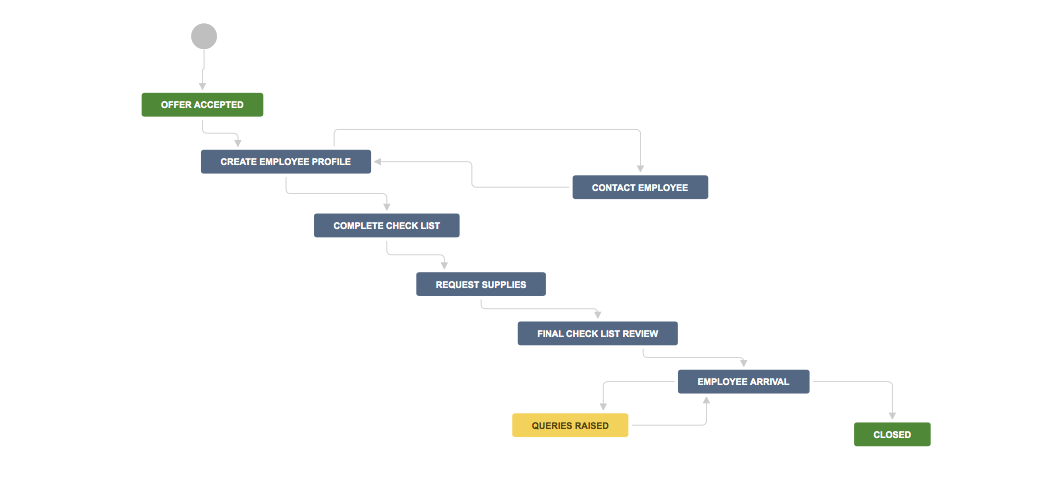 To ensure you cover all your bases as you bring this new person into the organization, you can automize all those tedious yet critical tasks in Jira Service Desk and Elements Copy & Sync (the Marketplace app that allows you to copy, link and sync Jira issues). All you need to do is create a ticket via the self-service portal of Jira Service Desk. By creating this request, Elements Copy & Sync will help assign several tasks at once to several business units/teams, as it automates sub-task creation across the Jira instance, or even in several Jira instances. You have control over the execution, regardless of the team, person or Jira project which they are assigned. You will have approval sets (where applicable), and even integrated Confluence pages with an on-boarding schedule or training lists.
Let's look at a use case: Your company is using two different Jira instances: IT Support 1 (with Jira Service Desk) where HR projects are managed, and Project Management 1 (with Jira Core/Software), where the office management team conducts their work. In addition, you work with a third-party supplier for IT equipment – laptops, mobiles, desktops, etc., and they work on Jira Service Desk Cloud instance. Once the decision is made to hire, the new employee's manager can log an on-boarding ticket using the Jira Service Desk portal. If it is linked to Confluence, he will have the possibility to use the knowledge base to answer questions he might have.
As the HR Team member, you will receive the Jira issue into your queue. This will be the main task, leading the workflow in the whole process. Based on the options required by the employee's manager during ticket creation – e.g. if employee needs an e-mail, if he should be a member of any defined group, what assets he needs (computer, mobile, security card, etc.), dedicated subtasks for the respective teams dealing with these requests will be created, assigned to those teams' projects, and linked with your on-boarding tasks. The following will be executed automatically:
Your IT team will receive a task in Jira Service Desk to create an e-mail for the new employee
Your supplier for IT equipment will receive a task in their remote Jira Cloud to order a new laptop and mobile
Your office management team will receive task in Jira Core/Software to provide a desk for the new employee
You will create a bunch of tasks within your Jira instance related to training, which include the employee's manager, team, HR staff, etc.
All the tasks creation  may be managed by conditions, stated in JQL queries in Jira. So you may vary the options, allowing tasks to be, or not be, created. For example, if the field value for field "Requires car?" is Yes (or the box checked), the task for assign car to new employee will be created and passed to the respective team. With Elements Copy & Sync, it is possible as well to synchronize remote Jira instances with your instance, allowing you to always be up-to-date with the on-boarding progress.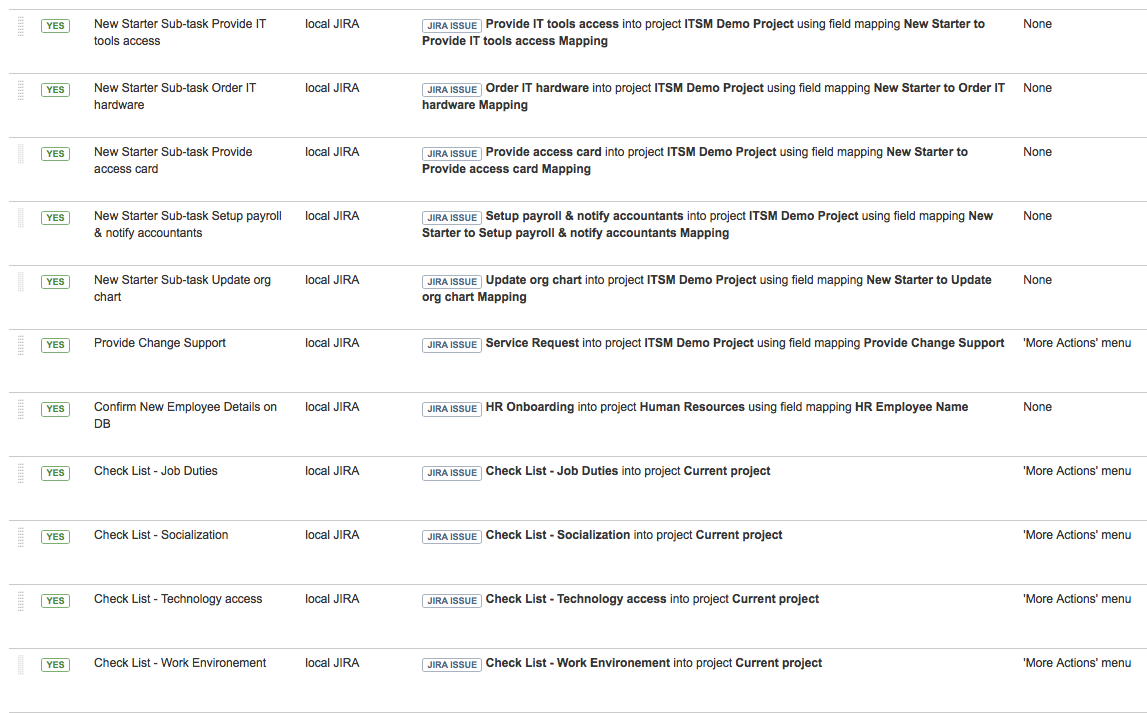 If you have tasks that are rarely implemented but would like to keep as an option, it's no problem at all; Elements Copy & Sync operations allow you to add buttons and/or menu links to cover the creation of related tasks or subtasks in a systematic, standardized way.
Managing sensitive data in Jira Service Desk
Similar to the aforementioned use case, you can also use Jira Service Desk and Elements Copy & Sync to oversee processes requiring approval and other sensitive data. This might include purchasing tasks, security background checks, etc.
Let's say you need approval from the new employee's manager (who was originally the reporter of the on-boarding task). Using the Fields mapping function in Elements Copy & Sync, you can copy his user name to the respective Approvers lists in Jira Service Desk in related tasks. You can also set up a SLA if you need a decision on a strict time frame.
If the data is sensitive in nature, you can use a standard Jira feature – security schemes – in your HR project which will restrict access to issues, thus protecting your information. Using Elements Copy & Sync fields mapping, you can copy all non-sensitive details to other tasks.
Another feature of Elements Copy & Sync is the possibility to build separate panels showing data of related issues, with the ability to display attributes which you are interested in. It allows you to combine information from many issues related to on-boarding in a convenient way.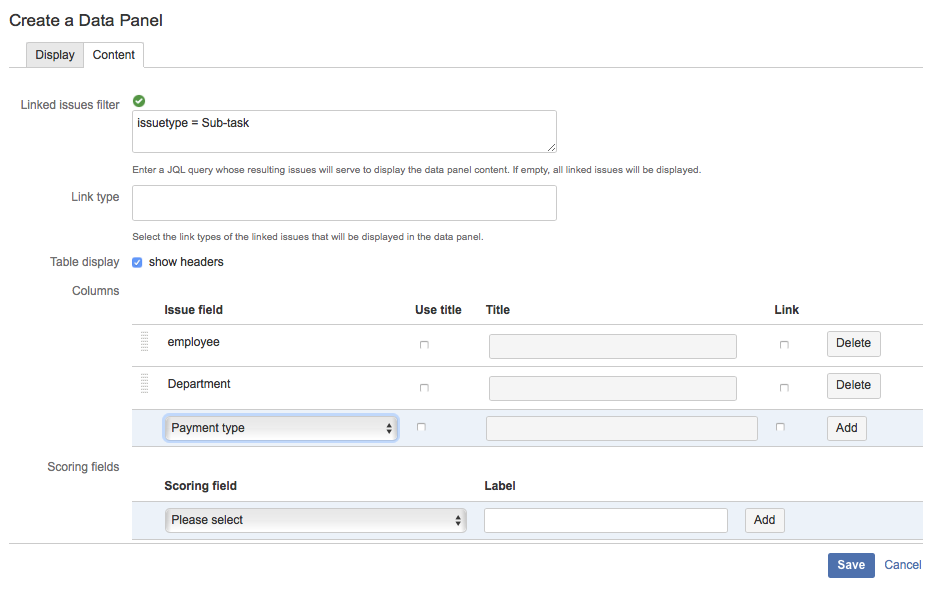 Jira Service Desk: It's worth the set up time!
While a bit of configuration is needs to set up your HR processes within your instance(s), once it's done it will be a significant time saver and make the execution of your tasks more efficient. Your on-boarding process will contain a clear set of actions, clear responsibilities and a clear time line – all with visibility over the progress. You can also calculate the costs, time spent and workload, so the on-boarding process is easily measurable.
If you want to try this for yourself, you can download our Elements Copy & Sync app here for a free trial. If you need some help getting set up with Jira Service Desk, contact one of Valiantys' certified Atlassian consultants – we'd be happy to guide you through the process so you can focus more on bringing in top talent to your organization!
Get in touch