Zendesk and Jira Service Desk are popular platforms used for customer service management improving effectiveness and response time to requests. Both offering out-of-the-box features and easy setup. In this article, we look at some of the reasons why customers chose to move from Zendesk to Jira Service Desk, how we at Valiantys have supported our clients and key lessons learned.
Why Migrate?
Moving from an existing customer-centric solution can be a tough decision for many businesses, here are a few factors that are often considered when moving from Zendesk to Jira Service Desk: 
Pricing
When it comes to purchasing technology customers focus on the cost: quality ratio to answer a key question: What is the business value offered by the platform per user? For example, both Zendesk and Jira Service Desk offers the following features:
Incident/Change/Problem Management
Self Service Portal
Service Level Agreements
And much more
Most companies initially look into pricing where currently Jira Service Desk is priced at approximately £15/agent per month and Zendesk is priced approximately at £40/agent per month. However, price isn't always the deciding factor. Features and compatibility are equally important, as discussed below.
Zendesk Suite v/s Atlassian Suite
Both vendors offer customer service management solutions. The Zendesk suite comprises of their main Zendesk Support platform with a service desk, in addition to Chat, Knowledge Base and Call Center applications.
In comparison, Atlassian offers Jira Software, Confluence, Opsgenie, Statuspage, Trello and most recently Jira Align; which are all complementary to Jira Service Desk, providing companies with more dynamic options to strengthen their customer support offerings.
Hosting options
This is where Jira Service Desk has an advantage in terms of product positioning, as the application can be hosted on a Server (managed by yourselves or Valiantys) or on the Cloud. We have assisted clients in migrating from a variety of Cloud-based service desk platforms onto Jira Service Desk, each case is different in terms of its feasibility depending on the requirements. Moreover, should a client wish to further extend their Server hosting capabilities, Atlassian also offers a Jira Service Desk offering at a Data Center level that can host up to several nodes, providing higher system availability and reliable performance at scale.
Marketplace add-ons
Both Zendesk and Jira Service Desk offers additional modules/apps that enhance the software's functionality. Zendesk offers approximately 800 applications across its chat and support platforms whereas the Atlassian Marketplace has over 3500 applications for its different software, of which 1000 have been developed for Jira Service Desk alone. 
Preparing you for your migration
We have supported a large proportion of our clients to move from other service desk vendors to Atlassian's Jira Service Desk, through a simple but robust approach: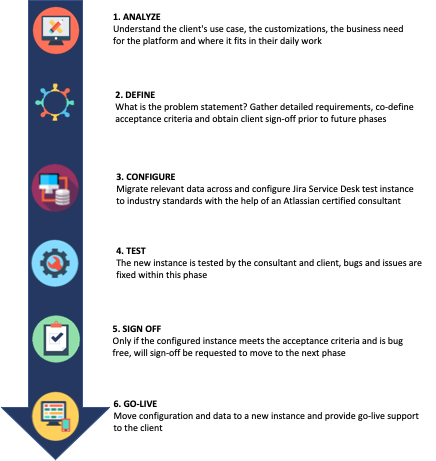 Lessons Learnt 
Whilst our methodology applies to all migrations, we are always aware that each client is unique and like with any project we learn from our successes but more importantly from the delays and challenges. Here are a few points that have stood out to us, during cross-vendor migrations – in particular, Zendesk:
Client readiness
Most often the decision-makers of the migration are not the main end-users of the platform. Hence it is key to meet the right stakeholders to understand if the business and key personnel are ready to move across to a new way of working. Additionally, as projects progress, clients often make changes to their requirements and it is essential to know if they have enough budget provisions for any future project changes.
Transparency
At Valiantys, we pride ourselves in being Atlassian certified consultants supporting our clients to move into the Atlassian ecosystem, from previous ways of working. As such, we do not self-proclaim ourselves as experts in other service desk solutions and it is important to make our clients aware of this from the beginning of a project. We learn from the challenges we face, familiarising ourselves with different platforms to have sufficient knowledge to ensure a high-standard migration to Jira Service Desk.
Documentation
We consistently document everything we do including meeting notes, configuration details and testing notes. Therefore, should we need to recollect or refer to anything during bug fixing or go-live support, we can do so easily and conveniently . This has also been particularly advantageous from a training perspective. We have had a majority of our clients approach our consultants for training, private coaching or knowledge transfer sessions post a migration project due to differences in user interfaces (UI). By drafting client specific collateral and training materials, we can provide them with relevant information, enabling them to familiarise themselves with the tool and utilise it in the best possible way going forward.
Conclusion
Zendesk and Jira Service Desk offer different functionalities in customer incident management and picking the right platform depends on each company's strategy and business processes. At Valiantys, we have supported our clients with Zendesk to Jira Service Desk migrations and much more. Through our robust methodology, collaborative and client-centric approach we learn more through each engagement.
Should you have any questions please feel free to comment on this article or reach out to one of our consultants
Contact us!