This is a guest blog by Tempo. Tempo develops sophisticated, flexible software add­-ons for Atlasssian JIRA to help software, IT services and core business teams work smarter. In this blog, we take a look at how Tempo uses its add-ons internally to extend JIRA's functionality, enabling teams across the business to collaborate better and improve project management.
Atlassian has long been a forerunner in offering flexible issue and project tracking, with best-­in class agile tools for software development teams. With its release of JIRA 7, Atlassian expanded the evolution of JIRA to suit the project needs of various project teams: JIRA Software (for software teams), JIRA Service Desk (for IT service teams), and JIRA Core (for business teams).
Tempo's add-ons extend JIRA, providing solutions for all project teams seeking to collaborate, plan, budget, track and work smarter. Teams across our company use Tempo and JIRA to help manage projects centrally within one platform, increasing transparency and alignment and making it clear how our resources are being allocated.
How Tempo extends JIRA to benefit teams and managers:
● Tempo Planner for flexible resource management on a team, project, and program level.
● Tempo Folio for accurate planning, managing and forecasting budget costs and revenue.
● Tempo Timesheets for painless time tracking and seamless reporting in JIRA.
Our software teams use JIRA and Tempo Planner to help plan our product roadmaps and higher­ level initiatives. We can then drill down to planning based on projects, versions (releases), sprints, tasks and other work items using its visual planning timeline. Tempo Planner's team and program capacity reports enable us to quickly determine effective team size versus actual team capacity, and use this data to adapt plans or team metrics.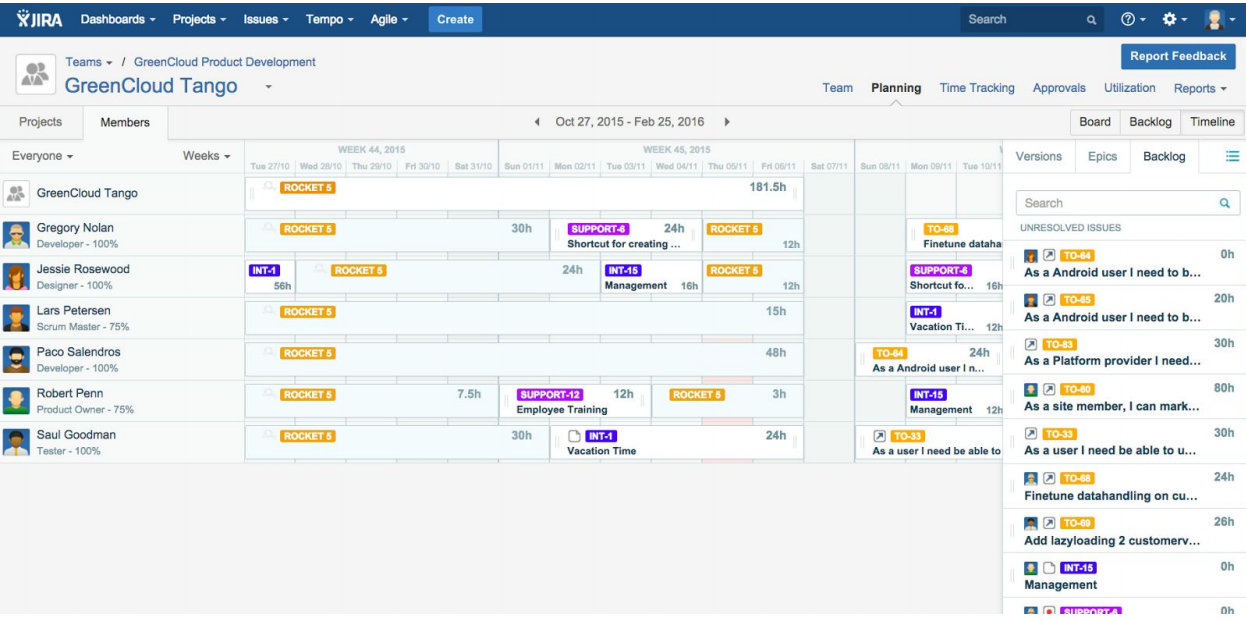 We use Tempo Folio and JIRA internally to plan project budgets and track actual costs and expenses, using this data for future forecasting. We sync up project team information by using Tempo Teams, a core feature of our add-­ons that enables managers and team leads to create JIRA project teams centrally. This includes team members by role, start, and end date, their allocation to a project team, their workload and holiday schemes (how many hours per week they'll work and the days they'll be working), and more.
With Tempo Folio, we can assign team member cost rates. Since we're using Tempo Timesheets to log all of our work in JIRA, we can then accurately keep track of CAPEX and OPEX for accounting purposes, for instance, measuring the total costs of product development and how much we spend on R&D.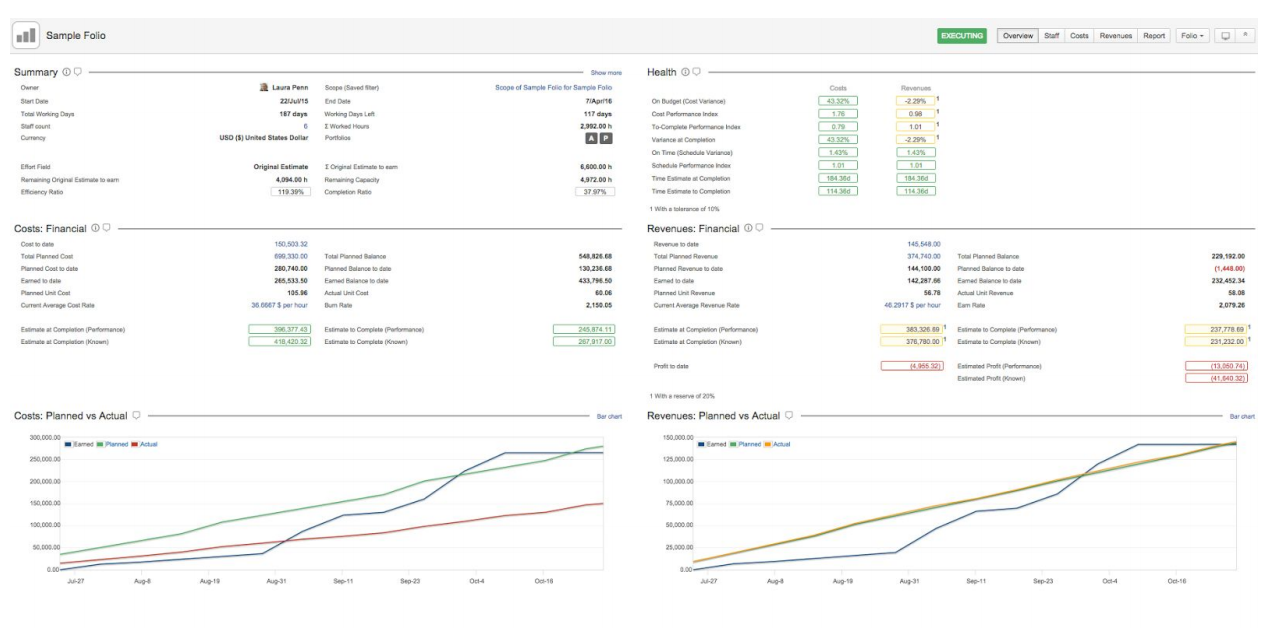 Our marketing team uses Tempo Folio and JIRA to set budgets for conferences and events, ads, and other operational costs, tracking actual expenses and invoices in real­time. Having all of these detailed expenditure items with invoices in one central location (JIRA) has helped our accountants immensely, who no longer need to track us down at the close of each month when reviewing our credit card statements. We can easily plan for future budgets by looking at the actual costs at the project's end.
Out team also uses Tempo Timesheets to track our time spent on JIRA issues, and to generate reports for accounting and payroll, as well as for for future planning.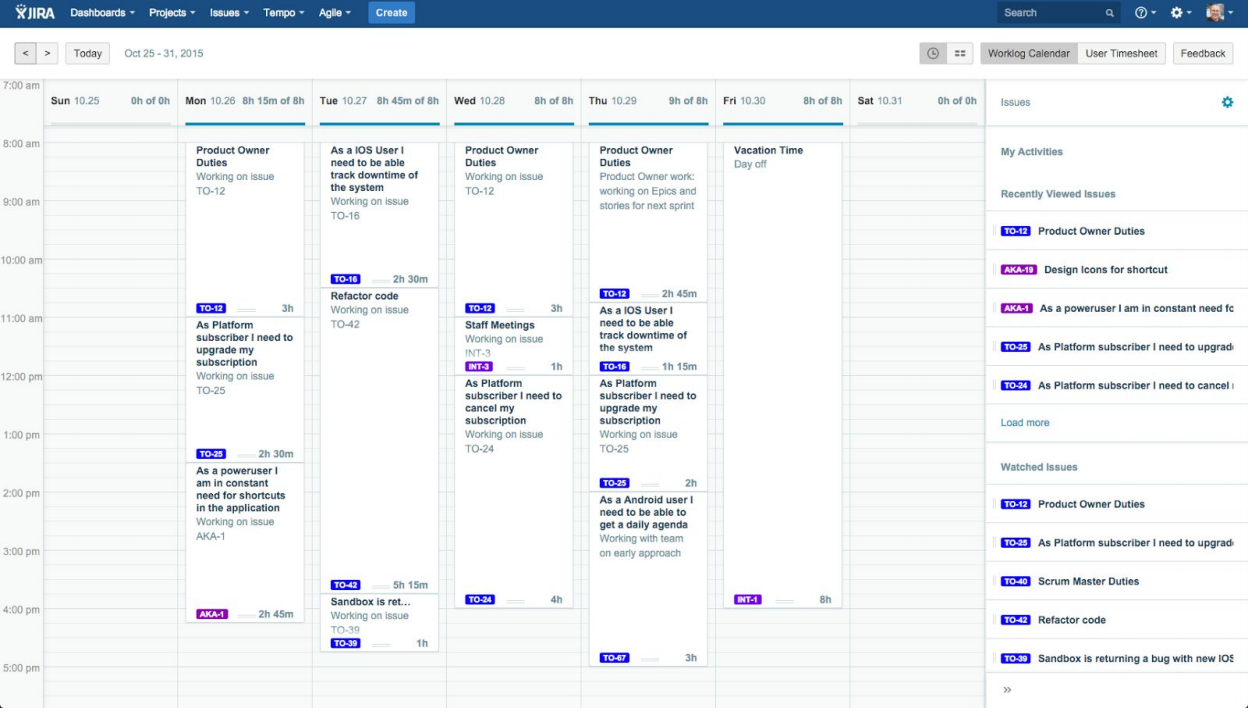 Team members can track time directly in the JIRA issue view, in an easy Workload Calendar with a timesheet view.
Knowing how we spend our time and resources has enabled our team leads to ensure that teams aren't overburdened, help managers establish a business case for new hires to higher ­ups, and overall, help us maintain realistic expectations.
Looking to gain increased visibility into your projects? You can trial Tempo's add-ons for free on the Atlasssian Marketplace.