The Atlassian Marketplace boasts an impressive 2,153 add-ons today, and no matter how up-to-date you are, there's always new ones to hear about.
Among these 2,153 add-ons, more than 50% are free. This means that there are 1,186 free Atlassian add-ons available for you to use – huge, isn't it? However, it's common for people to think that the most useful and interesting add-ons are the paid ones.
So with 648 Confluence add-ons available on the Marketplace, I've decided to share with you 10 of the most interesting – and free – Confluence add-ons out there that that you may enjoy using.
HideElements
You can use the HideElements add-on if you want to hide specific elements in a Confluence page like the Share button, the Tools button or the comments section. This can be useful in several cases actually – for example, if you want to make a space home page cleaner  by removing the comment section and some of the action buttons. The add-on can be used by simply inserting a HideElement macro into a Confluence page and by selecting one or multiple elements to hide in that page. These can either be selected from the list that shows in the Edit macro window, or specified in the CSS selector field that also shows in the Edit macro window.
PocketQuery 
Administrators and users alike will definitely love this Confluence add-on. PocketQuery allows you to execute SQL queries to external databases and display the resulting data within a Confluence page. The thing I find really interesting about this add-on is that administrators can configure advanced templates for the defined queries and display the data exactly the way they want to.
Templates are built using velocity, and each query defined by the administrator is assigned to a specific template. In order to use PocketQuery, you need to:
Configure a database
Create database queries
Create templates for your queries
Insert and configure a PocketQuery macro in your Confluence page
Let's dive into some examples of how this add-on can be used. We will be showing the result of a database query that extracts the amount of content created by each user under different PocketQuery templates.
Tables
This is similar to the default template used by PocketQuery to display data, but we added conditions to highlight values under 3 and above 11.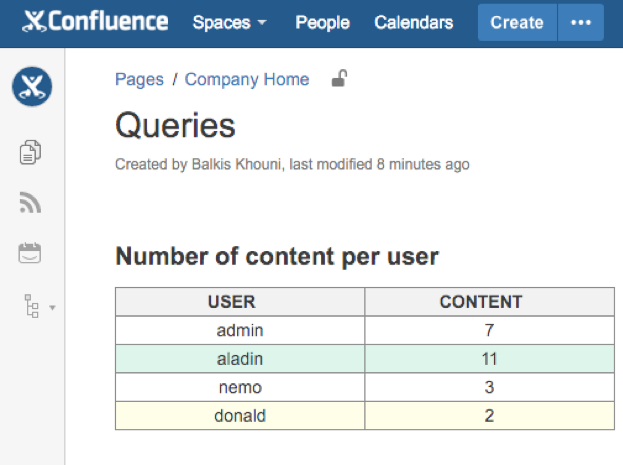 Pie Charts
This template is created using the PocketQuery.chart function based on Google Chart API. You can use any other Google API charts as well, but you need to make sure your query results can actually be represented in that chart.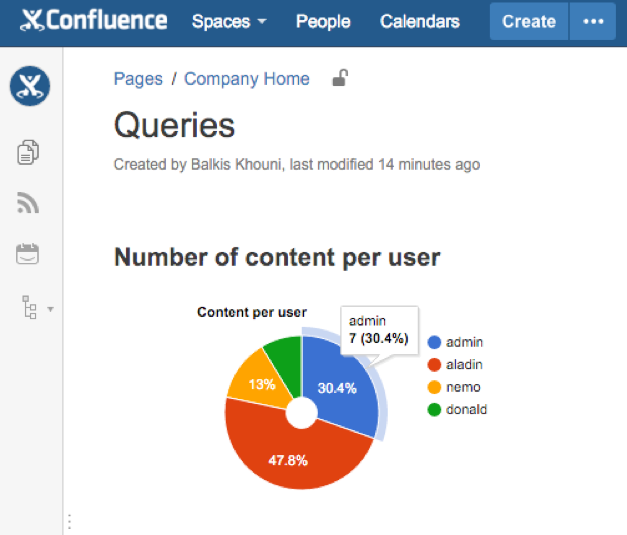 Forms
This one is really awesome – you can create a form-based template for your data so users can enter the DB query parameters dynamically in the page without having to enter edit mode.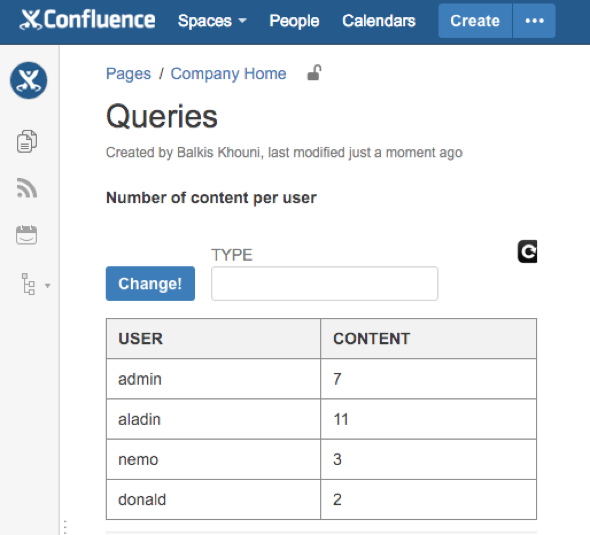 In this example, the user can set the type of content that the query will be looking into.
NOTE: The data is reloaded without having to reload the whole page. You can add a reload button as well.
There is so much more you can do with this add-on, and it's well documented too!
Numbered Headings 
Numbered Headings is an add-on that allows you to number your headings in a Confluence page. As simple as this add-on may seem, it can be extremely useful when you want to format your content and make it clear to read. In order to use it, you need to put your content inside a Numbered Headings macro, and you'll get an instant result inside your editor while typing.
What's interesting here is that you can configure the way your headings are numbered by choosing a specific number format. You can also choose to start the numbering of headings at a specific level (h1, h2 etc.) and with a specific value (a,b or 1,2 etc.).
Confluence Source Editor 
This is one of my top Confluence add-ons because it gives me greater control over the content I am editing. Source Editor, as the name suggests, is an editor for the storage format of a Confluence page. Sometimes when you are editing a page, you have trouble indenting a table or adding bullets inside a table cell – or maybe you just want to make an advanced customisation of the content. Simply click on the Source Editor button inside the editor and you'll see a source editor where you can make your modifications.

RefinedWiki UI Toolkit
Refined Wiki UI Toolkit is a Confluence add-on that you can use to boost the look and feel of your pages. It's important to make sure your content looks attractive in order to attract readers, and this add-on enables you to insert elements like buttons, text boxes, expandable lists and images.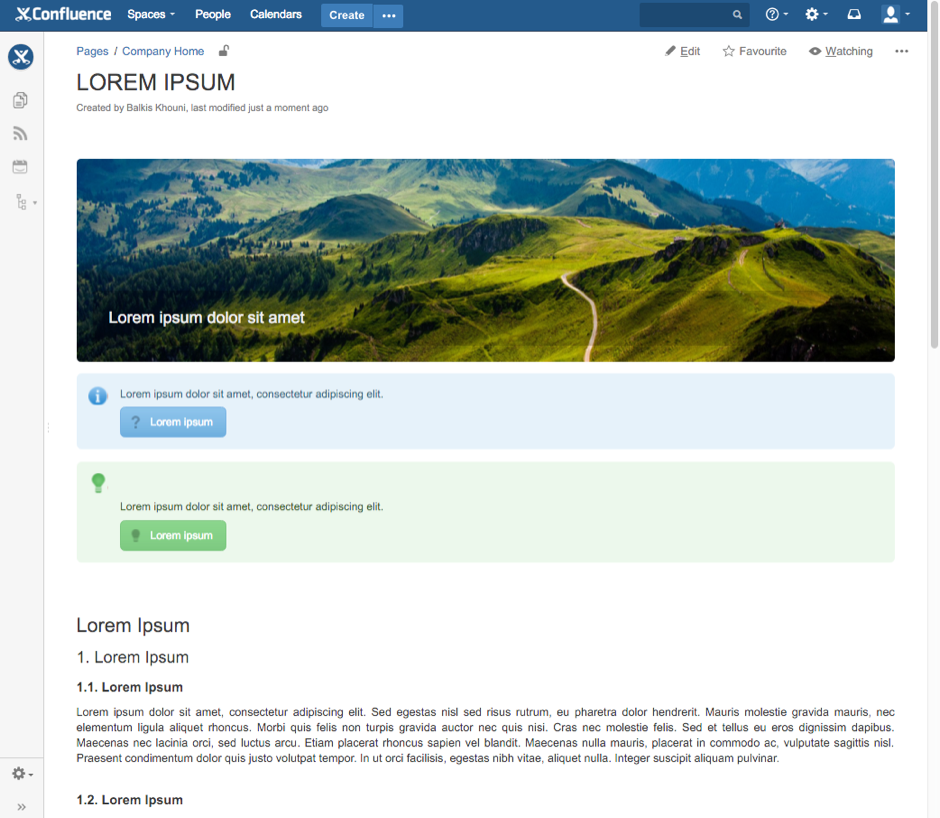 When you insert an image into a page, it adjusts dynamically to the width of the page, so you have a better user experience.
The good thing about this add-on is that you can play around with it as much as you want and create a page that looks almost like a website!
No Email Storm
I wasn't sure if I should include this add-on, but I think a lot of people are struggling with the issue addressed by this tool.
Have you ever made a very minor change in a Confluence page and saved it without unticking the notify watchers box? I don't know about you, but this happens to me a lot. Well, this add-on helps you with exactly that. By installing it and configuring the user groups you want to use this feature, you're able to bypass this problem and edit your pages peacefully.
User Management Util
A great pick from the Marketplace's Confluence add-ons, User Management Util can literally save lives! I came across it while I was looking for a way to bulk disable users in Confluence.
User Management Util is a very simple yet really useful tool, enabling you to export users in a CSV file or bulk create, update, disable or enable users. It's not the best in terms of user experience, but it does the trick perfectly! In case of any failure, you'll see an output message explaining the reason for the failure, too.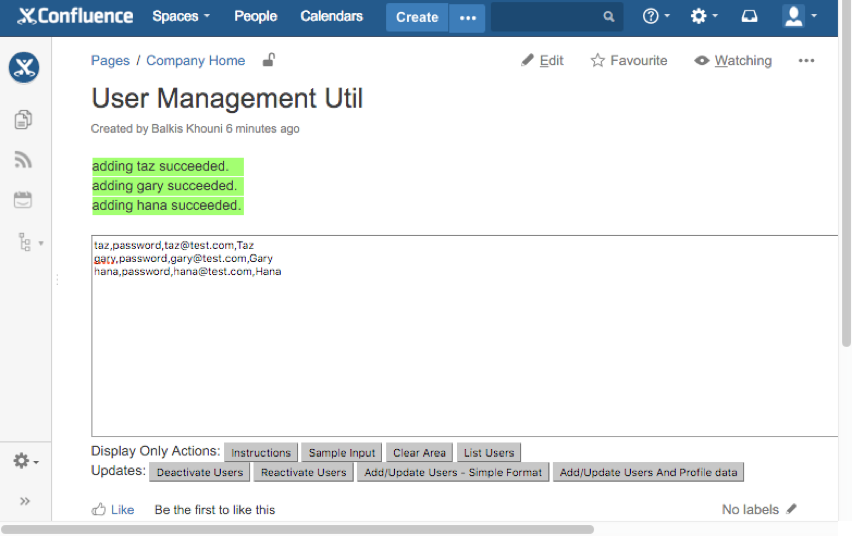 To use the add-on's features, you need to insert a macro into a Confluence page, which is eventually only accessible by administrators. If you want to add or update users, you need to have them in a CSV format – then you're good to go! You can always check the sample input provided by the macro to get an idea about the format you need for your users list.
I hope this post has helped change your perceptions about free Confluence add-ons on the Marketplace, and that you are already trying all of them!
Have I missed any Confluence add-ons that you can't live without? Let me know if the comments below!