Here at Valiantys, soccer has crept into every aspect of our lives – even our Jira issues.
Every four years, the FIFA World Cup is on everyone's lips and becomes the main topic for many intense, electrifying debates and evenings. Driven by our obsession with the sport, we seized the opportunity to organize a contest for the World Cup 2018 in Russia. As an Atlassian Platinum Solution Partner, we ditched our Excel spreadsheets and all other platforms to develop our own soccer betting solution with Jira.
Creating our betting platform: Simply the Bet
The concept of our customized Jira is simple; it has a multi-project architecture in which matches, bets and users are all Jira requests linked together. Once we nailed the concept down, the development was quickly launched with the help of some of our best "homemade" apps, edited by Valiantys Software:
The (awesome) nFeed was used to gather the data for our colleagues who just converted to the soccer world, including team composition, FIFA ranking, live scores, ratings, etc. We provided all the essential data needed to make informed bets.
The (powerful) Exocet was used to manage the links between the different Jira requests as well as their display.
After a few hours of configuring the settings with the help of scripts and automation rules, our solution was finally ready to start collecting bets from our colleagues.

The World Cup kick-off and the launch of our platform
After vigorous testing, we opened our Simply the Bet platform to everyone at Valiantys a week before the World Cup started. As we always have Atlassian tools on our brains, we published a blog post on our internal Confluence to alert everyone to the new platform and created a Hipchat room to discuss the event in real time.
Simply the Bet immediately became a huge success, luring 72 participants – more than half of Valiantys' employees. Soon afterwards the rivalries began. As the first shots are fired, we started to see the true nature of some of our colleagues: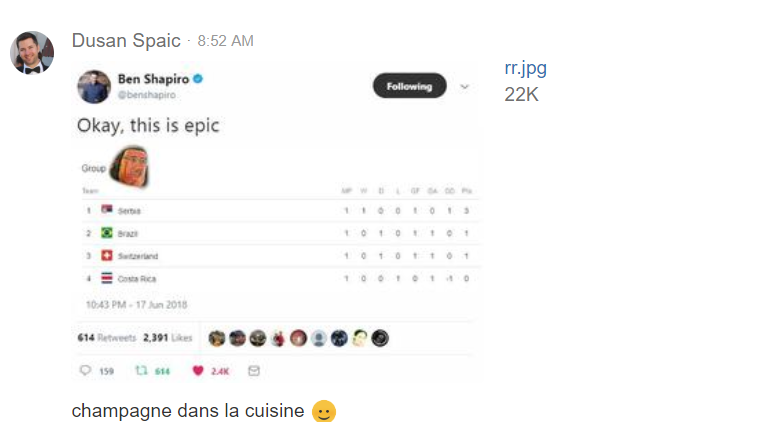 On our part, we did everything we could to improve our colleagues' experience. We helped those who are not soccer experts by showing them the odds of each team winning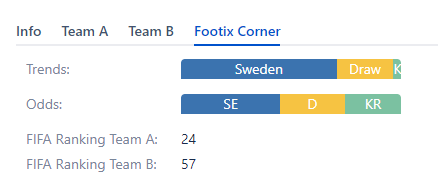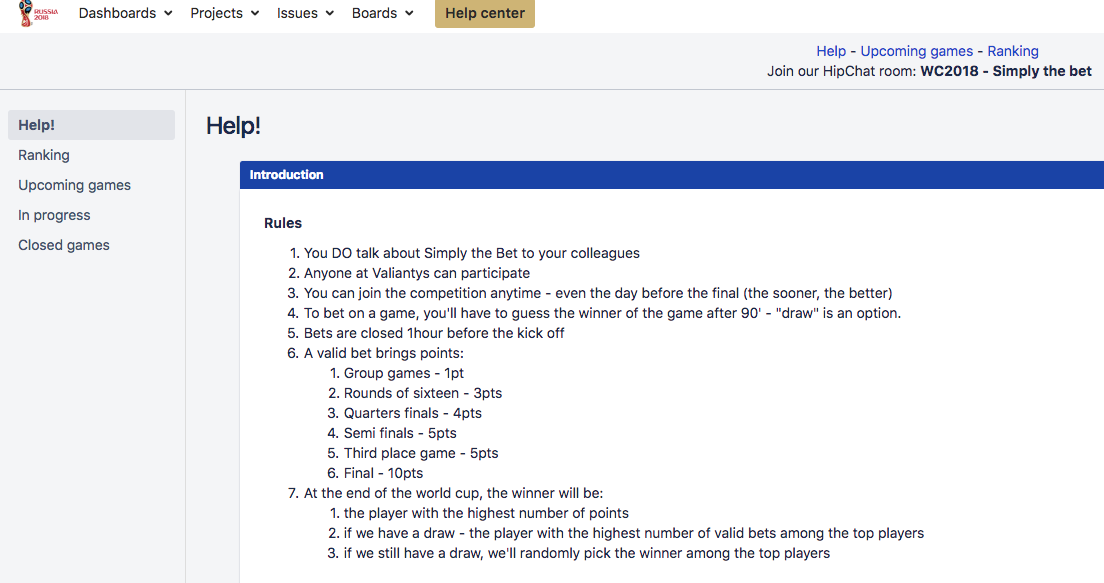 On June 14, while Russia kicked-off the World Cup with a stunning victory, we were crossing our fingers, hoping the platform would work… and it did! We're proud we didn't encounter any major bugs.
It soon became evident which of our colleagues took the top positions in the competition.
Simply the Bet will last until the World Cup final.
It is satisfying to see our colleagues gathering around a platform built with our Jira expertise and our apps. This could not have been possible without a good team spirit, the work of our Atlassian certified consultants and generous sponsoring from Valiantys Software.
Don't hesitate to get in touch with us to if you need assistance with Atlassian tools and our apps – We're ready to help regardless of whether the problem is work or soccer related.