Creating an issue in JIRA should be quick and easy while providing the maximum of qualified information.
Paul, one of the Valiantys consulting team, demonstrated this at our recent Atlassian Enterprise Day. Based on a real-world example that addressed solving an  nFeed issue, he presented a simple way of creating qualified tickets that solve JIRA issues more efficiently.
I especially noticed two very interesting points.
Cascading select list
Issues classification is always a headache. How to be sure that users won't make mistakes while choosing issue type and/or items concerned? Is issue qualification precise enough?
nFeed, external data connector for JIRA by Valiantys, offers a solution with the cascading select list.
At the Atlassian Enterprise Day, Paul performed a demonstration on 4 levels. Its particularity relies in the dependency between levels : the choice of the first level will define the possible choices for the second level, the choice of the second level will define the possible choices for the third level, and so on…
nFeed enables the creation of dependant fields thanks to an efficient information filtering: by getting more and more specific, any user can qualify an issue precisely.

Here, the choice of domain impacts the choice of macro-activity, which impacts the choice of activity, which impacts the choice of original application.
Scoring
JIRA sorts intuitively issue priority with a simple list. But sometimes this is not good enough to evaluate the level of urgency.
This is where a scoring system is ideal. The problem evaluation being split into several steps, the final grade obtained ensures much more accuracy and attributes the corresponding level of urgency to the problem. It also leads the user who fills the issue to ask himself the right questions.
nFeed retrieves the user's answers and calculates the level of priority. This results from objective criteria.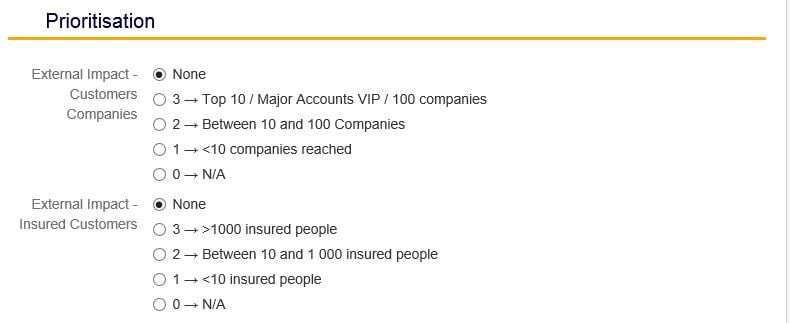 Precise questions lead to an efficient scoring, so be specific !
Extend JIRA's power with nFeed
JIRA is a wonderful tool. nFeed brings a plus which allows to use JIRA in a different way, which is a daily challenge for Valiantys consulting team.
Feel free to contact us to discuss your needs or to try nFeed for free.