This guest blog was written by Irina Lesunova, Technical Writer at StiltSoft.
---
Atlassian's Confluence helps teams work together in real time, allowing them to create, share, and discuss project documents and files in one place. If you're not already using Confluence for your Enterprise Content Management solution, check out this guide from Atlassian on how the right ECM system can automate processes, increase productivity, and encourage teams across your business collaborate without the chaos.
But what if you need to share tons of design work at light speed?
In Confluence it can become a tricky and challenging task, especially once you start having hundreds maybe even thousands of various mockups, wireframes, source files, and more for a dozen of different projects. Luckily there is an easy solution; we will show you how creative teams that work with visual assets on a daily basis can benefit from using Confluence along with Smart Attachments.
Confluence attachments: Too many files, too little order
When a design team has multiple projects running at the same time, they need to post different media assets to Confluence to receive feedback. Yet when the designers store files in different places and use different styles of organization, it quickly can have a negative impact because:
Team members struggle with messy pages that may contain duplicate files and incoherently named images.
Files can be moved to the wrong project space, mislabeled, or lost.
It can be hard to quickly find the required project document browsing through Confluence pages or searching for a specific file in Confluence.
With the help of Smart Attachments for Confluence, design teams can set up an organizational structure that works for everyone.
Store and share Confluence attachments easily
The Smart Attachments app centralizes file storage for each project space in Confluence. The design team can work out an efficient structure for different files depending on file format, work stage, or project phase. The freedom to work with various design assets and file formats in one place saves both time and effort.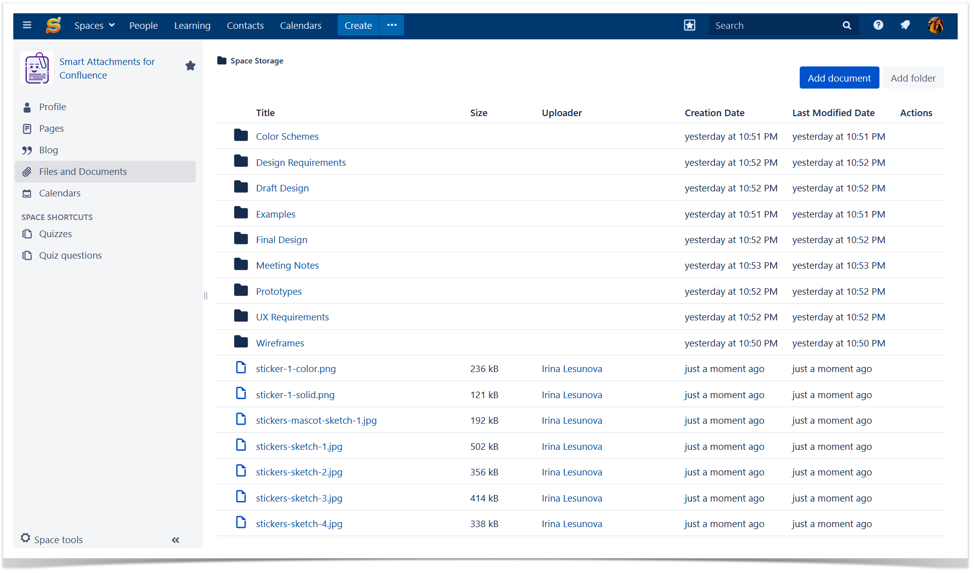 Moreover, all team members can add levels for storing files that attribute to different meetings, sessions, or time periods. They can easily upload single files or bulk of attachments into the required folder right from their computers by drag-n-drop.
Embedding documents and assets into Confluence pages
The app also allows for embedding documents and assets from the storages into Confluence pages. The team can move attachments from a page to the space storage while still preserving all the external links.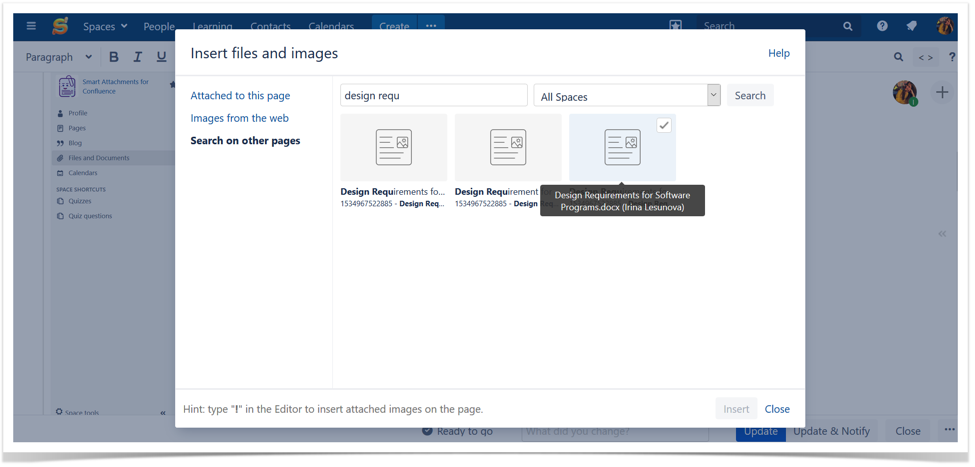 The team can also edit any file embedded into Confluence pages (Confluence 6.11) and automatically save it back to Confluence.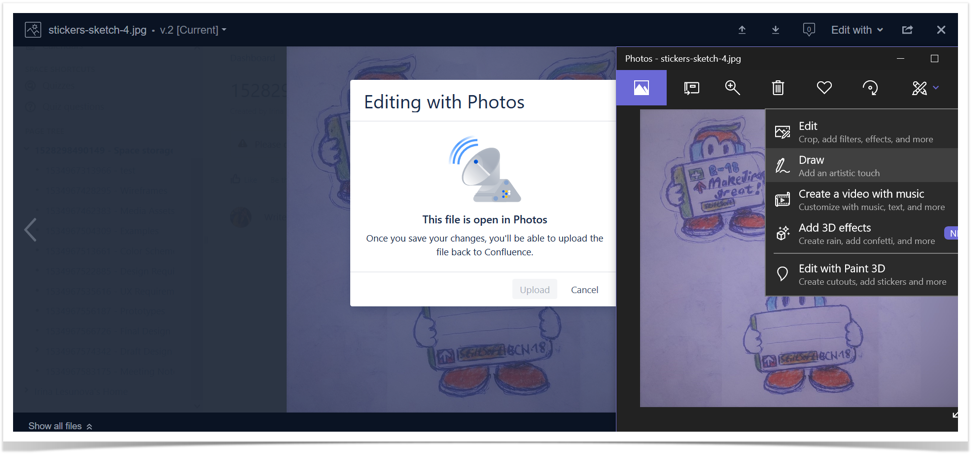 The Smart Attachments app groups the new files with identical names into document revisions automatically. This way, the designers can keep track of specific document versions. This useful feature becomes a huge advantage for the team as everyone can get back to the appropriate version of file at once.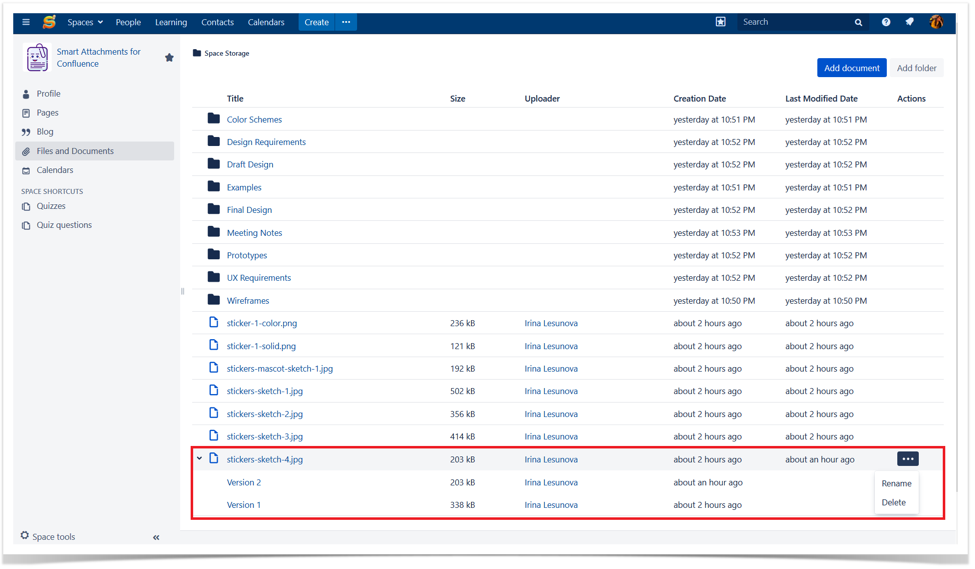 It's also easy for the participants to rename or delete files if required.
Give Smart Attachments for Confluence a try!
Smart Attachments will simplify your experience with storing your project files and getting quick access to the required documents on the fly. This simple but powerful solution for Confluence can provide many more opportunities for team collaboration.
Take your teamwork on files and documents to the next level with the help of Smart Attachments for Confluence.
Just give it a try and share your ideas and feedback with the vendor – they'd be more than happy to hear both!
Try Smart Attachments for Confluence