This is a guest post from StiltSoft, a small team of Atlassian Experts and avid fans of JIRA and Confluence from Belarus. StiltSoft is the Atlassian Verified Vendor that develops Smart Attachments for JIRA, Table Filter for Confluence, Awesome Graphs for Bitbucket and other add-ons. This blog post will highlight the features and augmentations available in the Smart Attachments add-on that you can use for quick and efficient management of attachments in JIRA.
JIRA is one of the greatest issue tracking systems in the world. Its well-organised workflows, intuitive interface, rich set of bundled features, high level of customisability and expanded ecosystem of add-ons are just some of the key advantages of this platform.
By default, JIRA comes with quite simple functionality for managing attachments, bypassing numerous features that could significantly simplify the user experience. Fortunately, there is a solution in the Atlassian Marketplace to improve the process of attaching files in JIRA. Enter Smart Attachments, an add-on developed by StiltSoft, a team of Atlassian experts and an Atlassian Verified Vendor.
The Smart Attachments add-on offers a radically new and enhanced way of attaching files in JIRA. In fact, having tried the add-on once, you'll no longer be able to imagine your work with attachments without it!
Quick and easy configuration
The add-on is activated individually for each JIRA project, so for each project a specific configuration is created and used. If you already have an 'ideal' configuration, you can easily propagate it to the required projects by importing the configuration of the source project.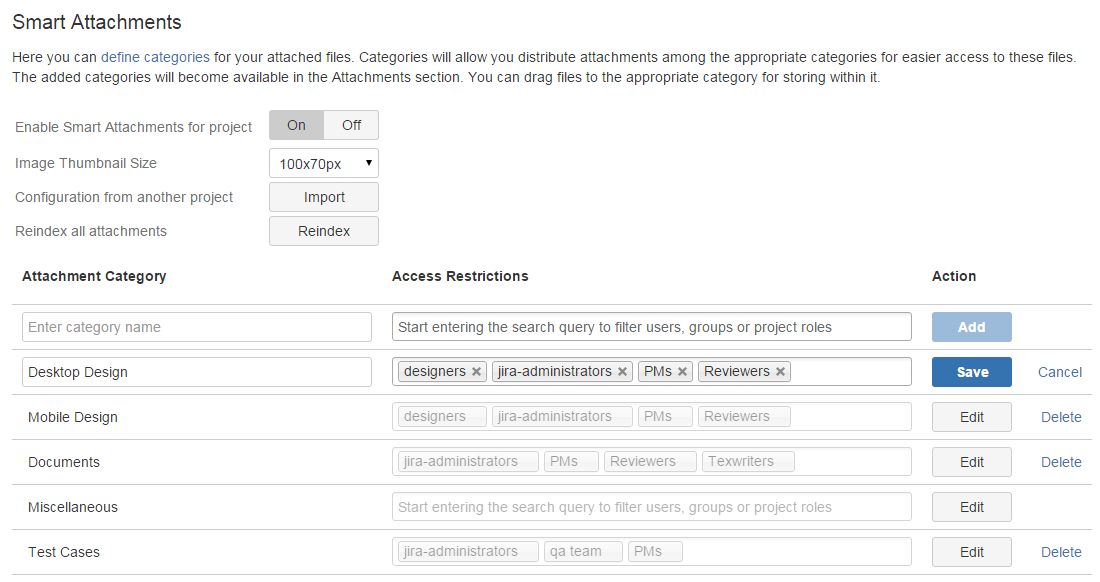 Administration of the project also allows you to create the required categories and define access restrictions for each particular category. This means you can restrict access to specific categories for individual users, user groups or project roles. This is both flexible and convenient when you need to differentiate access to particular categories storing data that is not intended to be visible to all JIRA users.
Convenient attachment distribution
Once you have saved the project configuration, you can immediately proceed to uploading files to categories. The section undergoes several modifications after activation of the add-on.
Firstly, here is the list of categories you can directly drag files to for attaching. The order of categories in the list is defined by project settings, but each user can re-order categories based on their actual needs.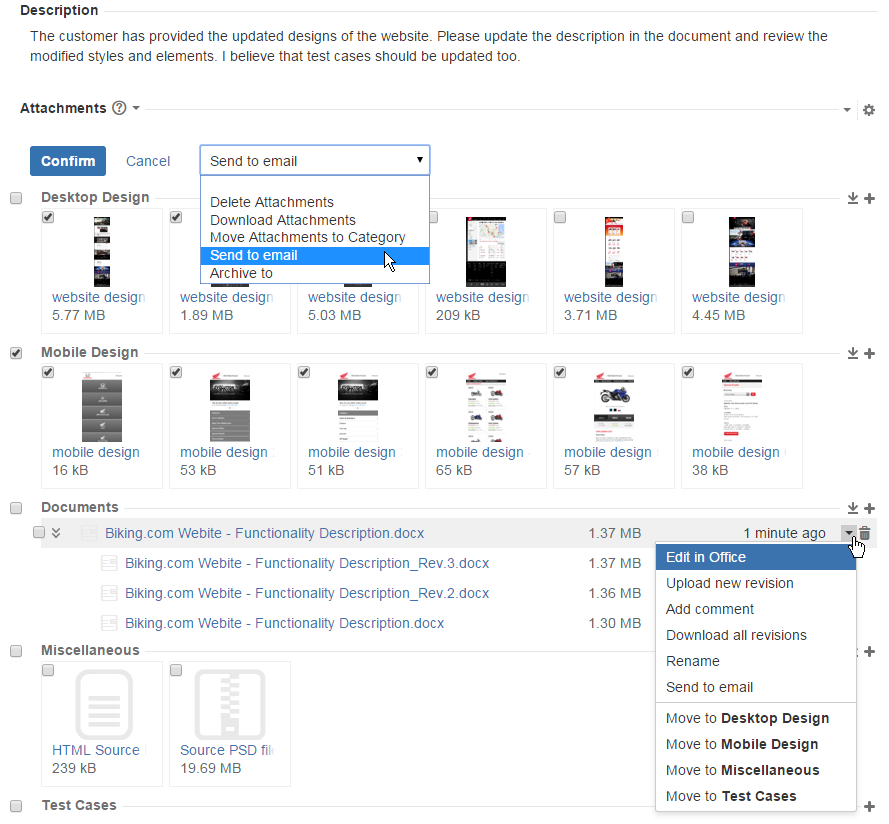 There is also the capability to drag files from one category to another, so if you place files into an inappropriate category, you can move them into the correct category at once.
The native forms for attaching files and screenshots also have the option of selecting which category the attachments are placed with.
Document versions and office file editing
By default, JIRA is equipped with a basic file revision engine that greys out old revisions of attachments if a new file with the same name is uploaded. The Smart Attachments add-on allows you to store numerous document revisions under one parent document, ensuring all file revisions are stored in one place and will not be confused with other attachments. To keep track of modifications, you can add comments either while uploading a new revision or once it has been uploaded.
An additional function to simplify your experience with Microsoft documents is the ability to edit documents and automatically attach them to the parent document as a revision. This saves time as you can quickly update your document, spreadsheet, presentation or diagram and seamlessly attach it to the JIRA issue.
Bulk actions for ease of use
Out-of-the-box JIRA only allows you to delete attachments individually, which can become a problem when you need to remove multiple attachments at once. This means clicking 'Delete' and confirming the action for each individual file, so having 10 issues with 10 files for removal in each issue can become a great challenge.
With the Smart Attachments add-on you can do this with less effort – simply select the appropriate files for removal and select the bulk action for attachment removal.
Additionally, the add-on enables you to move multiple files from different categories to the new category at once, download selected attachments in the archive, or archive them to a backup category.
When you need to share attachments with colleagues, this can be done with the function of sending attachments to emails. Smart Attachments automatically completes emails of JIRA users and remembers up to 50 emails of other people that you specify in the To, Cc or Bcc fields.
Additional augmentations when attaching files in JIRA
The add-on also introduces numerous additional augmentations for dealing with attachments in JIRA. For example, in the configuration of a project you can define the size of image thumbnails, so if you have a lot of images in each JIRA issue, you can regulate their dimensions depending on your needs.
There is also the capability to search for JIRA issues containing attachments of a specific formats or names. You can also obtain lists of issues containing documents with revisions, or attachments uploaded by a specific user.
The Smart Attachments add-on will become a real help if you deal with numerous attachments during the day. Its rich set of features, user-friendly interface and optimised user experience can drive efficiency and save time spent on routine attachment management tasks.
You can download Smart Attachments directly from the Atlasssian Marketplace. if you already use Smart Attachments but require a specific feature, you can submit your request via the feedback forum.
Download Smart Attachments