Raise your hand if your team uses Jira issues for relatively large tasks, like a software release, preparing a contract, or estimating a total cost. Sometimes the boundary between what should be one Jira issue or several sub-tasks can be difficult to decide. But if you want to avoid configuring screen schemes and workflows and implement a simpler solution, a checklist inside your Jira issue is a quick an easy way to break down larger tasks and track the steps to complete.
The procedure your software team will be following will obviously not be the same as your legal team, so it's important to make sure the checklist solution you chose can adapt to the needs of multiple teams. Luckily Elements Checklist can make life easier for lots of Jira users looking for a simpler solution than sub-tasks. Let's take a look at three ways you can use Elements Checklist.
Creating checklists for your software development team
Quality control is a major issue for software teams, and a simple solution for making sure everyone is always following the same steps is to include a checklist in your Jira issues. Whether you are preparing a software release, fixing a bug, or defining a user story, Elements Checklist can help. By setting up templates for your recurring needs, such as a Definition of Done, or Definition of Ready, you can make sure everyone is following the same procedure.
You can set up a basic checklist with just two attributes (a tick box and a text field for the step to follow), and create multiple templates for your different teams.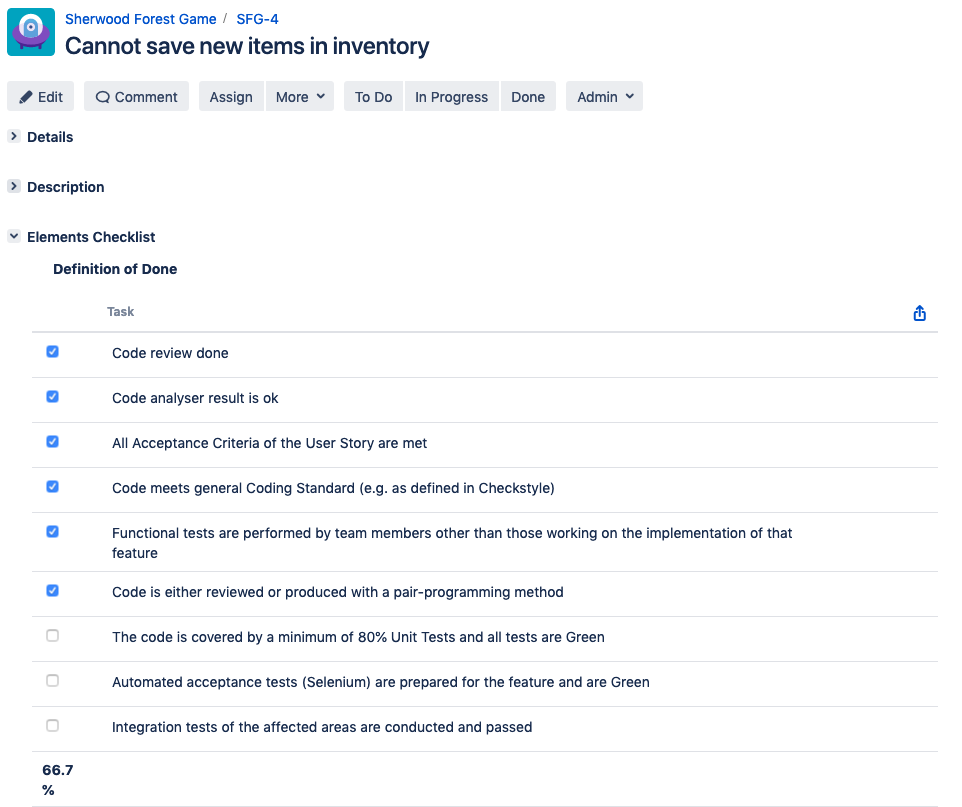 For repetitive, quality related steps, a checklist is the most practical. To really enforce your procedures, you can even auto-populate your issues with specific Elements Checklists so no one forgets to follow all the steps.
Tracking document preparation in Legal
A contract prepared by a legal department usually requires input and details from a number of different departments or colleagues, and the person responsible for preparing the document needs to be able to keep track of which steps are complete and who has been consulted.
Elements Checklist can be configured as a smart grid to track more than just a tick box. The legal team will probably need a checklist with the internal contact to consult for each step, the date the information was received, and the possibility to associate a file attached to the issue to the different steps in the process.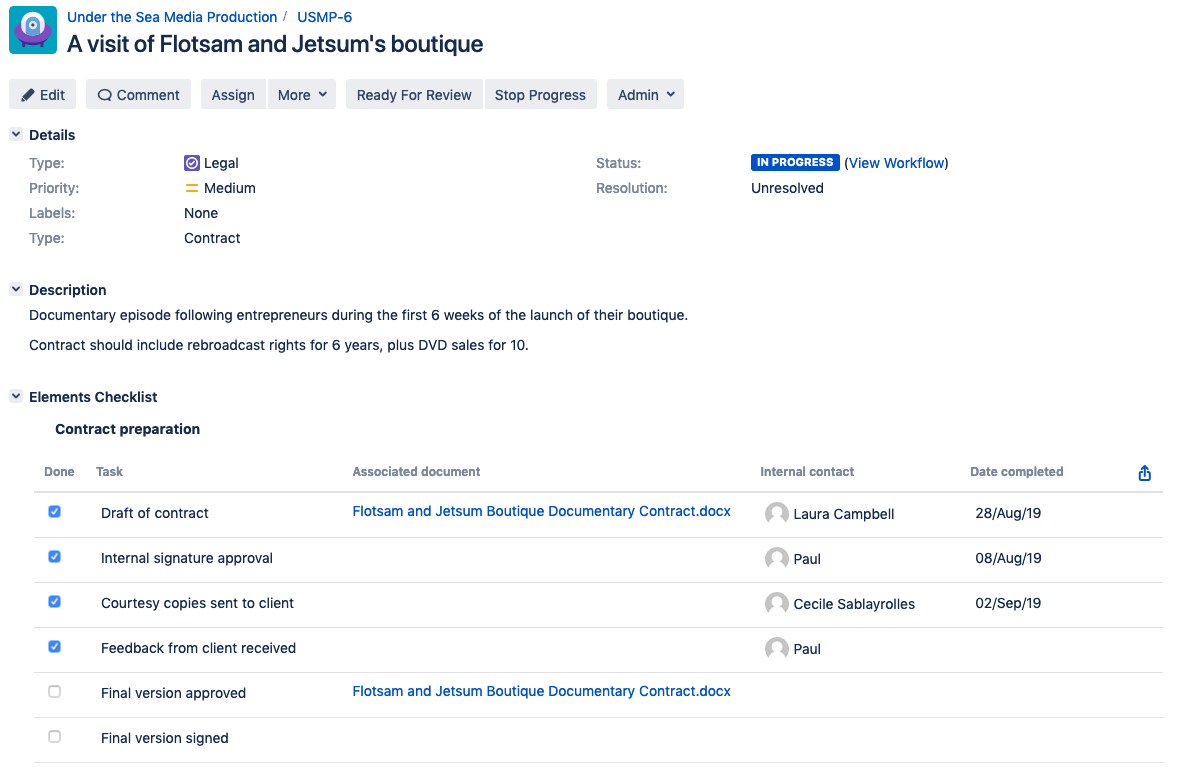 To make sure the legal team is following the right procedure based on the type of contract to prepare, a select list custom field on the issue creation screen (options for a Contract or NDA) determines which Elements Checklist template is automatically inserted into the issue.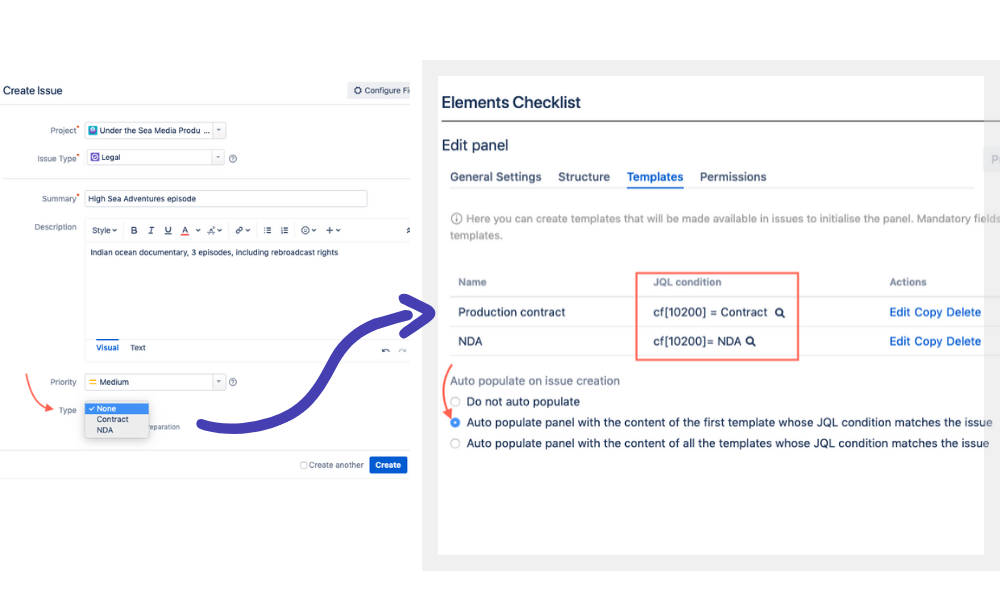 This is an easy way to customize which template is used, especially if you have an issue type like "Event" or "Legal" or "Marketing" that are used for a number of different situations.
Estimate total project cost quickly
When you need to be able to list who will be working on a project, for how long, and calculate the total project cost, all within a Jira issue, Elements Checklist provides a simple solution. By combining text fields with calculated attributes, the checklist will automatically calculate the total number of days and total cost of a project. A footer at the bottom of the checklist automatically sums up everything as well.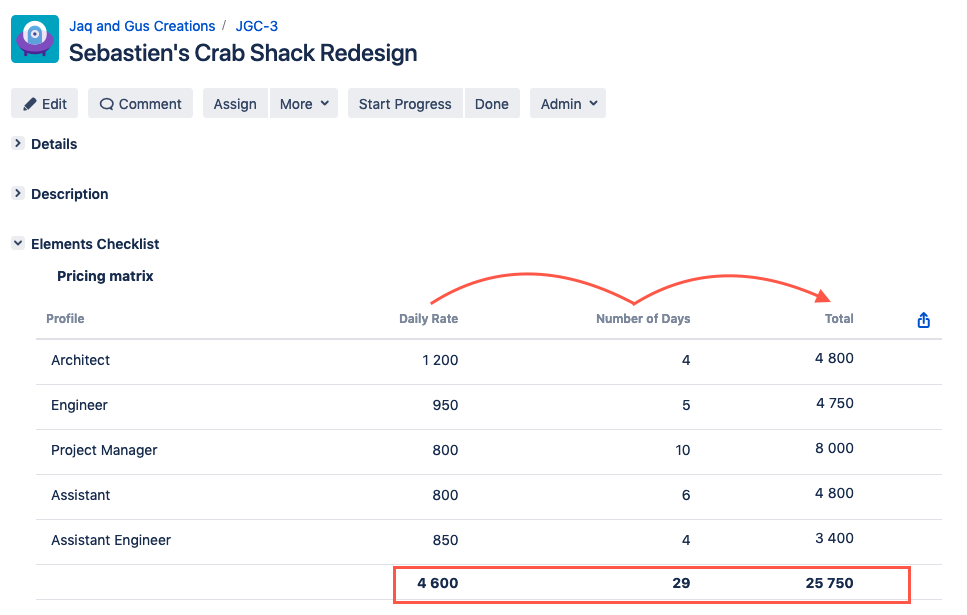 With an organized grid of your project estimation, your project cost is clear and precise. Much better than a bunch of lines in the description field or in the comments, right?
Project admins: create your smart grid checklist in Jira
Elements Checklist is a versatile checklist app for Jira, and allows you the flexibility to create structured lists for a wide variety of tasks. It's configured in the Jira Project settings, which means each Project admin can take care of the checklists and templates needed without having to submit a request to the Jira admin. Elements Checklist is easy to configure and simpler than sub-tasks, which means everyone using Jira can focus on their work instead of a complicated Jira setting.
Get more information about Elements Checklist