The development methodology Scaled Agile Framework (SAFe®) is being implemented throughout enterprise-level organizations but, as with any new concept, you have challenges to overcome. The right tools  need to be found and implemented. For instance, you can't create SAFe roadmaps by default in Jira but you can use Portfolio by Atlassian and BigPicture Enterprise by SoftwarePlant.
First and foremost, it is crucial to understand the role of roadmaps in an Agile environment. Roadmaps serve as a chart that highlights milestones, the process flow and the beginning and end of milestones. It ensures resources are used efficiently and products get a smooth delivery. Within the SAFe framework, one crucial component of roadmaps is dealing with Program Increments (PI) and understanding the features that are tied to PIs. When you create a roadmap, it is also important to know the difference between committed PIs and forecasted PIs.
So what problems does using BigPicture with Jira solve for us? BigPicture by default incorporates a roadmap capability and it is SAFe compliant. In this blog, we will walk through a simple guide on how to start off with the basics of creating a roadmap and the concepts that make it SAFe compliant. We also will focus on roadmaps and how BigPicture overcomes the challenges of installing a SAFe roadmap with Jira.
How do we create a roadmap with BigPicture?
We can start on the first screen to create a new Program and give it a name. It's a good idea to give it a unique name to identify your roadmap. Also, selecting dates will help build a timeframe into the roadmap.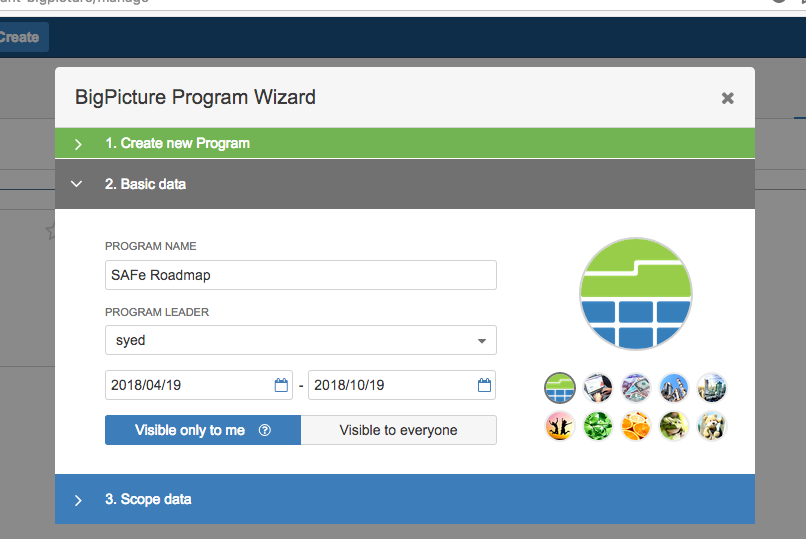 2. We can now select the board(s) and filters we want to pull issues from, as well as filters and projects.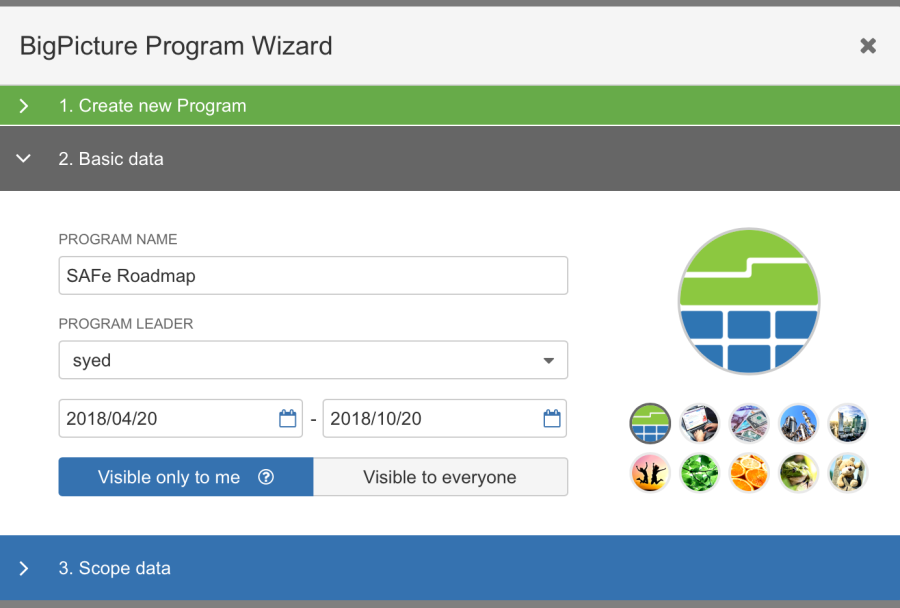 3. The final stage allows you to select which aspects of BigPicture you want to use. In this case, we definitely want to use roadmaps so we can leave the others enabled just in case we want to use them in the future.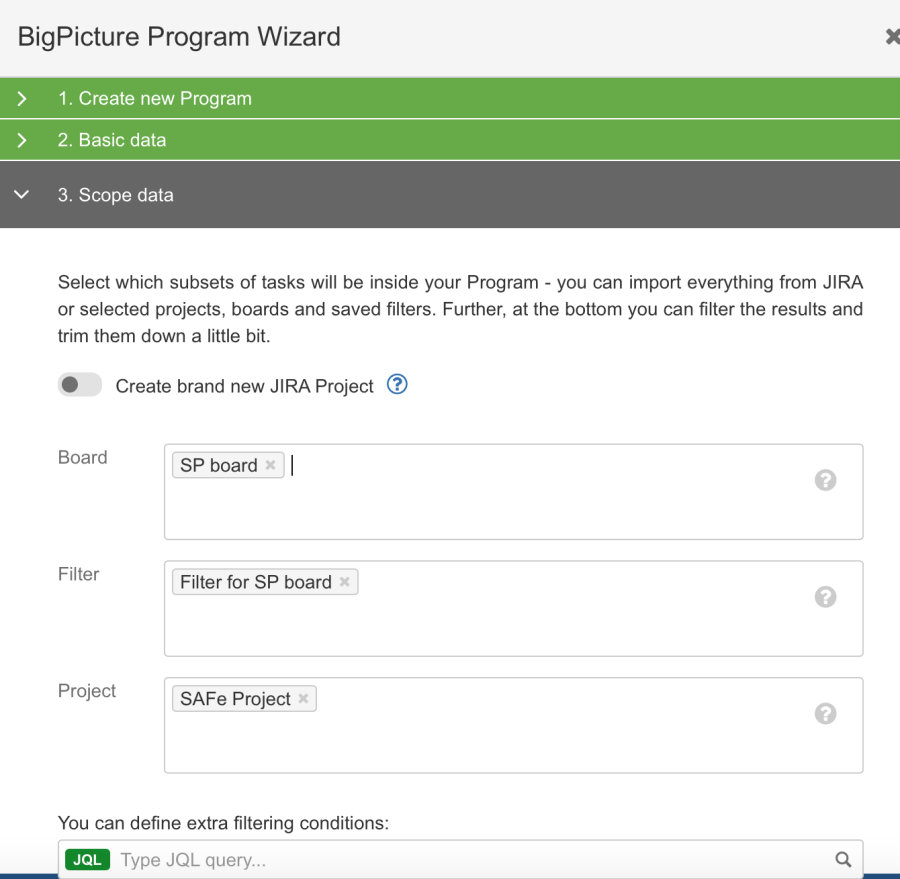 4. Now let's click Create.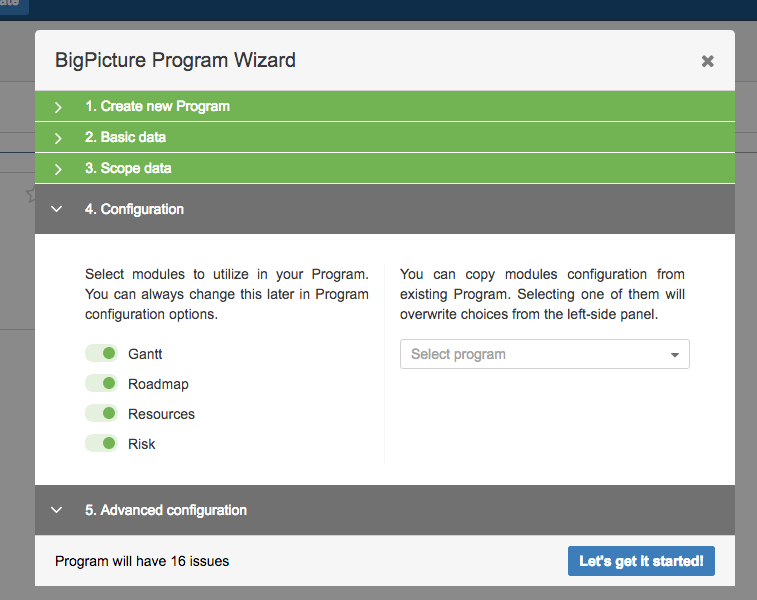 5. The roadmap below will be generated and it's now up to us to configure it to the way we would like to use it.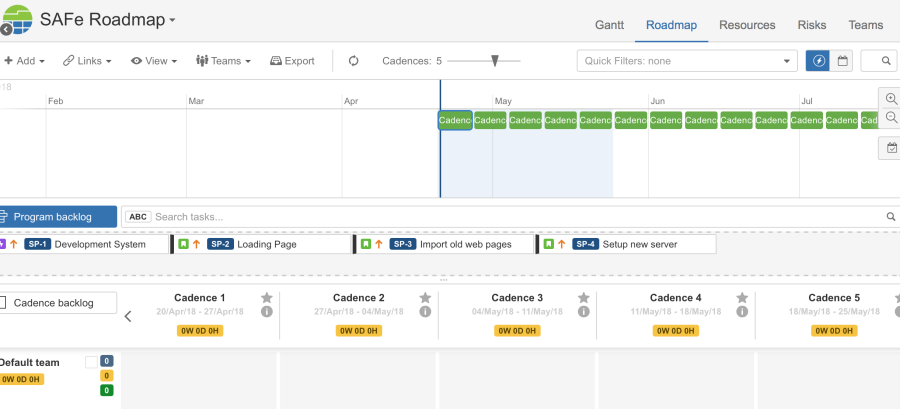 6. We can add teams. In this case, we will have two: developers and testers. These teams also can be related to the boards they use.

7. Once we have our teams set up, we can go to our roadmap and create out first PI. This increment will span a few Cadences. To add/edit/remove Cadences, we can go to the roadmap configuration and click on Roadmap. Below is a brief example of the four-week Cadences we will be using.

8. Once we've set our teams and Cadences, we can set the PIs.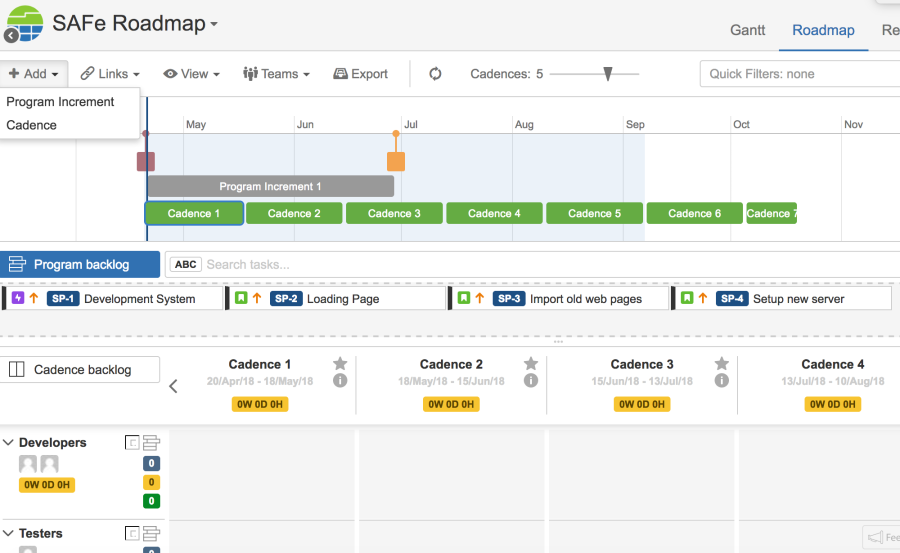 9. We now have a final plan. We can set links, create more PIs and define our Cadence. We also can pull issues from multiple projects at once.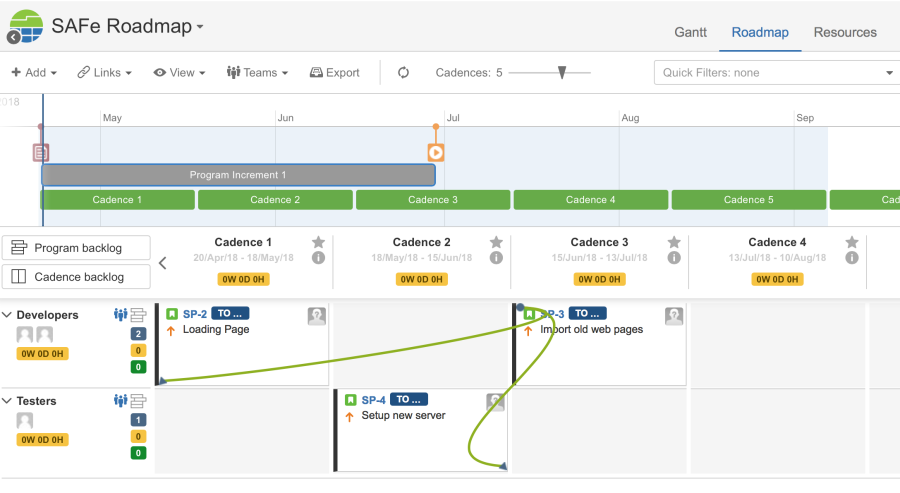 The BigPicture roadmap is a versatile planning tool. When it is configured correctly, it can handle multiple projects efficiently. It allows you to incorporate SAFe concepts and ensure your roadmap is SAFe compliant.
SAFe is designed to promote alignment, collaboration, and delivery across large numbers of agile teams. The framework was developed for practitioners and it leverages three primary bodies of knowledge: agile software development, lean product development and systems thinking.
Need to deliver enterprise scale software with multiple Agile teams? Want to learn more about how to implement SAFe in the real world? Watch this video from one of our Agile experts and learn the theory around implementing a Portfolio SAFe configuration with Atlassian tools.
If you still have questions about this topic, don't hesitate to leave a comment below or get in touch with one of our Atlassian certified consultants.
Contact Us