Scaled Agile Inc recently announced a new version of its Scaled Agile Framework for Enterprises (SAFe®). These changes to SAFe® 5.0 demonstrate a huge leap in the right direction, as companies look to extend agility across their enterprises. The new version 5.0 provides a simplified presentation of the model while emphasizing business agility, focusing on customer centricity and expanding the crucial aspect of portfolio management. Read more to discover what's new and the changes to come in SAFe® 5.0.
So what is all this new stuff?
The most significant difference you'll notice is the presentation of the model and alignment of components.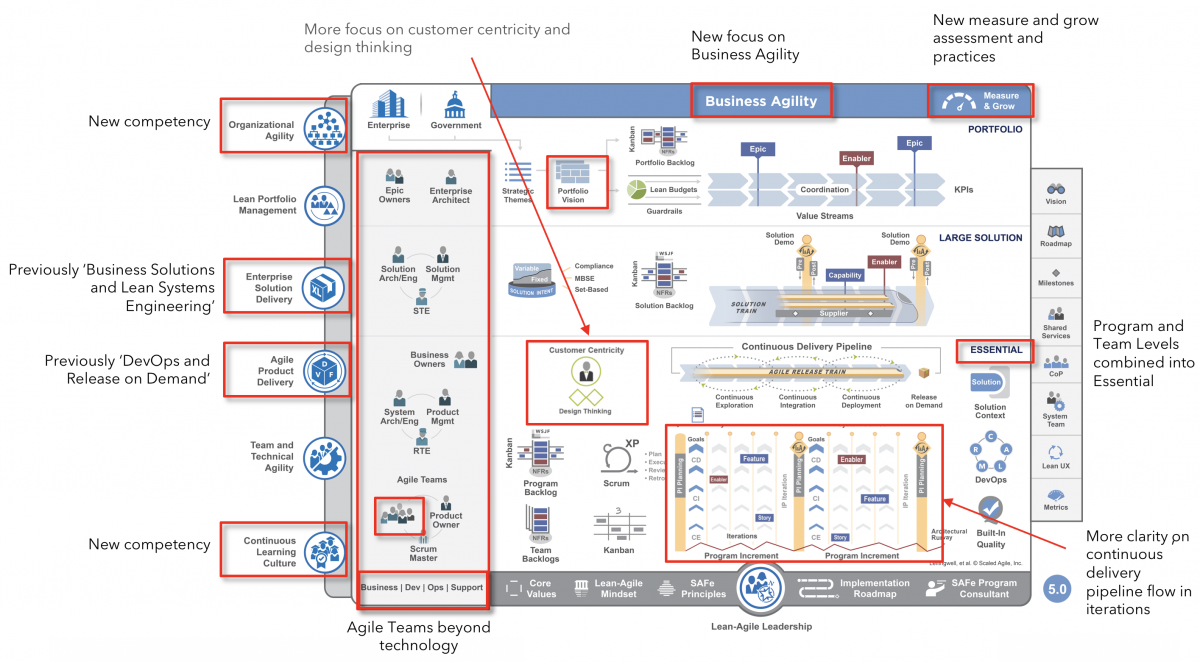 New level: Essential SAFe®
Scaled Agile has combined the Team and Program levels into a new "Essential" level, invoking a mantra taught during SAFe® training: "Train Everyone, Launch Trains." You can't implement SAFe® without launching at least one Agile Release Train (ART). The Program level contained the ARTs, but the Team level contained the people working on the ARTs. You can't have trains without people, and you can't have SAFe® without launching an ART. Grounding the framework in practiced reality resulted in the decision to combine the previous levels into a new level, called Essential SAFe®.
Enhanced focus: Customer Centricity
The customer has always been central to the Agile principles. With the Essential level of SAFe® 5.0, Scaled Agile added Customer Centricity and Design Thinking. SAFe® has focused on organizing your ARTs around the value your customers receive rather than the organizational chart, or established product teams. This principle is the foundation of the Essential level: everything starts with the customer.
New core competencies
SAFe® 5.0 introduces and focuses on two new competencies, built from the ethos of being agile. The first, organizational agility, is the continuation of agile beyond development teams and into the broader business organization. A continuous learning culture delivers on the pillar of "relentless improvement," which is a key focus area of this competency, in addition to fostering a learning organization and adopting a culture of innovation.
This kind of implementation will require substantive leadership change that may be uncomfortable for many, to set a strategic plan and vision but remain willing to change it based on data (e.g. market changes, new customer challenges, and early adoption numbers).
New principle: organize around value
Scaled Agile has expanded its nine core principles to ten, adding a new one: organize around value. Previous versions of SAFe® addressed value stream mapping and organizing teams around value, but this is the first time that it's been called out as a core principle of SAFe®. When conducting value stream mapping, the goal is to understand how your customers receive value from your products, and then to build your teams and ART around that stream of value.
New measuring business agility
Scaled Agile believes that a company adopting SAFe® cannot deliver true business agility unless it embraces the Portfolio level of SAFe®. Two levels – Essential and Solution – do not include Business Agility, since they do not cover the Portfolio level. Scaled Agile has stated that these levels are not enough for a company to achieve business agility.
It's worth noting that Portfolio agility requires buy-in from the top down to release the hold on strict multi-year and annual planning. As with agile at the team level, this doesn't mean you don't plan, it means that you plan with the ability to change your plans quickly. Markets and customers are moving faster than ever (and will continue to accelerate their movement as new technologies emerge and more information is consumed). If your company cannot pivot with your customers, you run the risk of falling behind those that can. If your business strategy continues to drive straight ahead while your customers are turning right, you won't be able to meet them where they are.
Measure & Grow is a new addition to SAFe®that helps run a business agility assessment to understand where they are in their agile transformation. By measuring where you are, you can focus on where you want and need to grow, enabling you to prioritize the underlying SAFe® practice to support your transformation.
What are the key differences?
Core competency: Lean Portfolio Management
A lot of work was put into the Lean Portfolio Management core competency, to better emphasize how enterprises utilize LPM as part of their journey towards true business agility. They added a new "Portfolio Vision" area of focus, which goes beyond the Portfolio Canvas in previous versions. We're also seeing the introduction of objectives and key results (OKRs) as a way to document strategic themes.
Renewed core competencies: DevOps and Business Solutions & Lean Systems
These two core competencies have been renamed and revised. Agile Product Delivery (previously DevOps) basically remains the same, with a bigger emphasis on the "agile product manager." Enterprise Solution Delivery (previously Business Solutions & Lean Systems) has experienced a major rewrite, with richer content centered on delivering large solutions to market, including systems and solutions engineering, coordinating trains and suppliers, managing the solution lifecycle, and focusing on living systems.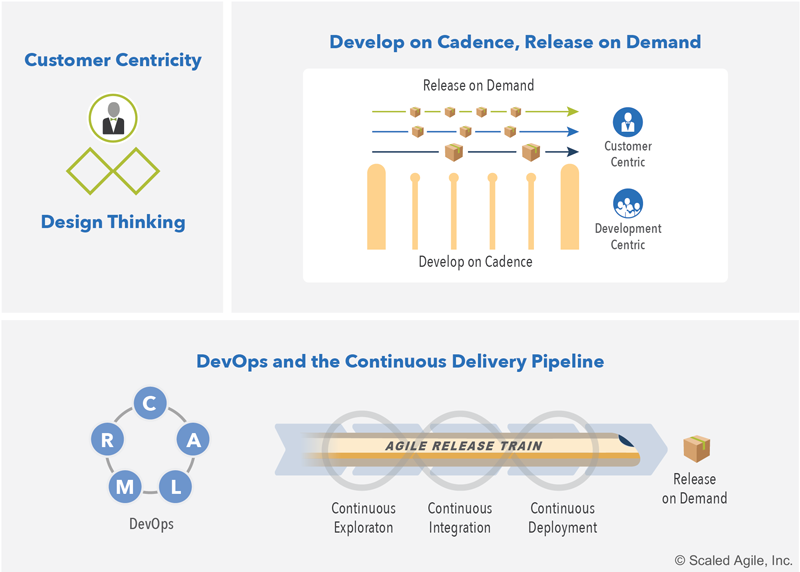 Reorganization of components
When you evaluate the overall SAFe® framework, you'll see a simplified and better alignment of the different components, with the goal of removing repetition and disorder. Core components and people were moved to the left side of the framework, with a stronger emphasis on roles. Nothing in SAFe® can be achieved without focusing on the people first, so these roles were isolated and moved to the left of the SAFe® frameworks.
Renaming
A number of areas have been renamed to better align with the purpose of the focus. For example, the SAFe® Implementation Roadmap's final step is now Accelerate (previously Sustain and Improve). The Portfolio level has a focus area called Portfolio Vision (previously Portfolio Canvas). These changes are meant to better communicate the real purpose of the focus area.
Scaled Agile's announcement of SAFe® 5.0 is the right direction for companies looking to scale their agile practices throughout the organization. And although it may look simple, we know that none of this is easy. At Valiantys, our certified SPC's and SA's look forward to helping you accelerate your agile transformation at scale in 2020 and beyond. Get in touch now!
Contact one of our SAFe® Consultants now