Amoeboids Technologies, an Indian-based start-up, is the developer of JIRA add-on UpRaise for Employee Success. UpRaise extends JIRA to help teams take collaboration to the next level with Agile performance management, offering powerful goal-setting framework, objectives and key results, continuous feedback and periodic performance appraisals.
Agile performance management explained
Teams using JIRA, especially software development teams, are well aware of the fact that Agile really is the way forward for managing projects. But when it comes to managing the company and its progress, most of the teams still do things the traditional way with once a year performance appraisals.
Agile performance management changes this by encouraging frequent updates on goals that are aligned at various levels, combined with a continuous feedback culture where learnings take precedence over ratings.
Powering team success with JIRA
Objectives and Key Results
Objectives and Key Results (OKRs) is a goal-setting framework brought to fame by Google's successful (and early) adoption and execution. The underlying principles behind OKRs are:
Every goal should be quantitatively measurable
Every goal should be aligned with other goals, creating a hierarchy
UpRaise solves this by enabling companies to create company, team and individual level OKRs. Individual OKRs align with the team ones, which, in turn, align with the company ones – making the bigger picture clear even to the individual contributors.
Each Objective can hold multiple key results which are simple To Dos or sophisticated metrics or even JIRA issues. Tracking OKRs becomes dead simple because they all are centralized in your JIRA instance.
Here is how a company objective detail page looks like: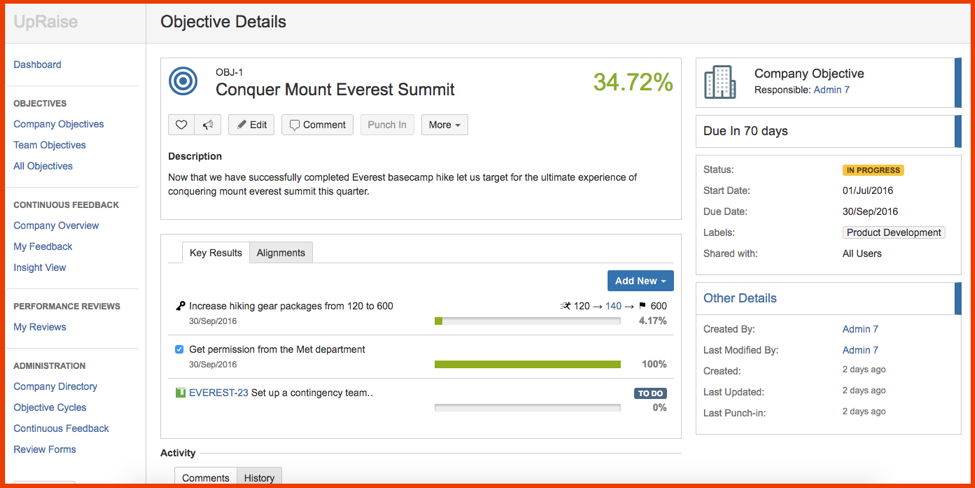 Continuous Feedback
The world is moving away from annual reviews – and it's high time your team members get frequent recognition for their small, daily wins, as well as coaching when they need it. People naturally crave frequent feedback about their work, both positive and negative both. Lack of adequate systems, however, can suppresses this desire, even to the extent that co-workers become disengaged.
So how about bringing in a continuous feedback culture? Let employee know how was her performance on a particular JIRA issue or may be independent of one. Or why not even let her ask for the feedback on her own?
UpRaise categorises the feedback to match your culture, for things that are important to you.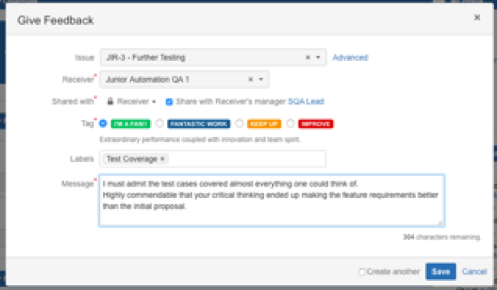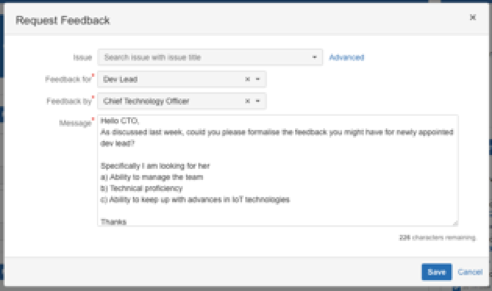 Review forms
When your goals and feedback are already managed in JIRA with UpRaise, conducting performance appraisals is a breeze. Be it 360 degree feedback or simple self assessments, design and distribute the forms with UpRaise's form builder.
Form builder comes with different built-in question types to make the process as engaging as possible. Distributing this form to different user segments is easily possible with different user attributes such as team, designation or manager.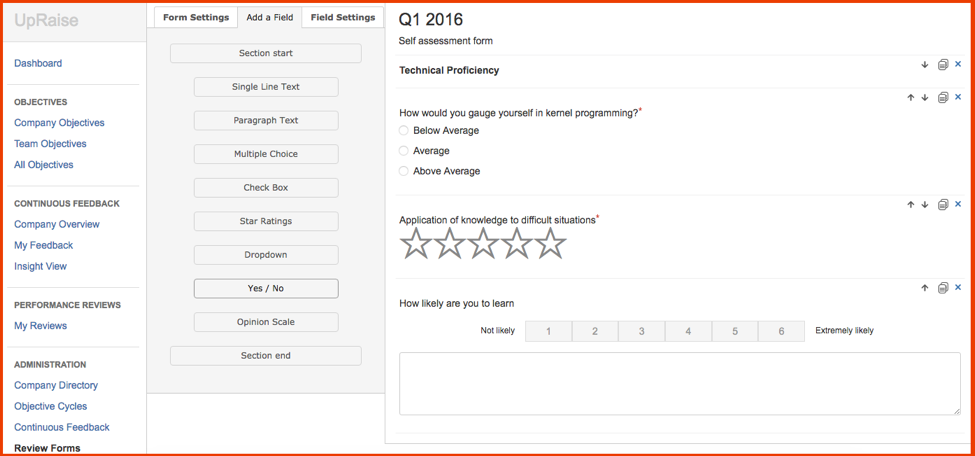 It's never been so easy to get your team to focus on what matters, to celebrate their wins and to help them learn along the way. UpRaise seamlessly integrates with JIRA, helping your team progress towards its goal with agility.