Even as project management technology advances forward, there are still underlying truths to how people work. In the words of H. Allen Smith, "The human animal differs from the lesser primates in his passion for lists."
Obviously this satire statement is a bit dramatic, but if you are a JIRA admin you're probably nodding your head right now in complete agreement. Because let's cut to the chase, managing enterprise projects – with lots of tasks and people involved – is a pain when configured with sub-tasks alone. After all, millions of years of evolution has made you much more evolved than that.
This is why Valiantys is thrilled to introduce our newest app – Elements.
We believe that JIRA admins should be concentrating on their core business – not managing sub-tasks in issues. Elements empowers project admins to configure independently of JIRA admins and lets users manage dynamic lists themselves. Because beyond our love for lists and opposable thumbs, survival of the fittest in a project management ecosystem relies on delegation.
Our hope is that Elements will bring about more autonomy and efficiency to your project management workflow within JIRA.
On the Origin of Elements
With complex projects, sometimes issues are not enough when individual tasks and/or items need to be clearly detailed while still remaining integrated as part of the global issue. Previously, JIRA admins had two options:
1) Create a bullet list in the description field. The advantage here is that it is flexible and easy to use. Yet as it is plain text, the drawback is the data is not structured and isn't standardized across issues.

2) Create sub-tasks to manage tasks and items.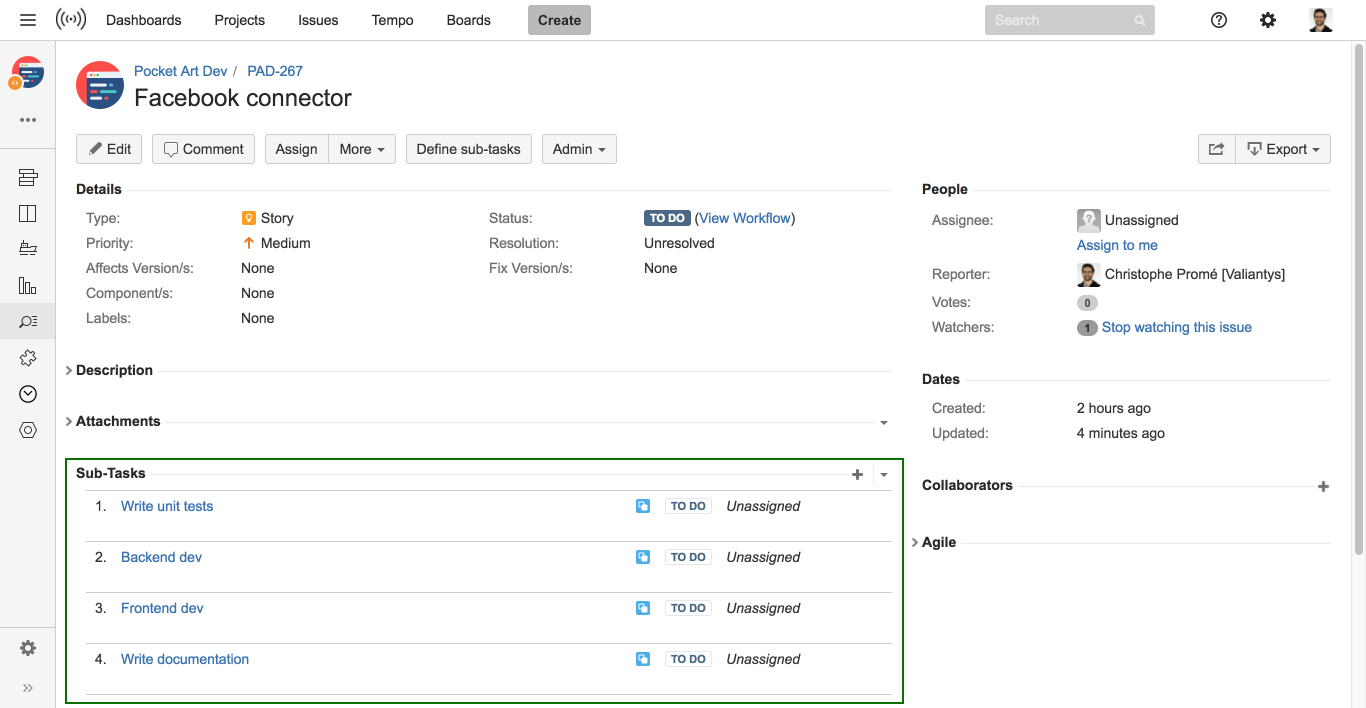 On the contrary, sub-tasks are well structured – information in sub-tasks has a standard organization within an issue type. However, this solution has significant inconveniences:
The user experience is not optimized. The user has to go through multiple screens to create the sub-task and relevant information is not directly visible from the parent task.
Sub-tasks fields can only be configured by JIRA admins. Yet wouldn't it be better to delegate to project admins, who already know their users' needs? Should JIRA admins really need to hold their hands for simple actions like adding / renaming / deleting fields? We think not….
Calculations can't be performed on values stored in sub-tasks. A common use case where this is problematic is expense reports, where it would be helpful to display the results in the parent issue.
We developed Elements with the user and project admin in mind – addressing the above limitations to make your teamwork more inclusive and streamlined. Elements has an intuitive interface, allowing users to edit an issue in only a few clicks. It has an integrative feature that automatically and instantaneously computes your calculations, facilitating how you keep track of numbers. What's more, the app can be configured directly by the project admin – giving them the autonomy to quickly implement the users' needs and react to changes in the company's processes.
As you'll see for yourself, Elements provides a real alternative to sub-tasks with dynamic lists.
Constantly evolving
In the upcoming months we'll have frequent releases, about every 3 weeks, which will bring exciting new features to Elements. Here is a sneak peak of what's coming:
More attribute types, like Select list or Issue
Fine grained permissions so you can manage who can edit and view Elements. This will include a l

ock panel feature when issues are in a specific state

.
Use Elements in your JIRA Service Desk requests
Give it a try!
To see Elements in action, start your free trial today! Otherwise, if you purchase our nFeed or Exocet apps before October 31st you will receive a free one-year Elements server license! The promo voucher will automatically be sent to you a couple of days after your purchase.
Have a look at the documentation and do not hesitate to file a ticket in our dedicated support.
Try Elements today