Atlassian's flagship event, the Atlassian Summit, has evolved alongside the new state of teamwork to become Team '21: the premier conference for modern teamwork. From April 28–30, Atlassian leaders explored the intersectionality of teamwork, humanity, and tech and shared new ways to unleash your team's full potential.
This annual conference is always a key event for developers, creators, and innovators across every industry to come together and celebrate innovation — and this year featured several new announcements and surprises from Atlassian. If you couldn't join the event, missed the announcements, or are just looking for more information in a single place, here's what you need to know:
Product announcements: Introducing Jira Work Management, Jira Product Discovery and more.
Jira Work Management
In early April, Atlassian announced the relaunch and full redesign of Jira Core Cloud with the release of Jira Work Management, now officially available!
With Jira Work Management, business teams can move forward together with a single place to track, coordinate, and manage all aspects of their work with structure and consistency. In short, you get all the power of Jira, packaged in a friendly and approachable interface. Jira Work Management connects effortlessly with Jira Software and Jira Service Management, allowing for task dependencies across products and compatibility with features like advanced roadmaps.
All these new features have been available to all cloud-based business projects since April 28. As a result, there is no loss of data or changes to settings due to the transition from Jira Core to Jira Work Management.
Jira Product 

Discovery

 
One place to capture all product ideas and data, engage everyone, and build a balanced view of needs and opportunities – that's the promise of Jira Product Discovery, a new tool to help product managers build what matters.
This is the first Atlassian tool specifically built for product managers, and it allows you to:
prioritize what will make an impact on your activity and integrate it seamlessly to delivery planning and execution
take on a more influential role in companies building software
If you would like to be an early adopter, the ALPHA waitlist is available now! (note: The Alpha is only available for JSW Cloud customers)
Team Central
Team Central helps teams connect and communicate as frequently and frictionlessly as modern work demands. It provides a new place to go for every update from project progress to goal tracking to team health, with a shared operating rhythm among teams so that information is shared reliably and consistently and with more context and fewer characters, so that writing, reading, and reacting to updates is as engaging as using famous social networks.
To get started, sign up for early access.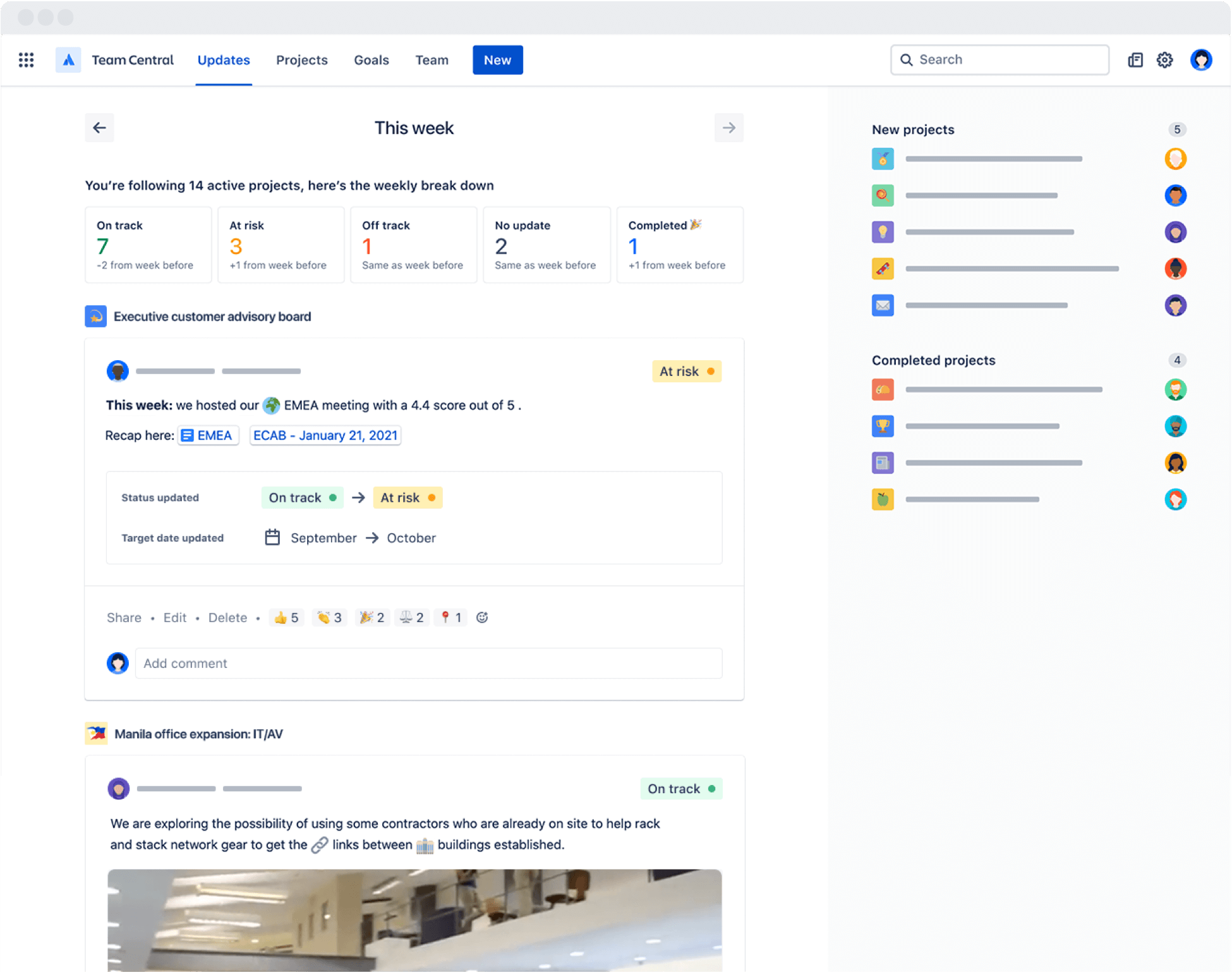 Compass 
Available in beta access, Compass seeks to guide organizations through the challenge of sprawl: the ever-growing mass of output that a modern, distributed software architecture generates. By connecting teams, software components (services, APIs, documentation), insights, and policies in a single, trusted place, Compass gives software development teams a bird's eye view of the digital services across their organization.
Atlassian Open DevOps
This is the newest launch from the DevOps solution program and a huge step towards Atlassian's goal of getting software teams into a 'connected' state with Jira at the center. Open DevOps is a new toolchain experience for the entire software delivery lifecycle, built around Atlassian's core software tool. It offers a pre-configured DevOps project in Jira combining JSW, Confluence, BitBucket, Jira Service Management, and partner tools. With Open DevOps, you can expect fewer status updates for devs, better project tracking for project and product managers, and better insight for ops teams and downstream stakeholders.
Product and solution updates on Atlassian Cloud and Data Center
Jira Service

 Management

 
As you know, Jira Service Management brings Dev, IT, and business teams together to deliver exceptional customer and employee service experiences at high velocity. Atlassian has announced many upcoming improvements to help you do this even better:
A new embedded knowledge base – no more extra cost of adding Confluence to your stack
Conversational ticketing capabilities (via the Halp acquisition) to transform chat tools such as Slack and Teams into a vehicle for reporting issues
Personalized portals to display popular services based on department, role, and location of the help seeker, as well as the ability for admins to feature the most important service desk and knowledge articles, and a new dynamic announcement widget
Delegated administration removes the bottleneck associated with managing projects across an enterprise.
Improved reporting with the acquisition of Chart i.o
Insight Asset and Configuration Management is also now included in JSM Premium and DC, whereas Insight Cloud now proposes a new Discovery support (an agent-free network scanner) and data importers (to bring data from CSV or JSON files).
No-code/low-code forms builder that includes 300+ pre-built templates thanks to the recent acquisition of ProForma
Confluence 
A lot has already happened for Confluence, the open and central source of truth that help companies stay in sync, and a lot more is coming.
Newly Available
inline comment in edit mode
in-editor templates in the right rail
smart links – fully embed your files from other sites onto confluence pages
analytics (see who viewed your page for Standard) + page read time
mobile: dark mode, inline comments, supports 18 languages, OAuth/SSO, login with FaceID, switch between sites
release tracks (Enterprise)
Team Calendars (now a part of Premium)
page archiving + bulk archiving using automation (for Premium)
Coming soon and later
page cover images, title emojis, customizable space avatars to add personality and aesthetic to posts, catch the eye of colleagues
smart Links to add visuals and provide a rich experience for colleagues in one easy-to-consume document
scheduled publish to ensure page or blog is published at the time the audience is most likely to be online.
visualize data in a table into a graph or chart
edit macros in the right rail instead of dialog box over page
new personalized activity feed and homepage that uses built-in smarts
external guest collaborators (Confluence Premium only), with the ability to decide which spaces are allowed to access
Opsgenie

The standalone or JSM-integrated on-call and alert management tool went through some nice enhancements including:
Incident Command Center Redesign: the conference interface has been simplified to see who's online, who's speaking, everyone's audio & video status, if someone is typing in the chat, and get clear notifications.
Do Not Disturb Mode Override for Apple devices: Apple now recognizes Opsgenie alerts as critical alerts so that you can put your phone on "do not disturb" to block common notifications but be certain to get the alerts.
New integrations with Snyk and Amazon DevOps Guru
Improved integration framework with Jira Software & Bitbucket
Gitlab now supported
Coming soon:

New schedule UI
Alert details with the possibility to link Jira issues, add attachments, and track all activity
All of this will be available in Opsgenie standalone plans but also in JSM plans. You can also get Opsgenie free plan as part of Atlassian Open DevOps.
Atlassian Access
Fresh new features rolling out on Atlassian Access includes:
LAUNCHED – Now, an Atlassian Access org Admin can set multiple authentication policies to apply to different subsets of users in their organization. Org admins can use an authentication policy to test their SAML configuration by enabling SSO on a small subset of users before rolling it out to the whole organization.
COMING SOON – Access org admins will soon have the option to select one authentication policy to be a non-billable policy. This non-billable policy will be excluded from the Atlassian Access subscription. If there is a subset of users an org admin does not want to apply any Access features (SSO, 2SV, etc.), they can be placed in this policy (cannot be the default policy), and these users will not be billed for Access.
Trello 
A whole new Trello is on the way, built to support teams in a challenging new era where work becomes digital, and decision-making can be tough:
5 new board views (Timeline, Table, Map, Calendar, Dashboard) give users perspective and line of sight into how their work connects to others in the org.
Link Cards give users visibility into their work across other tools.
Boards and cards platform opened to bring in data from third-party tools and services
Features available on Trello Business and Enterprise
Bitbucket
To give teams one place to plan projects, collaborate on code, test, and deploy, Bitbucket's fresh new features include:
New "Your Work" dashboard: allows developers to see all open Jira issues that are assigned to them, starting with the most recently updated at the top
Integrated CI/CD: a comprehensive CI/CD solution that seamlessly integrates Bitbucket DC with Bamboo, Jenkins, and a number of other CI/CD tools for simplified pipeline creation
Advanced auditing: built on the one offered on Server, it extends coverage with configurable log levels and a new UI with a filter to get a detailed forensic log to use to investigate suspicious activity and secure branches
Strategic administration features:

Rolling upgrades (7.9 version and above): reduce planned downtime and make it easier to upgrade to the latest bug fixes without having to schedule a maintenance window weeks in advance, no downtime, and no working after hours
Advanced user management: with a growing enterprise, it is no longer efficient to manage access on an ad-hoc basis. To scale efficiently, build advanced user management controls with features like SSO with SAML and OpenID Connect to provide a secure authentification.
Better repository management (upcoming): this will help manage repositories in bulk and de-cluster instances from old and inactive repositories
That's a wrap!
The Atlassian Team '21 was a three-day, intensive remote event packed with announcements and exciting content. We can't wait for the next edition and more innovation from the Atlassian team.
In this article, we covered what we think matters the most for your activities. If you'd like to go more in-depth, you can catch up on our latest webcast. And if you are unsure about your grasp of what could be the next game-changer for you, feel free to get in touch with us.