The agility imperative is no longer optional for most companies. Digital transformation, the impacts of the COVID pandemic, and now the economic recovery with disorganized supply chains often close to breakdown—all these factors reinforce the urgency to organize your teams using agility concepts at scale. Why? To expand the value of the Agile approach (whose effectiveness is no longer in question) on a company-wide scale.
According to the State of Agile Report, the SAFe framework (the most widely used framework to move to agility at scale) yields impressive results that should challenge all business leaders: 30% more satisfied employees, 50% faster time to market for products, 50% reduction in defects, 35% increase in productivity.
But how do you get such results? With a magic wand and some expensive strategy consultants? In our experience, that's not enough! You need a global strategy, an iterative approach, and the right tools. In this article, we share expert tips and resources to help you accelerate your agile transformation.
Get ready for a massive transformation
The implementation of Agility at scale is a complete transformation of the work organization and the way team performance is measured in a company. Of course, it will usually start with a few teams (team of teams or a program), but the objective is to apply this approach to all the teams that create value in the company (value streams). You need proven methods to tackle all the aspects of the transformation—company structure, people, work methods, and performance evaluation—and the technology that underpins it all.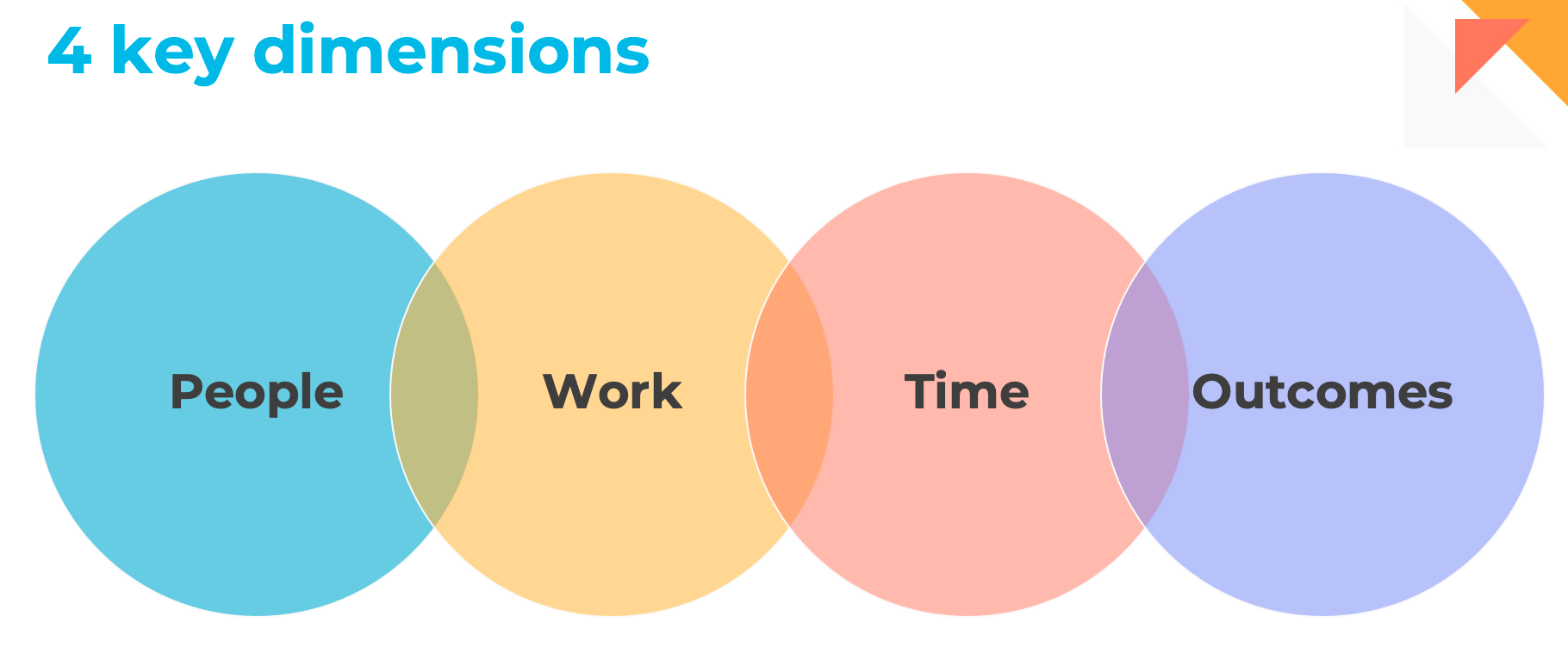 Invest in Measurement and tools
Often, consulting firms in digital or agile transformation focus their interventions on strategy and training/team coaching while remaining agnostic about the technology used to manage work and measure outcomes. At Valiantys, we approach agility at scale differently, thanks to our extensive experience with Atlassian tools. We have been optimizing Jira configurations for 15 years and are the first Atlassian partner certified on Jira Align—Atlassian's solution that supports enterprise scaling—and have been implementing it in dozens of companies for the last 18 months.
"You can't manage what you don't measure." Peter Drucker's famous quote illustrates the fundamental importance of tools. With Jira, everything can (and should) be measured at the team level: team velocity, dependencies, quality, throughput, scope variance, defect rate, projected release date, etc. But, because Jira is so easy to set up, the data structures or measured elements may not be consistent from one team to another. When you want global visibility of all teams working on a product and consolidate all this data, you shouldn't have to spend days and days doing it with a spreadsheet and PowerPoint… which is what many companies do.
This is why those at higher company levels are interested in tools that allow for the automatic synthesis of relevant data. Such tools would allow for measuring the impact of the work produced in relation to the company's strategic objectives (whether you call them OKR, KPI, business outcomes, etc.).
For us, Jira Align is currently the most powerful tool for this type of approach. In its report, Magic Quadrant for Enterprise Agile Planning Tools 2021, Gartner clearly positions Jira Align as the leading product.
Master "The Connected Enterprise" concept—the ultimate goal
Dean MacNeil, an Agile expert for two decades and our Agile Practice Director, has just published a book that illustrates the benefits of implementing Jira Align and gives a clear roadmap to avoid the major pitfalls of this type of project. Dean's approach enables you to reach the state of "Connected Enterprise" in stages, establishing:
A two-way flow of information on the agility's 4 strategic themes: the teams, the definition of the work to be done, the time horizon, and the expected results
Strengthened collaboration between teams
Real-time analysis of what is happening in your business
A single source of truth
The expected benefits are:
A strong connection between strategy and execution
Shorter development cycles and faster time to market
A clear vision of value creation in the company
Dean has structured his experience gained from the many initiatives he has worked on into his comprehensive "Four Dimensions of the Connected Enterprise" approach, which he frequently presents to our clients as part of their Agility at scale transformation.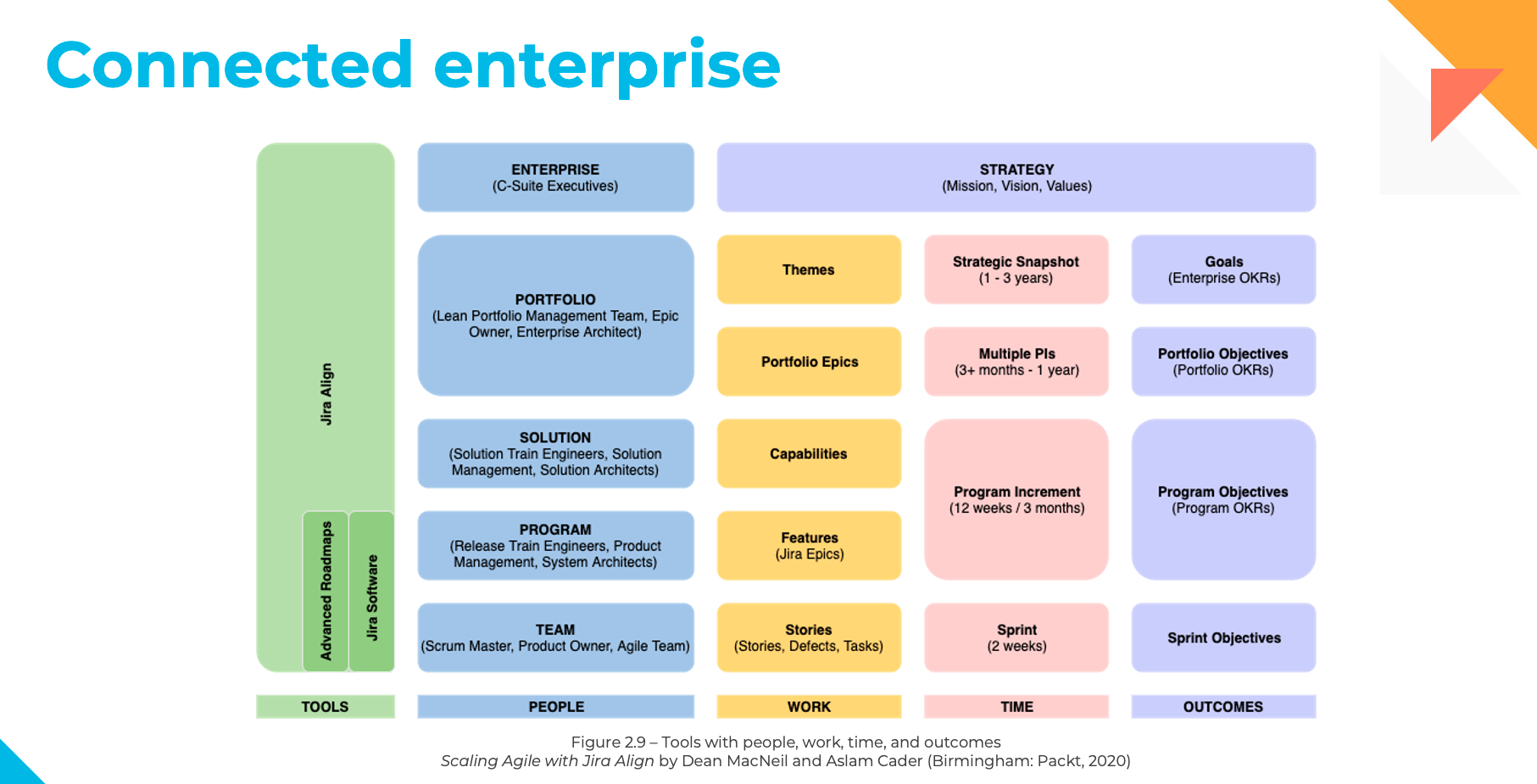 Learn (almost) everything in 30 minutes!
Do you want to understand this process better but are short on time? You can access Dean MacNeil's webinar anytime by registering here.
During the webinar, Dean MacNeil will describe:
The 5 successive levels of Agility at scale
The 4 dimensions of the Connected Enterprise and their relationships
How to build Agility at scale starting from the team
How to organize around value
How to efficiently implement Jira Align
And if you'd like to learn more following the webinar, feel free to contact us here.