"It is not the strongest or the most intelligent who will survive but those who can best manage change."  – Leon C. Megginson
Agile culture is at the core of modern day software development, and the inspiration behind the creation of Atlassian tools like Jira Software and Confluence. It's important to note that an agile culture is not a process to implement, but needs to be adopted as part of the corporate culture. It's about putting people first, and focusing on collaboration over cascading project management. Sure, you can start using a Scrum board over a Kanban board, but unless you address your values as a team, your agile culture is not likely to take root.
At Valiantys we strive to work in an agile mode, meaning we hold fast to our values. In my previous article, I discussed "Talk Straight" and the importance of providing good feedback. Our value "Never Stand Still "is the transformation of this feedback into actions through continuous reflection and improvement.
Let's talk quickly about what "Never Stand Still" is not. In our day and age, where everything moves at the speed of light, it is worth taking a step back to highlight the potential downfalls of constantly having an "on-the-go" attitude. Working in an environment where action is center-stage and is constantly associated with innovation and creativity can be quite overwhelming, ultimately leading to burn-out.
We cannot be in the action all the time –  taking a step back to evaluate the situation can sometimes be the best solution.
This is a similar reasoning for using an agile method over a waterfall method, where the latter is pushing to finish the final product at all costs (without fully weighing what those costs are), while agile allows for change.
It matters to stay focused on the WHY and do so at regular intervals. Action without reflexion is worthless; reflexion without any action has the same result. In both cases, people and businesses could reach a standstill and that is risk – especially if it becomes a permanent state.
How do you pause without standing still?
This is Valiantys' meaning of Never Stand Still: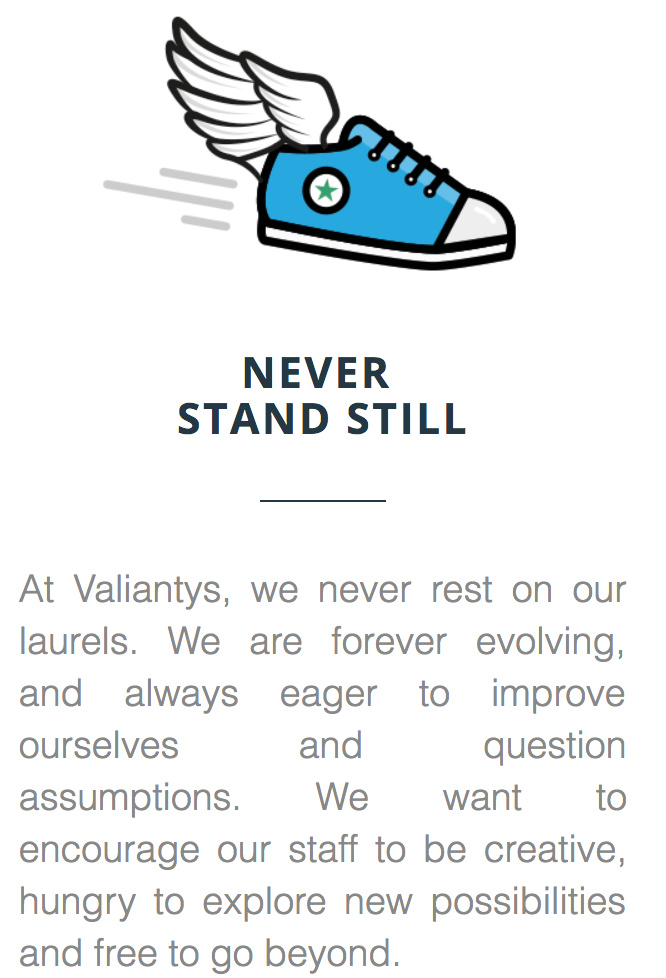 In short, our value is fundamentally about questioning ourselves and our organization on a regular basis, with the objective to improve with a purpose. We have to constantly ask ourselves the following questions:
Why am I doing this?
What is the purpose of my action(s)?
How does what I do fit into the bigger picture?
What impact will what I do and say have on my colleagues, team, customers, company, etc.?
How can I solve this problem or improve this situation?
Unlike the agile method for software development, the goal may not necessarily be to produce a product but rather it is about instilling an agile culture so these questions become a reflex – whether it is our Software team updating to a new version of nFeed, or our marketing team redefining their campaign strategies.
We live these values through two annual events focused on innovation and team building. Our ShipIt Day event is dedicated to innovation, where cross-functional teams come together to work on new ideas to improve our offers and the way the company works. During our Valiantys Day, staff members share team-building activities and focus on growing & development. We take a day to reflect upon the activities of the previous year, and look at our goals for the year ahead of us.
One of the biggest elements of our Never Stand Still culture is getting new ideas from our employees, which helps the team look at issues from a different perspective. Naturally, new hires are well suited for this role – they bring a fresh set of eyes to Valiantys, and are able to question how things are conventionally done. As a company, we highly encourage feedback from everyone.
If you are looking for a challenge in an agile company where your voice is heard, we have several positions across our international locations. Browse through our open positions below and see if the next step in your career could be at Valiantys!
I'm ready for a change