In our previous blog article we brought you a hand-picked selection of highlights from the recent Atlassian Team '22 event in Las Vegas. This article focuses on another exciting announcement: Jira Product Discovery, which was the subject of a Team 22 demo session.
What is product discovery? Who is it for?
Product discovery is the act of continuously validating what to focus on and why. In most organizations, this is the responsibility of a Product Manager (PM) who sits at the juncture of technology and business. Product Managers are responsible for identifying technology solutions that enable business objectives.
Simple, right? Well, not really. The main obstacle we see most often is that the role of a Product Manager varies from industry to industry and, in many ways, is still being defined.
This means that a Product Manager needs to juggle multiple responsibilities such as:
talking with customers
setting a strategic direction for the product
communicating the "why?" and obtaining buy-in from stakeholders
validating current commitments and adjusting plans as necessary
coordinating work for engineers and ensuring they are motivated & happy
shipping products, despite uncertainty and shifting plans
They often have to do this across dozens of different tools and modes of communication. "With so much on their plate, it is easy for 'discovery' to become an afterthought, instead of a priority. This is why Atlassian created Jira Product Discovery – to enable Product Managers to focus on their strategic work" – Chris Hall, Head of Product Marketing Jira Product Discovery, Atlassian.
Jira Product Discovery (JPD) is a hub that is specifically designed for PMs to systematically gather and organize product inputs, and gives them the tools to proactively make data-driven decisions based on these inputs. Rather than feeling constantly reactive or overwhelmed, JPD helps PMs to stay one step ahead and confidently make decisions, as well as ensure a clear and continuous dialogue with different stakeholders through highly customisable roadmaps.
Another key feature is the ability to connect the PM's work with the tools their teams are using. Previously, PMs were losing time and context, switching between tools and duplicating work. JPD offers a powerful and integrated workflow that seamlessly fits with Atlassian's platform and dozens of third-party applications.

The premise (and promise!) of Jira Product Discovery can be summarized like this:
1. Capture: Record ideas and easily add data, feedback, and supporting insights, from anywhere. Essentially an "Ideas Backlog" that pulls in data from multiple channels such Microsoft Teams, Slack, Google Chrome, Salesforce etc.
2. Prioritize: Focus on the most impactful work, build confidence in your product decisions. Essentially this makes building "high level" roadmaps as intuitive and easy as possible.
3. Engage: Collaborate with stakeholders and keep everyone informed and engaged. By elevating the "vote" system, JPD includes user community feedback to help PMs prioritize the backlog and make decisions.
4. Deliver: Iterate and get to value faster with integrated product discovery and delivery. Here we see a direct linking of the captured "Ideas" to Jira projects (where work is tracked and accomplished), thus allowing stakeholders to follow the progress and deployment of projects.
This can be further illustrated by the following example:
Capturing the "what"
Imagine you are reading a User Feedback survey about your product and you come across a customer comment that mentions it took weeks for them to fully understand all of the functions of the software. You could simply highlight the relevant text, put that in a spreadsheet, and file it away somewhere for a time when you can tackle the issue.
Instead, using JPM, you can capture this insight by highlighting or "clipping" the comment from the document in, for example, Confluence, then select the relevant Project, and assign it to an "Idea", such as "onboarding templates", together with a link to the source document and relevant notes.
This process can be repeated for other instances and insights that need to be captured, without having to leave the context of a single page or app. In the demo and beta we tried at Valiantys, there is a web-clipper making "in-browser" capture very easy.
When everything has been captured, you can use JPM to review your Ideas, assign weighting scores or votes according to team feedback, and share that with key stakeholders for further input.
Other stakeholders across the business, such as Customer Success Representatives can be enlisted to provide additional scoring to the customer feedback, based on their relative importance to the business. This helps a PM to better interpret the feedback and refine the impact assessment for each Idea.
Impact assessments
Knowing more about the "why" is critical to ensuring that the right resources are allocated to the work that matters most. In JPD, this is facilitated by the fact that all criteria is collected in one place where it can be sorted, filtered, compared and analyzed. For example, to view the most voted-for feature, or the one that most customers are requesting, but also to understand how much effort is required by the team to tackle and deliver that feature.
By making use of a Matrix View, the various Ideas can easily be plotted on an Impact Vs. Effort chart to determine which features require, for example, little effort but will have a big impact, or, which features are highly in demand but will require significant effort to achieve.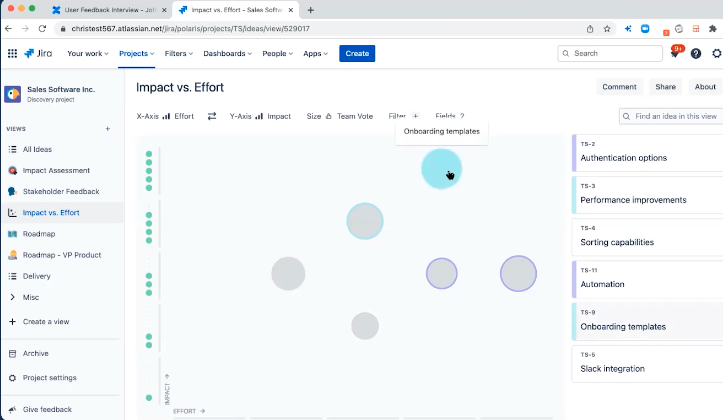 These type of insights help a PM to make a data or evidence-based decision to select an idea for development, which brings us to the Roadmap view, where Ideas can be rearranged and easily presented to different stakeholders (e.g. VP Product Development). Through customization, these reports can easily show the information relevant to that person, streamlining the process for eventual approval and sign-off.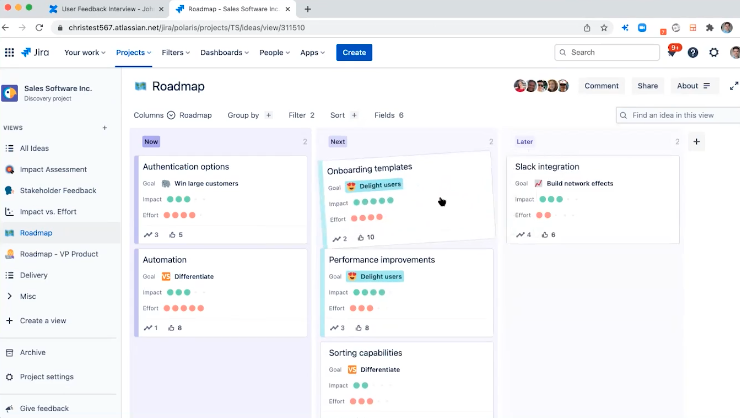 This roadmap view can be easily customized in JPD to share information with, say, the VP of Product, in a different format, focusing on goals and projected impact (the information most relevant to them). The VP, in turn, is able to view relevant information, comment and agree to launch work on a particular idea, all in one place: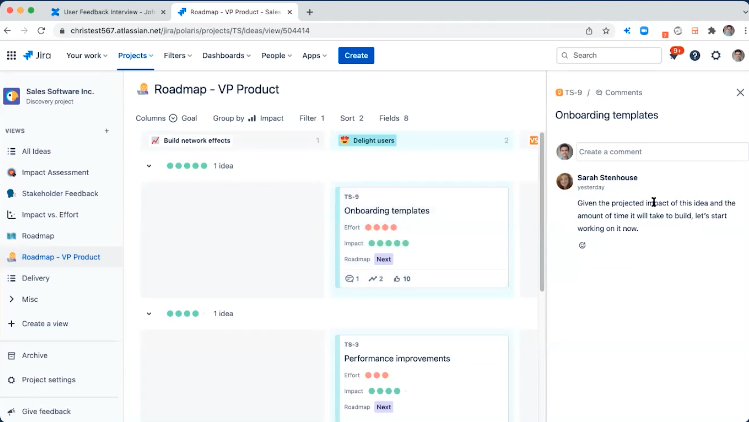 Better context, better communication
Still in Jira Product Discovery, the PM is then able to drill down through all of the insights, data and feedback, pull in templates from different tools (for example prototypes or Ui design files from Figma), to understand the decisions made so far and convert new items to actions. One key advantage here is being able to explain the "Idea" to the project team, without needing to leave the app or use multiple applications.
Getting things moving
When it comes to moving the idea from Discovery to Delivery, it can be done in just a couple of clicks. Instead of having to manually create everything in Jira, all of the insights and associated information can be sent to Jira as a "Linked Idea", allowing the team to work on the task, while the PM is able to track progress and delivery directly within JPD. This bi-directional connection means no loss of context or information as you move between discovery and delivery. Furthermore, delivery progress can be added to the Roadmap view, so that the PM is able to share this information with stakeholders at all times.
What to expect next?
JPD is now entering Beta phase and will continue to evolve through user-testing and feedback. At Valiantys, we are looking forward to the possibilities and benefits it will bring to product discovery and delivery teams. In terms of processes and workflow, it clearly implements core agility concepts and Agile at Scale methodologies, which we view as critical to help businesses achieve their ambitions of a Connected Enterprise.
One thing is certain – together with the other product announcements at Team '22, there has never been a better time to embrace the Atlassian suite of tools – both in terms of proven maturity, but also through the continuous release of innovative products such as Jira Product Discovery, Compass and Atlas (covered here), Whether addressing the specific needs of diverse business teams, or targeting specific stages of, say, the product development cycle, it is easy to see how the powerful Jira Software experience is being extended to all areas of the enterprise with promising results.
And when you're ready to get started, find out how Valiantys is ready to lead the way on your business transformation journey: www.valiantys.com
Additional thanks to Gaël Courcelle (Operational Excellence Manager at Valiantys) for providing some early insights about Jira Product Discovery.